Mt Maunganui Main Beach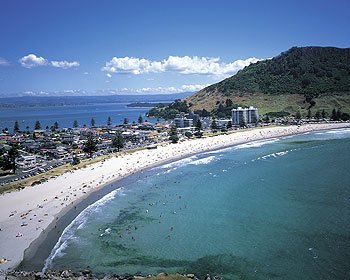 Mt Maunganui Main Beach
Mt Maunganui's Main Beach in Tauranga is marked at one end by the peak of Mauao, and the Moturiki Peninsula at the other – what lies in between is hailed by surfies as one of the best surf-spots in the country. With excellently formed waves, clear beaches and sunny summer days, the water is often packed with people on boards jostling to get the best position.
For those who don't care for surfing, the high-rise apartments and trendy cafes lining the waterfront give the beach a cosmopolitan atmosphere, best enjoyed over a cup of coffee looking out over the sands. On hot clear days the waterfront becomes exceptionally busy, so get in early for ease of parking and to enjoy it before the crowds gather.
For families, the beach is equipped with full amenities to help you transition easily between city and surf. Public toilets with an award winning design include changing rooms and showers, as well as a viewing platform on the roof. At the end of the day, enjoy a nice ice cream, café or restaurant.
Check out our blog for more New Zealand travel and holiday advice.
Explore Tauranga at your own pace in an affordable hire car from NZ Rent A Car.