Visit Nelson by Hire Car
Nestled at the top of the South Island on the eastern shores of Tasman Bay, Nelson is known for its sunshine, beautiful surrounds and laid back, cultured life style. As the setting for 3 spectacular national parks, 25 world class wineries, several Hobbit movie locations and a whole bunch of outdoor activities including hiking/tramping, mountain biking and kayaking, Nelson is the perfect destination for a holiday, a weekend away, or a road trip. Getting around the Nelson region is easy with an affordable hire car, allowing you to explore at your own pace.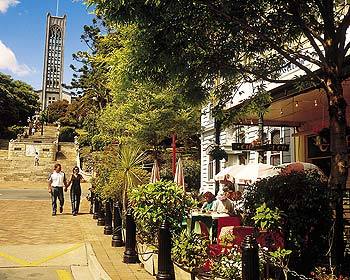 Sunny Nelson
The township is full of interesting historic buildings, and is home to a sizable population of local craftspeople. Their work can be seen at the many art galleries around the town, as well as at their home studios and at the Farmer's Market that takes place every weekend. For those interested in creative pursuits, Nelson has much to offer in atmosphere and attractions.
Nelson is also in the heart of the Marlborough wine region, offering access to many excellent local vineyards where you can sample some world-class wines. It is also the gateway to the Abel Tasman National Park, filled with stunning native trees, pristine golden beaches and a range of scenic walkways. For fishermen, it contains one of the world's best fly fishing destinations, as well as a slew of calm waters and bays for any avid kayakers.
Getting Around Nelson
Need transportation to make the most of the region? View our full range of affordable Nelson rental cars and explore the best of Nelson and beyond at your leisure.
Check out our blog for more New Zealand travel and holiday advice.
More Nelson attractions. View other New Zealand attractions in the photograph gallery.
Enjoy Nelson's attractions at your own pace in an affordable hire car from NZ Rent A Car.