Visit Rotorua's Geysers by Hire Car
New Zealand is full of natural wonders, and the geothermal region of Rotorua is a perfect example of this. With hot steam and mud bubbling under the surface looking for a way to escape, one stunning spectacle it creates is the Pohutu Geyser in the Whakarewarewa Geothermal Valley. One of 65 in total, it is the largest active geyser in New Zealand and erupts up to 20 times per day, reaching heights of up to 30 metres (100 feet). Getting around the Rotorua region is easy with an affordable hire car, allowing you to explore this thermal wonderland at your own pace.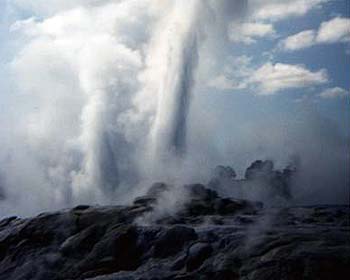 Geyser, Rotorua
You can complete a guided tour of the geothermal area in around 90 minutes, leaving you plenty of time to marvel at the natural phenomenon of the Pohutu Geyser – explained by early Maori as a gift from the gods. Here is a place where natural history, human history and culture all overlap and which you can experience for yourself.
Rotorua isn't just about geothermal wonders – the region is home to spectacular landscapes, with crystal lakes, majestic native forests and amazing Maori culture right at your fingertips. With 18 lakes to chose from you can relax in a thermal pool, take a trip on a catamaran, go white water rafting, kayak or paddleboard on smooth waters, enjoy a spot of fishing and even discover glow worm caves. The immense Whakarewarewa Forest is ideal for trampers, mountain bikers, horse riders to enjoy while magnificent exotic and native trees tower above. If culture is your thing, Rotorua is home to an array of Maori experiences, from Mitai Maori Village where you can experience a traditional hangi meal and cultural performance to the Buried Village of Te Wairoa, which was submerged by a volcanic eruption, and the living Maori villages of Ohinemutu and Whakarewarewa which you can access by guided tour.
Getting Around Rotorua
Need transportation to make the most of the area? View our full range of affordable Rotorua rental cars and explore the best of Rotorua at your leisure.
Check out our blog for more New Zealand travel and holiday advice.
More Rotorua attractions. View other New Zealand attractions in the photograph gallery.
Explore Rotorua's geothermal wonders at your own pace in an affordable hire car from NZ Rent A Car.