Explore Te Papa – New Zealand's National Museum
Located in its prime position down at the waterfront, New Zealand's National Museum Te Papa Tongarewa takes pride in providing Wellington, and all of New Zealand, with a world class cultural historical resource while being both educational and fun at the same time.
Within Te Papa's architecturally designed walls are six floors of exhibitions, three cafés and two gift shops – all dedicated to showcasing the very best of New Zealand culture and its environment. The museum also incorporates an outdoor native bushwalk area with artificial caves, an excavation area and wetlands.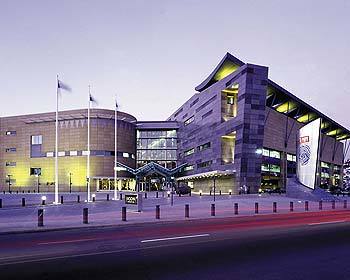 Top 4 Te Papa Exhibitions 2018/2019
Te Papa is home to separate Art, History, Taonga Māori, Pacific Cultures and Natural History collections, as well as an ever changing line up of new events and temporary exhibitions. Our top picks of currently available exhibitions are:
1. Terracotta Warriors: Guardians Of Immortality
Explore the secrets of the ancient terracotta warriors that guarded the tomb of Qin Shihuang, China's First Emperor for centuries. Then discover more than 160 ancient Chinese gold, jade and bronze works of art dating from 1046 BCE – 220 CE found in imperial tombs in and around China's ancient capital city.
2. Gallipoli: The Scale Of Our War
See the story of the Gallipoli campaign in World War I come to life in this collaboration between Weta Workshops and Te Papa at the Gallipoli: The Scale Of Our War exhibition. Get a glimpse into the lives of actual New Zealanders involved in the battle in larger than life form and explore interactive and informative experiences.
3. Bush City
Experience first-hand a small slice of New Zealand nature and iconic history all rolled into one. With over 1400 native plants, short bush walks, a swing bridge, manmade caves and even the chance to dig for fossils there is something for everyone.
4. Ko Rongowhakaata: The Story of Light And Shadow
Understand a little about the lives of this small tribe of Maori originating from the East Coast of New Zealand and their impact on early NZ. Uncover the fascinating people and places that made up Rongowhakaata's colourful history through taonga, innovative contemporary art and powerful stories of survival and determination.
Te Papa Admission Prices
General admission to Te Papa is free, however there are additional fees for some of the shorter term exhibitions and extra activities on offer.
Guided tours cost around $20 for adults and $10 for children (under-fives are free).
Te Papa Guided Tours
Short on time or want to make the most of Te Papa and all it has to offer? Why not take a guided tour, the following tours are available – book ahead to avoid disappointment.
Māori Highlights Tour
Taking in the highlights of the New Zealand Maori exhibitions and history this tour takes approximately 1 hour and costs $20 per adult and $10 per child. Tours depart from the Information Desk on Level 2 at 2pm every day, numbers are limited so booking in advance is advised.
Introducing Te Papa Tour
This one is perfect for those wanting a good overview of what the museum has to offer and a quick intro to New Zealand's culture and history. Tours run on the hour from 11am to 3 pm during the summer months and 3 times a day in winter. The tour lasts around an hour and costs $20 per adult and $10 per child.
Twilight Express Tour
Designed for those who arrive late in the day, the Twilight Express tour gives you a quick museum experience before the doors close at 6 pm. Tours begin at 5pm and last around 45 minutes. Book ahead to avoid disappointment, tours cost $20 per adult and $10 per child.
Private Tours
Private tours of Te Papa are available in a selection of different languages and at different times throughout the day, however these must be booked three days in advance. 60 minute tours cost $175 for a group of up to 7 adults, and 90 minutes tours are $210 or choose the in depth 'Private Māori Experience Kapu Tī Tour' for $420, this includes a hot drink and traditionally inspired food.
7 Things You Need To Know When Visiting Te Papa
Bag Check. Head on over to the 'Coat and Bag check' on the ground floor as you enter for a handy place to store your bags and coats so you can enjoy your museum experience without lugging heaps of stuff around – its free!
Free WiFi. Yes it's free! WiFi is available throughout the museum, with several designated spots that have seating provided including on Level 1 by the main entrance, at the Te Papa Café, on Level 2 near the Information Desk, outside Soundings Theatre, on Level 4 at the Espresso Café and near the Treaty of Waitangi: Signs of a nation display.
Parking. Paid parking is provided on site, there are two options covered or uncovered, simply take a ticket or use your credit card to enter. During the day parking costs $4 per hour up to a maximum of $30.
Location. Te Papa is located on the Wellington waterfront at 55 Cable Street, it is possible to get there via bus, taxi, train, rental car, bike or by walking.
Map. See here for a downloadable map of Te Papa so you don't miss out on anything!
Family Friendly. There are loads of family friendly places at Te Papa including StoryPlace, Discovery Centres, parents rooms and play areas.
Opening Hours. Te Papa is open every day from 10am to 6pm except Christmas Day.
Getting Around Wellington
Need transportation to make the most of the region? View our full range of affordable Wellington rental cars and explore the best of Wellington and beyond at your leisure.
Check out our blog for more New Zealand travel and holiday advice.
More Wellington attractions. View other New Zealand attractions in the photograph gallery.
Explore Wellington at your own pace in an affordable hire car from NZ Rent A Car.