Auckland Sailing And Boating
With its bustling, vibrant waterside precincts, immense harbour and vast oceanic borders, it is no surprise Auckland is home to the highest number of recreational boaters in New Zealand.
Whether you are a natural water lover or a complete novice, there are so many ways to get out on the water in Auckland. Down at the harbour-side you will find a number of different cruise, guided tour, ferry services and water craft for hire.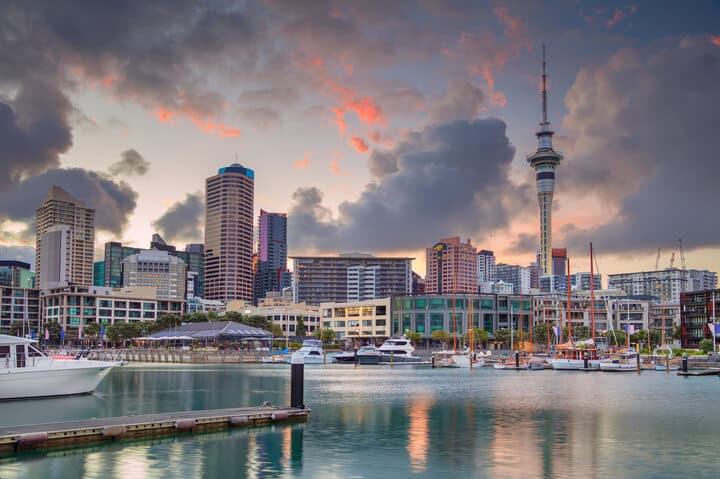 Whether you want to head over to Devonport on the ferry for the day, take a scenic cruise around the Hauraki Gulf and out to Waiheke Island, charter a boat or give yachting, kayaking or stand up paddle boarding a go – there is something for everyone on the water in Auckland.
Auckland Boat Shows
Some of the biggest boating shows in the country are held in Auckland's Waitemata Harbour and Hauraki Gulf, take a look below for two of the best boat shows not to be missed.
The Auckland On Water Boat Show
Held once a year at the Viaduct Harbour, Auckland's biggest on-water boat show features a huge range of boats from restored sailing ships to power and jet boats, as well as kayaks, canoes, paddleboards, jet skis and other water sport equipment.
On dry land boat enthusiasts can get the hands on a variety of boating ancillary equipment from marine electronics and engines through to navigation, safety and fishing equipment as well as access to a good selection of marine service providers.
This annual event occurs every September usually over a period of 4 days. Ticket prices are around $20-25 for a one day pass or $30-35 for a full four day ticket.
The Hutchwilco New Zealand Boat Show
Bringing you the latest and greatest the boating world has to offer, the Hutchwilco New Zealand Boat Show is held every year in May. Four days of action packed boatie heaven awaits visitors with a wide range of new boats, parts and accessories along with the latest engines, electronics, fishing and dive gear.
Get free advice from top fisherman, grab some bargains at New Zealand's largest array of fishing gear and be in with the chance to win great prizes. Check out the latest innovative products, and enjoy viewing competitors boats on display – a fun day out for the whole family.
The NZ Boat Show is held at the ASB Showgrounds in Greenlane, Auckland. Tickets cost around $20 for a one day pass, ticket holders are able to attend on any one of the four days.
Ferry Services In Auckland
Taking a leisurely trip on a ferry around the harbour or beyond into the many beautiful Hauraki Gulf destinations is a great way to explore out on the water without needing to be an experienced boatie.
There are several ferry services operating in and around Auckland. Options range from regular commuter runs from places like Devonport, Bayswater, Birkenhead, Half Moon Bay, Stanley Bay and Northcote through to tours with more of a sightseeing feel.
Get out into the Hauraki Gulf and visit popular destinations like Waiheke Island, Rangitoto Island, Tiritiri Matangi Island or go even further afield to places like the Coromandel and Whangaparaoa Peninsulas.
Find out more about Auckland ferry timetables and pricing here or take a look at the ferry operator's websites below.
Fullers. Auckland's main ferry operator providing scheduled services all over the region.
Sealink. Waiheke Island specialists with vehicle transport available.
Most ferry routes depart from the Ferry Terminal Building on Quay Street. This is just a short walk from the Britomart Transport Exchange, or travellers can drive or bus from Auckland Airport to Queens Wharf (25 minutes by car or just over an hour by bus).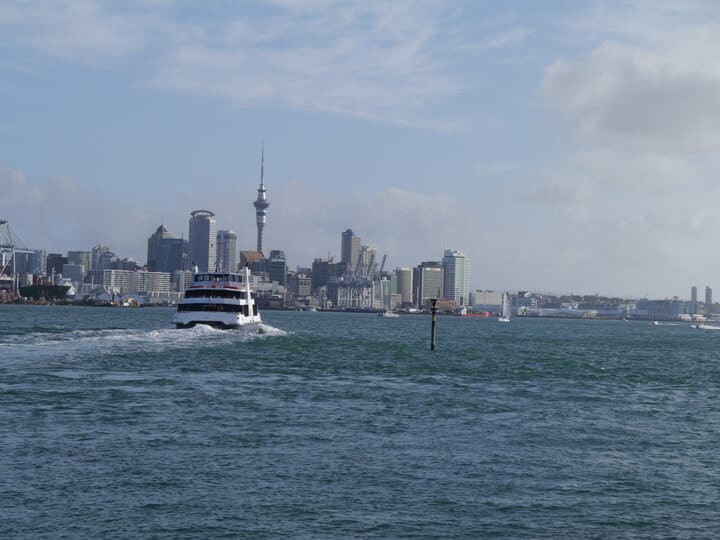 Boat Hire In Auckland
Hiring or chartering a boat in Auckland is a great way to head out on the water and explore at your own pace without restrictive timetables or schedules. Whether you have an epic fishing trip planned, just want to Island-hop for a while or cruise the Waitemata Harbour in style Auckland has it all.
Chartering a boat in Auckland is easy; there are a huge number of companies offering boat hire (both bareboat and charter with skipper on board), fishing charters, sightseeing cruises, corporate event hire and even luxury yacht hire. Take a look below for just a few of the options.
Top Five Auckland Harbour Sightseeing Cruises
Taking a leisurely Harbour cruise in Auckland is the trip-highlight for many visitors to Auckland city. Cruises offer the simplicity of letting someone else do all the work letting you enjoy the sights and sounds (and delicious foods!) Auckland has in abundance.
Sail under the Auckland Harbour Bridge, enjoy the city's coastal highlights and head out through the Harbour mouth into the Hauraki Gulf and its volcanic Islands on your Auckland Harbour Cruise today.
Choose from kayaking or jet boating tours, eco and wildlife tours or luxury yacht style tours … can't wait? Take a look below for our top five Auckland Harbour cruise tours.
There is so much to discover and enjoy when it comes to boating and sailing in Auckland, the natural waterways of New Zealand are consistently ranked as some of the world's best vacation destinations.
Auckland Airport Travel
Need transportation to make the most of the area? View our full range of affordable Auckland Airport rental cars and explore the best of Auckland at your own pace.
Check out our blog for more New Zealand travel and holiday advice.
Back to Auckland Airport attractions
Explore Auckland at your leisure in an affordable rental car from NZ Rent A Car.