Ports of Auckland
Rental Cars for Cruise Ship Passengers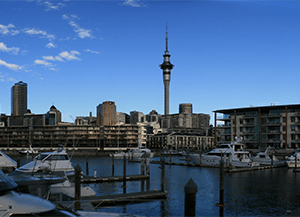 Auckland, city of sails, is New Zealand's largest city surrounded by water, giving you a wide range of options on how to you spend your time ashore. Head in any direction and you will find stunning scenery – north over the harbour bridge to the beautiful east coast beaches and beyond, West to The Waitakere with the wild west coast beaches, waterfalls, bush walks, and boutique vineyards. If you want to get away from it all take the Huia Road to Whatipu, the most beautiful beach in the Auckland region.
Stay within the city isthmus and tour the viewing points of Mt Eden, Sky City, and the Museum. Visit the Zoo, Cornwall Park, Kelly Tarlton's Undersea Aquarium, or the Auckland Botanic Gardens. For the shop-a-holics and foodies Britomart along the waterfront offers the best of New Zealand designers and restauranteurs.
Pick up and delivery of your rental vehicle will be arranged when your booking is confirmed. To get your booking underway select 'Port of Auckland' in the Pick Up field of the 'Quote / Book Now' box.