Earthquake Updates
Tuesday, November 15th, 2016
What Happened, and Where?
As the world knows by now, the South Island of New Zealand was struck by a 7.8 magnitude earthquake at 12.02am Monday (11.02 Sunday GMT). The unfortunate town nearest the epicentre of the quake was the modest seaside hamlet of Kaikoura. The disaster is believed to have left two people dead, and the local communities without telecommunications, power or water. State Highway 1 into Kaikoura has also been blocked by landslides, and damage is known to have extended as far north as Picton and Wellington, causing temporary cancellation of the interislander ferries. New Zealand sits on the so-called "Ring of Fire," an arc of seismic faults around the Pacific Ocean where earthquakes are reasonably common.
Where is Kaikoura?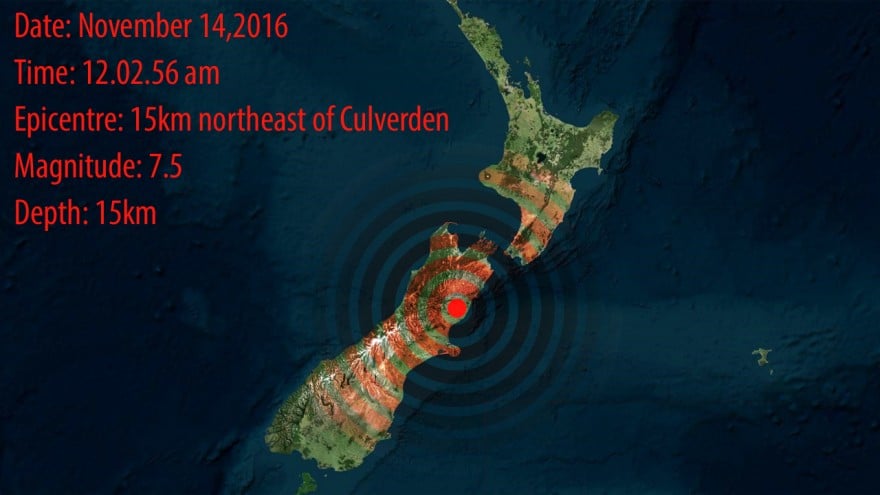 Kaikoura is about halfway between Wellington and Christchurch, in the north Canterbury district. It's not only one of New Zealand's most popular tourist destinations, it is considered one of the world's finest locations in the world for whale and dolphin watching, albatross spotting, and a bounty of other marine activities. It is no coincidence, in retrospect, that it is a giant undersea canyon just offshore which attracts the sea life.
In 2004, Kaikoura was the first town in the world to gain accreditation under the Green Globe scheme, in recognition of its "positive contributions to people and planet" through ecotourism.
Plane and Boats and Trains
No airports have been affected by the quake, so flights are business as usual throughout the country.
The inter-island ferries have largely resumed service, with sailings scheduled from Wellington to Picton for vehicles and foot traffic. At this stage there are only freight and vehicle crossings from Picton to Wellington while repairs to the Picton terminal are carried out. See the websites for the Interislander and Bluebridge ferries for updates.
Trains in Wellington were cancelled for the day following the quake whilst lines, tunnels and bridges could be inspected, but they have since resumed. TranzAlpine and Northern Explorer services are running as normal, but the Coastal Pacific and Capital Connection services still suspended at this time. For rail updates see KiwiRail's disruption updates. Rail New Zealand reports major damage to the Main North Line (Coastal Pacific Train) around Kaikoura and this line is closed until further notice.
Traveling In NZ
While some roads sustained damage or were blocked by debris or slips, SH1 from Picton to Blenheim as well as parts of SH6 reopened today, and only SH1 from Seddon to Cheviot (through Kaikoura) remains closed. Tourists must take a scenic detour around SH63 or other routes, but work on SH1 continues around the clock to clear this for the sake of Kaikoura residents and the local farms. Traffic was backed up today in and out of Wellington when heavy rains caused flooding both SH1 and SH2, these are reportedly open now. The NZTA Website has all the updates on road closures, making it very easy to see the trouble spots and plan detours. Metlink is a great source of online updates for Wellington. Don't forget to ask local advice if you're unsure which route may be best, their firsthand knowledge is often better than a website!
Aftershocks have been frequent and occasionally severe in the Wellington and North Canterbury regions, these should diminish over the next few days and weeks but are something to be mindful of. Tsunami warnings were issued and then called off within hours of the quake, although authorities are still cautioning people against visiting beaches in these areas. That hasn't been a problem as it hasn't been beachgoing weather anyway!
"Much of New Zealand remains unaffected," said a spokesperson for New Zealand Tourism. "It appears the greatest impact is in rural North Canterbury, Kaikoura and Wellington, although information is still being confirmed."
While it is fortunate that serious damage is limited mainly to one town and it's outlying countryside, that's little consolation to residents of Kaikoura. If you'd like to help in some way please consider donating to the Red Cross, who have about 50 people in the area providing food, water and first aid care. You can also support a team of builders who are on site doing what they can to help. They are working for free but need to buy materials etc. Donate to them through givealittle. 
For more updates please check NZ Civil Defence on Twitter or Facebook, or contact your nearest NZ Rent a Car branch on 0800 800 956. Keep an eye on our Facebook page for travel-related news as it comes in, too.