International Antarctic Centre
The International Antarctic Centre is one of Christchurch's most iconic tourist attractions. This award winning destination is packed full of interactive and educational experiences for all ages. And its conveniently located near Christchurch Airport.
Experience an arctic storm, watch the little blue penguins at play, take an exhilarating ride on the Hägglund all-terrain vehicle and 'cruise' down to Antarctica in the 4D EXTREME Theatre.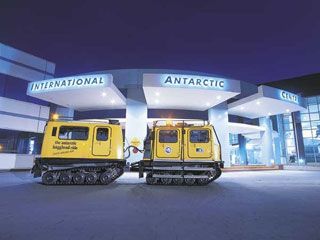 Quick Facts
Just here for the basics? Then here are the Antarctic Centre opening times, location and contact details.
Location: 38 Orchard Road, Christchurch Airport
Phone: 0508 736 4846
Opening Hours: Monday to Sunday from 9am to 5.30pm, 365 days per year
What To Expect
Visiting the International Antarctic Centre is one of the must-do activities when in Christchurch. This world class attraction offers up a range of fun encounters able to be experienced at set times throughout the day. Here is a quick summary of what to expect to make the most of your visit.
Storm Dome
Want to see what it's like to be in Antarctica? Then the Storm Dome is where you want to be! Complete with snow, and ice cave, strong icy cold winds and dropping to a temperature of -8°Celsius the Storm Dome provides a thrilling (and cold!) experience for all ages and abilities.
Jackets and protective overshoes are provided – trust me you'll need them! Open toed shoes are not recommended.
Storm Dome experiences are currently scheduled for 9.30am, 11am, 11.30am, 12pm, 12.30pm, 1.30pm, 2.30pm, 3pm, 4pm and 4.30pm each day.
The Hägglund
Taking a ride in the specialised all-terrain vehicle known as the Hägglund is often the highlight of the visit for many children. This vehicle is designed to safely travel across the icey terrain in Antarctica, and provides an authentic look into its capabilities – without the snow of course.
The ride takes approximately 15 minutes, children must be accompanied by an adult and the ride is quite rough at times – discretion is advised.
Hägglund rides runs throughout the day between the hours of 9.20am and 4.20pm.
Husky Zone
The Antarctic Centre husky Zone is designed to give visitors the opportunity to get up close and personal with these regal and intelligent animals. Pat the Huskies, learn about their role in the history of Antarctic expeditions and ask any questions you may have.
The Huskies are available to view from 9.30am to 5pm (with a short break between 12.30 – 1.30pm).
Penguin Rescue
View the penguin sanctuary from behind the glass (great underwater views) or get outside and see them from the viewing points above. The Little Blue Penguins are fascinating to watch and the informative talks are a great way to understand these little birds and how we can better look after them in the future.
The penguins are fed at 10.30am and 3.30pm daily, with an additional Penguin Talk at 1pm daily.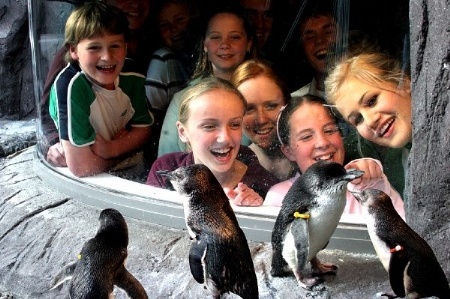 4D Theatre
Experience the thrill of 4D at its best in this epic experience complete with moving seats, water spray and wind while you take a visual voyage on the ice just like the experts in Antarctica. All children must be accompanied by an adult for the 4D Theatre experience.
The 4D 'Ice Voyage' show runs on the hour between 11am and 5pm, the second show 'Smallfoot' runs at 10.15am, 11.30am, 1.30pm, 2.30pm and 4.30pm.
HD Theatre
Relax in the quiet of the HD Theatre before exiting the Antarctic Centre and enjoy a 17 minute visual extravaganza of stunning pictures and film with views of Antarctica that will stun you. This film plays continuously so you can come back in for a second look if you like!
The HD Theatre film runs for 17 minutes.
Antarctic Gallery
See some real artifacts from intrepid Antarctic explorers, learn about their lives on the ice and what it takes to survive in one of the harshest environments on the planet.
Entry to the Gallery is included in your General Admission ticket.
VIP Penguin Backstage Pass
Get that little bit more up close and personal with the Little Blue Penguins at the Antarctic Centre with the VIP behind the scenes adventure. The VIP Penguin Backstage Pass offers visitors the chance to learn more about feeding and caring for these birds and what it takes to keep the sanctuary running on a day to day basis.
Tours are limited to a maximum of 8 people and run daily at 11am, 12pm, 2pm and 3pm.
Entry Prices
Most Antarctic Centre experiences are covered under the General Admission Pass however there are some exceptions. Tickets include a Hägglund ride, entry to the Husky Zone, Storm Dome, Penguin Rescue, HD Theatre and 4D Theatre. Here is a quick break down of the current Antarctic Centre admission prices.
General Admission
$59 per adult
$29 per child (5 to 15 years)
$149 per family (2 adults 3 children)
Seniors (with valid ID)
Students (with valid ID)
Annual Passes are also available at $84 per person and $199 for a family. Save $3-$4 when purchasing your tickets online.
The VIP Penguin Backstage Pass
$25 per adult
$15 per child
$80 per Family
$20 Senior/Student (with ID)
What You Need To Know
Here are a few handy things you need to know when visiting the Antarctic Centre in Christchurch.
Wheelchair Friendly. The premises are wheelchair friendly.
Gift Shop. There is an onsite gift shop for all those souvenirs and last minute mementos.
Free Shuttle. There a free penguin express shuttle travelling between the city and the Antarctic Centre, pick up is from outside the Canterbury Museum.
Audio Guides. Audio commentary devices are available for hire ($10) for those who wish to hear more about the facility and its contents.
Lockers. Coin operated lockers are available on site for luggage storage.
Cafe. There is an onsite cafe serving a selection of baked goods and all the usual treats for those who wish to refuel.
Whether you are holidaying in Christchurch for a day, a week or a month don't miss the epic adventures at the International Antarctic Centre.
Christchurch Travel
Need transportation to make the most of the area? View our full range of affordable Christchurch rental cars and explore the best of Christchurch at your leisure.
Check out our blog for more New Zealand travel and holiday advice.
Back to Christchurch Photograph Gallery
Explore Christchurch at your leisure in an affordable hire car from NZ Rent A Car.