Dunedin Rental Car Travel Itinerary
Dunedin offers visitors a unique and interesting destination whether for a weekend away or longer family holiday. Find everything from Albatrosses and beautiful beaches through to abundant wildlife and historic architecture – there is something for everyone.
Not sure what you can do in Dunedin or where to go? Read on for our 7 days of handy travel suggestions.
Day 1
Dunedin here we come!
Begin your day at the Octagon, the heart of Dunedin, from which you can explore a range of spectacular Victorian and Edwardian architecture. Places to look out for are the Dunedin High Court, First Church, Dunedin Railway Station (built in Flemish Renaissance style), St Pauls Cathedral, and the Municipal Chambers.
Taking a tour of the historic Olveston homestead on Royal Terrace is well worth it. Olveston is open every day and tours last around an hour. Gifted to the city of Dunedin in 1966, Olveston gives a carefully preserved glimpse into the wealthy lives of owners the Theomin's, dating back to 1906.
Stop off at the Good Earth Café for a late lunch, these guys are the perfect place for anyone with food intolerances or allergies, and they use fresh organic produce where possible.
After lunch take a drive up North Road to Baldwin Street – the world's steepest street – and from there you can continue on to Signal Hill for panoramic views across the city, harbour and peninsula.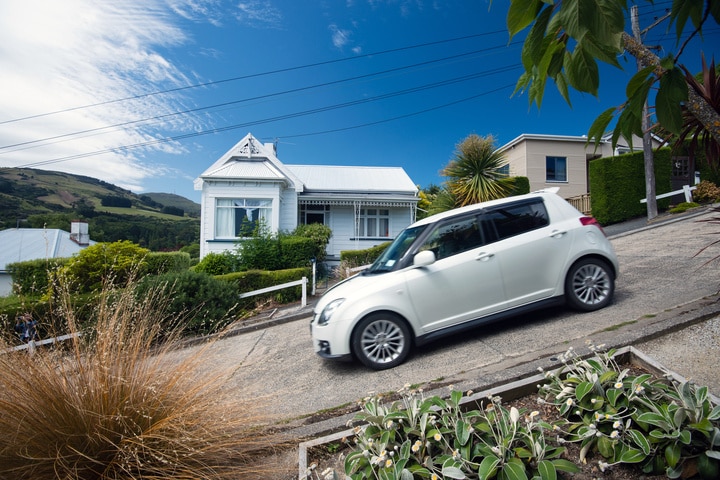 Day 2
Grab your morning coffee from The Fix on Fredrick Street and let's explore the Otago Peninsula.
The Otago Peninsula is calling today with our journey starting at Highcliff Road, rising up into the rolling green hills with their traditional styled farms. From there you can enjoy scenic views of the Pacific Ocean, Otago Harbour and smaller peninsula beaches.
Heading further out on the Otago Peninsula take the time to thoroughly explore Larnarch Castle – New Zealand's only castle. The stately home and 14 hectare gardens are well worth a visit. Stay for High Tea at the Ballroom Café and enjoy soaking up the grand atmosphere.
Continue on to view the wading birds that make Hoopers and Papanui Inlets their home. Further on lies Portobello, where you can enjoy arts and crafts outlets and Historical Society Museum at this small seaside village.
Continuing with your rental car along Harington Point Road, you'll come to The Royal Albatross Centre, where you can take a tour of the yellow-eyed penguin conservation site and the only mainland Royal Albatross colony in the world. You'll be guided through the interactive displays and the natural habitat in small tour groups.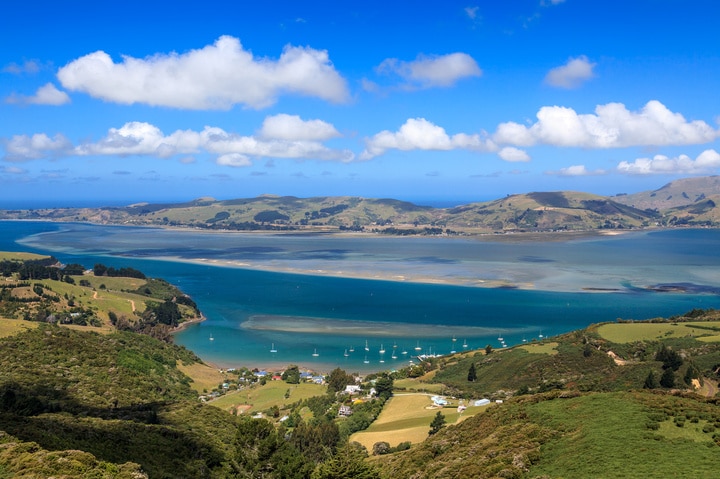 Day 3
Heading north today, let's take it up the coast a little to Waikouaiti.
Just 30 minutes from Dunedin, travelling up the East Coast you will find the township of Waikouaiti. In the area there are good opportunities to fish, surf, go boating, tramping, kayaking or horseback riding and of course encounter some of the native wildlife at the local Hawksbury Lagoon Wildlife Refuge.
The protected wetlands of the Wildlife Refuge provide a safe haven for aquatic birdlife during their migratory and nesting periods. While enjoying the public walkway (Access off Stewart Street) birds you might see include Paradise Ducks, Grey Teal, Shelducks, Shags, Pied Stilts, Geese, White Herons, Royal Spoonbills, Shoveller Ducks and Black Swans.
Grab a quick lunch from The Outpost café on the main street or a delicious pie from Beano's Pies across the road and head out to Waikouaiti Beach. Stretching between two prominent headlands, the northern Cornish Head where you can visit historic farm buildings at Matanaka Farm, or the southern Huriawa Peninsula, site of an old fortified Maori pa, Waikouaiti Beach is a great way to while away a sunny afternoon.
Day 4
Taking a short drive north east of Dunedin's city centre, let's explore Port Chalmers.
A popular cruise ship destination, Port Chalmers is a small village well worth exploring. Check out the heritage buildings, shops, galleries and restaurants as you make your way around the streets for the morning, stopping by your favourite café for a leisurely lunch.
If water sports are your thing then the surrounding bays offer excellent kayaking, rowing, sightseeing and fishing opportunities. Vivienne J Charters are a good local business that provides fishing and sightseeing charters operating out of Careys Bay. They can even take you across to nearby Quarantine Island for a chance to explore the Island on foot.
Orokonui EcoSanctuary is a little further up the road, this 307 hectare predator free sanctuary provides a safe haven for multiple species of plants and animals. Taking a guided tour is the best way to make your way around the sanctuary.
Grab some fresh Fish and Chips on the way back through Port Chalmers from the Port Fish Supply takeaways shop on the corner of Beach and Mount Streets.
Day 5
We are spending the day at the beach so don't forget your sunhat and sunscreen!
The waterfront at Brighton is a popular destination for those not wanting to stray too far from the central city. The small seaside town is just 15 minutes south west of Dunedin, and its broad sheltered beach provides excellent swimming in the summer months.
If the weather isn't co-operating, why not stop by the South Seas Gallery for a taste of some of the local artwork, then enjoy lunch at the Brighton Beach Café on Brighton Road.
Brighton is also a great place to hire a boat, (try the local motor camp for the best deals) and head out on the water for a spot of fishing or just a bit of good old fashioned exploration.
Day 6
It's time for a good old fashioned road trip, so pack up and lets get an early start.
Hitting the road today, we are headed towards Invercargill. Taking the more scenic route along the coast, the trip takes roughly 3 hours of travelling through well-established farmland and along the edges of the Caitlins Forest Park.
Arriving at Invercargill, stop by Queens Park in the central city for a chance to stretch the legs and get some fresh air before pausing at The Cheeky Llama Café near the entrance for a much needed chance to refuel.
Sightseeing is the activity for the afternoon, look out for the historic Water Tower off Doon Street, one of New Zealand's oldest hotels – The Victoria Railway Hotel, and check out Demolition World for something a little bit different?
Pay a visit to the Southland Museum if you get a chance then grab some Fish and Chips from the Albatross Fish Supply takeaways store and head out west to Oreti Beach to watch the sun go down.
Day 7
Shark diving anyone?
From Invercargill, visiting the small nearby township of Bluff means you have reached the southernmost tip of New Zealand's South Island.
Grab a selfie at the famous Stirling Point Signpost, wander around The Bluff Maritime Museum and enjoy some lunch at the Lighthouse Gallery and Café and your morning is pretty much accounted for…. Or…
Shark Diving with the team at Shark Dive NZ is the perfect way to round off your Dunedin holiday with a bang. Who wouldn't want to be trapped in a small cage in the middle of the Foveaux Strait while Great White Sharks circle around you? Right?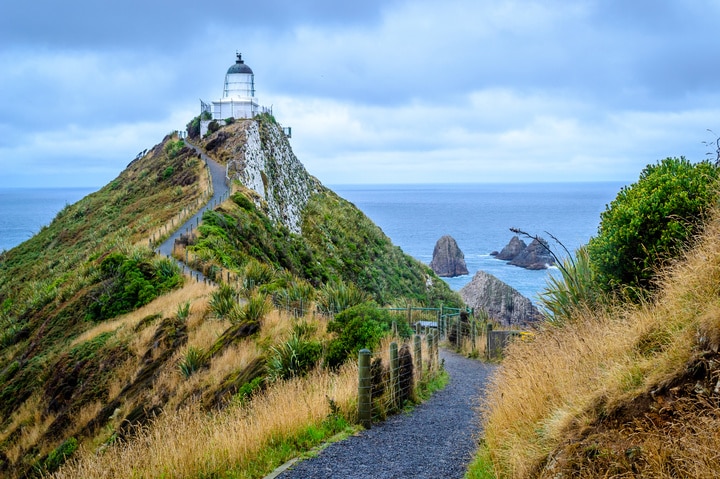 Dunedin Travel
Getting around Dunedin is easy with a rental car and there are plenty of options for you to choose from.
NZ Rent A Car has car rental locations throughout New Zealand, including a handy Dunedin car rental depot offering a wide range of reliable affordable rental cars to suit all budgets.
Check out our Blog for more travel tips and ideas:
Explore Dunedin at your leisure with affordable car rental from New Zealand Rent A Car.