Best Walks To Try In Dunedin
Whether you are visiting Dunedin for a short time or staying for an extended holiday, you may discover that you can see the city and the surrounding area by foot. There are a number of walking tracks and hiking trails both in and outside of the city, and best of all, there are tracks for all skill and fitness levels.
Here, you will find walks that meander along the coastline, or you might find walks that take you into the bush. There are also paved walks, which are ideal for family walks with a buggy, or specific trail walks, which can take several hours to complete. The following are only a few of the many walks in Dunedin that you should consider when in this city:
Dunedin City Walks
Seeing the best of Dunedin is possible by walking through the city. There are several charming walks that you can take without even leaving Dunedin, and at the same time, you can explore the art, culture and history of the second largest city on the South Island.
Art and Culture Self Walk
There is a lovely self-walk that you can take through the high culture part of Dunedin. This walk is approximately 2.7 km with several stops along the way. Start the walk at The Hocken Gallery on Anzac Ave, and then head north, turn left on Albany Street to the School of Art at Otago Polytechnic. Walk a few blocks west down Albany Street, making sure to stop at the Otago Museum.
From there, walk just a bit further west to Georges Street, turn left and walk down to the Octagon. Here, you will find a number of art and culture institutions including the Inge Doesburg Gallery and Studio and the Dunedin Public Art Gallery, which displays the oldest art collection in New Zealand.
Octagon Walk
From the Octagon, you can easily take a short walk and take in all of the beautiful architecture in Dunedin. There are a number of highlights in the area of the Octagon, and these include the First Church of Dunedin and the Dunedin Railway Station. You will also come across a number of galleries, historic sites and see the Scottish heritage that Dunedin is known for.
Dunedin Botanic Garden Walk
For a bit of nature in the city, consider walking through the Dunedin Botanic Gardens. There are several paths and tracks in the gardens, which vary in length and difficulty, and along the way you can take in some of the city's finest sculptures and other art. There are also areas for picnics, public toilets are available, and even a café if you have worked up an appetite whilst walking through the gardens.
Walks Outside of the Dunedin Cityscape
There are also opportunities to explore the vast and beautiful landscape around Dunedin. These walks might be a bit difficult in some cases, but it is just as easy to find something perfect for those who simply wish to take a stroll. Here are some of these walks:
Ross Creek
When it comes to bush walks, you cannot get much better than the easy walk through Ross Creek. This walk follows the Woodhaugh Gardens Trail, and it is relatively sheltered, which allows walkers to enjoy the beauty that nature has to offer whilst being protected from inclement weather.
This walk officially begins on George Street, but can also be accessed from other areas in Dunedin including Tanner Street, Cannington Road, Malvern Street, and Rockside Road.
Sinclair Wetlands Walk
If you are someone who loves birds or wishes to take in some of the swampland around Dunedin, consider the Sinclair Wetlands Walk. This is a self-walk around the ponds and waterways of a 315-hectare wetland. Along the way, you will see as many as 60 different species of birds, and even see other creatures that live in the swamps, including eels, muscles, and crayfish.
There is also an opportunity to kayak in the wetlands, which will get you up close and personal with the natural inhabitants.
Victory Beach Walk
If you are willing to travel outside of the proper city of Dunedin, you can find a number of gorgeous coastal walks, including the Victory Beach walk. This walk is approximately 2 km, and it follows a walkway which will take you past the natural pyramids.
These pyramids are made of basalt and are perfectly geometrical. You may want to climb up one of the smaller pyramids to peak over the dunes to see if there are any sea lions or other denizens about.
Otago Peninsula Walks
Just a short way from Dunedin, you will find the Otago Peninsula. This area offers some of the best natural walks near Dunedin.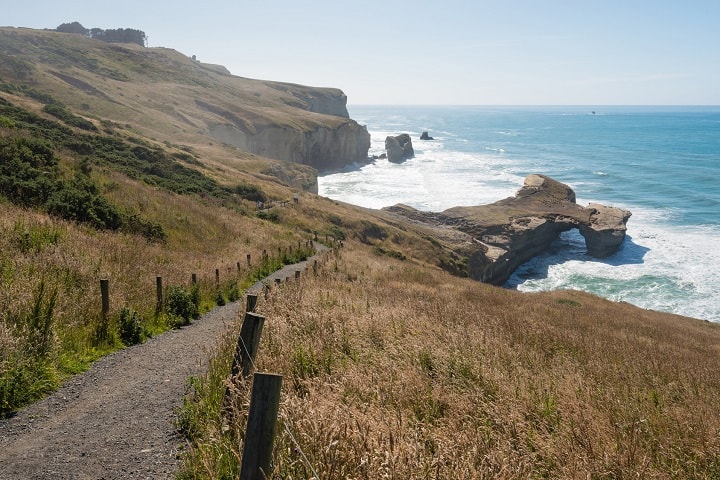 41 Peg Road
One of the more difficult walks, but well worth the effort, is the one at 41 Peg Road. This track links Highcliff Road to Ocean Grove, and the access to start this walk is on off of Oregon Street. The walk will take you through native bush, and give excellent views of the rock walls and gorse.
Greenacres Street
For some of the most stunning views of the city from the Otago Peninsula, take the walk that connect Greenacres Street to Highcliff Road. Walk up to Greenacres street, and then turn to the right when you come to the sign with Dunedin City Council on it. Follow this track alongside the stone walls for the view. This walk takes approximately 40 minutes, but it is not difficult terrain.
Mt Charles
The ultimate walk on the Otago Peninsula is the one up to the Mt Charles Summit. This is the highest point on the peninsula, but it goes over private land, so you must obtain permission from the landowner, which is common practice on the peninsula. This is a difficult walk; it takes approximately three hours, but for those who are physically fit, the views are spectacular.
Tips for Walking in Dunedin
The above walks are only a small number of the multitude of walks around Dunedin. If you are going to set out on any of these walks, make sure that you are remaining safe and respecting the land. Stay on the marked tracks, park cars in legal areas and report any hazards that you may come across.
Do not leave rubbish in the area, do not attempt to approach wildlife, and always make sure someone knows where you are if journeying into rough, rugged areas. Most of all, enjoy your walk, and take some time to take in all that the Dunedin area can offer.
Dunedin Travel
Need transportation to make the most of the area? View our full range of affordable Dunedin rental cars and explore the best of Dunedin at your own pace.
Check out our blog for more New Zealand travel and holiday advice.
Back to Dunedin Photograph Gallery
Explore Dunedin at your leisure in an affordable rental car from NZ Rent A Car.