Franz Josef Glacier
Located in the Westland Tai Poutini National Park, the Franz Josef Glacier has been a prominent feature of the rugged West Coast landscapes for centuries. The glacier extends approximately 12 km from its alpine origins, terminating a mere 19 km inland from New Zealand's rugged western coastline and the Tasman Sea.
Known in local Māori legends as Kā Roimata ō Hine Hukatere (the frozen tears of Hine Hukatere), the Franz Joseph Glacier now stands as a testament to her grief over the death of her beloved Wawe after a climbing expedition gone wrong.
The Franz Joseph Glacier and its neighbour the Fox Glacier attract thousands and thousands of visitors every year from all around the world, some seeking out the terminal face of the glaciers and some wishing to explore its icy realm hidden below the surface.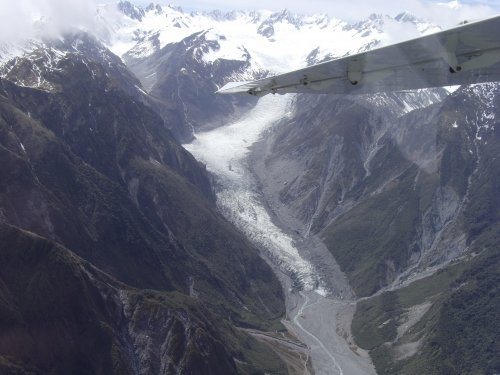 Getting There
The Franz Joseph glacier is a very scenic 5 hour drive from Christchurch, around 2 ½ hours from Greymouth, 3 hrs 40 minutes form Wanaka and just under five hours drive from Queenstown. The nearest airport is in Hokitika, roughly a 2 hour drive away (however Queenstown is the closest international airport) and the nearest train station is in Greymouth (The TranzAlpine) at 2 ½ hours' drive.
You will find the Glacier Access Road just south from the Franz Josef Village on State Highway 6, cross the Waiho River Bridge and take a hard left, the Franz Josef Glacier carpark is located roughly ten minutes' drive down this road.
Be aware the access road and walking tracks to Franz Josef Glacier can sometimes be closed to the public due to rock falls or flooded rivers. Check weather conditions and road closures here.
Franz Joseph Glacier Experiences
From the carpark there are two main options available to view the glacier. The Franz Josef Glacier Valley Walk will bring you towards the terminal face of glacier, viewing the terminal face is only possible from a safe distance on foot unless you are accompanied by an experience guide or via helicopter.
More experienced and well equipped hikers can choose to explore the 12.3 km Roberts Point Track, eventually viewing the glacier from above. Scenic flights and the opportunity to land on the glacier and explore are also an extremely popular way to get the full glacial experience.
The best time of the year to visit Franz Josef is in the New Zealand winter, the glacier will be at its best (and not melting too much) and as a bonus there will be fewer crowds. Expect temperatures of around 10-21 degrees Celsius in summer and 2-12 degrees in winter.
Glacier Tours
Choose from a variety of guided tours provided by experienced local guides. These tours are available to book online or in person when arriving at the Franz Joseph Village. Combine hiking with a helicopter ride, climb or walk among the icy tunnels, seracs, ice caves and crevasses.
Here is a selection of tour operators offering guided Franz Joseph Glacier tours to get you started.
All guided tours and helicopter flights are weather dependent and best booked in advance in order to avoid disappointment, see your individual tour operator for cancellation information and advice.
What To Take With You
New Zealand's weather is unpredictable at the best of times, it is important to take the right gear with you when heading into the great outdoors. The conditions in the Waiho Valley are subject to rapid changes in temperature and conditions and the entire river bed can become flooded after heavy rain – here are few things you need to take with you on your glacier adventure.
Layers of clothing including a warm sweater
Warm waterproof jacket
Track pants or comfortable trousers (not jeans they become heavy and cold if wet).
Sturdy hiking shoes/boots
Water and snacks
Insect repellent
For more information on safety recommendations, weather and alerts when entering New Zealand's remote National Parks check out the Department of Conservations 'Know Before You Go' website.

8 Things To Do In Franz Joseph
Seen the glacier terminal front, explored the crevasses and caves, and enjoyed a scenic helicopter flight? Now it's time to see what else there is to do in Franz Joseph and make the most of the time you have left in this beautiful little slice of West Coast paradise. Here are our top 8 things to do in Franz Joseph village.
Kayaking. Explore the scenic delights of the Okarito Lagoon by kayak with Okarito Kayaks.
Quad Bike Riding. Explore the West Coast rainforest from the back of a 2 seater quad bike with Across Country Quad Bikes guided tours.
Flightseeing. Taking a sightseeing flight in a plane is a great way to see a bit more of the surrounding area, see the team at Air Safaris for more information.
Tandem Sky Diving. Take the plunge with one of New Zealand's most scenic backdrops with the team at Skydive Franz.
Hot Pools. After your busy day on the glacier enjoy a soak in the relaxing hot pools at Franz Josef Glacier Hot Pools.
Wildlife Fun. Check out the famous West Coast Wildlife Centre, including the kiwi breeding program and behind the scenes Kiwi and Tuatara Tours.
Clay Target Shooting. Try your hand at real clay target shooting with the experts at Franz Josef Clay Target Shooting.
White Water Rafting. Take to the water and have some fun with Eco Rafting at Franz Joseph (Grade 2 to 5 available).
Whether you choose to drive up from Queenstown or make your way through Arthurs Pass and down from Hokitika or Greymouth, visiting the Franz Joseph glacier will be one of the most memorable experiences on New Zealand's ruggedly beautiful West Coast.
Greymouth Travel
Need transportation to make the most of the area? View our full range of affordable Greymouth rental cars and explore the best of Greymouth at your own pace.
Check out our blog for more New Zealand travel and holiday advice.
Back to Greymouth Photograph Gallery
Explore Greymouth at your leisure in an affordable rental car from NZ Rent A Car.