Punakaiki Pancake Rocks & Blowholes
New Zealand is a land full of fascinating geological phenomena, and one of the most visually distinctive is the "pancake rock" formation located at Punakaiki on the West Coast of the South Island. These rocks were first formed 30 million years ago from the fragments of dead marine flora and fauna, solidified together into layers by immense water pressure.
The natural seismic action of the country lifted them up above sea level to the height we know them at today. Once exposed, they were then sculpted by rain, wind and sea spray.
A 20 minute loop walking track winds through the different rock structures, showing you the incredible formations, crevices and foam from the waves. At high tides, the sea rises up through the narrow chasms and erupts in spectacular blow holes – there are signs on the ground warning not to stand too close. A café across the road provides an excellent morning or afternoon tea break.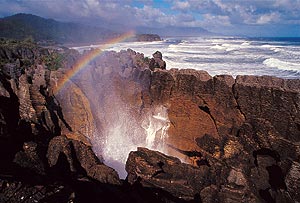 Getting Around The West Coast
Need transportation to make the most of the region? View our full range of affordable Greymouth rental cars and explore the best of Punakaiki, the West Coast and beyond at your leisure.
Check out our blog for more New Zealand travel and holiday advice.
Back to Greymouth Photograph Gallery
Enjoy the stunning West Coast at your own pace in an affordable hire car from NZ Rent A Car.