History Of Nelson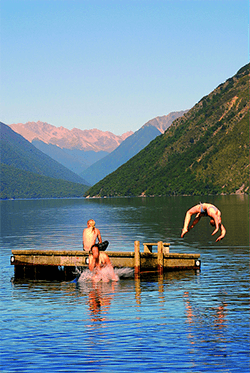 Located in the sunny north of the South Island, Nelson and the Marlborough region have been popular areas with settlers from a wide range of backgrounds. This started as far back as 700 years ago with the arrival of the first Maori travellers. Rich in plant and bird life as well as fertile soils, the region was highly valuable for food production – making it a prize for other iwi to want to claim.
In 1642 the first documented European visitor arrived – the Dutch explorer Abel Tasman, after whom the Abel Tasman National Park is named. However due to clashes with local Maori, he did not fully explore the area. This was done later by James Cook in 1770 on the Endeavour as he stopped for supplies. After this, the next major group of visitors were the sealing and whaling parties that sought to harvest in the southern ocean.
This early settlement created the foundation for subsequent expansions exploration throughout the 1800s that shaped the region into how it is today. These included the New Zealand Company which had been sent to officially establish the country as a colony for England, shortly followed by the first wave of permanent settlers. Finding the area rich in arable land and natural timber, clearing and logging soon began to ensure everyone had a space to farm for themselves. Bringing knowledge, seed and livestock from England, this is the origin of still-strong agricultural tradition in the region. However this widespread destruction of native forests created an irreversible mark on the area which – like elsewhere in New Zealand – has never fully been recovered. Although large tracts of the area were eventually designated as protected national parks, this wasn't until well into the 20th Century, and up until that point no thought was given to preservation at all.
Gold and coal also brought people to the region, and particularly started the settlement of the more outlying regions such as Murchison. There were also settlers from a range of nationalities besides British, including German and Italian, all bringing their own culture and experience to the settlement of the region. The result is that Nelson is a region with a rich history of different settlers and explorers, the sum of whom have led to its current character. With even more immigrants arriving all the time to make the beautiful area their home, this will only continue to evolve and develop.