New Zealand Rent A Car Testimonials
We have been proud to assist thousands of Kiwis and overseas visitors with their New Zealand holiday, and in response we've recieved some excellent customer feedback. Our New Zealand Rent A Car testimonials are proof of our dedication to top quality, friendly service and well maintained vehicles.
---
"Just wanted to drop you a quick note to say thanks for the great service and van for my recent trip.
The van was comfortable and easy to drive and held lots of luggage (the attached pic shows us packed for 7 Americans (plus me – my bag is the red one on the right!) with room for more).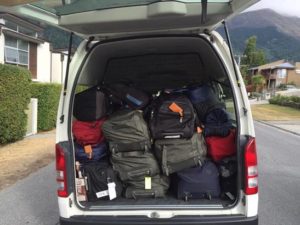 We ended up travelling longer distances with eight people and all the luggage, but for "round town" trips we had 12 in the van and it was still comfortable and powerful.
If I ever need to rent a vehicle down in Queenstown again you will be my first (and only!) call."
– Dave
---
"Third time we've rented from you – always excellent."
– John, Auckland North Shore
---
"Really friendly and great sense of humour!"
– Stephen, Waikanae
---
"The staff were great to deal with considering our delayed flight."
– Scott and Leanne, Wellington
---
"Considering the price we paid, & in comparison to the mainstream car rental companies, the vehicle we got, although 'middle-aged', was clean, comfortable & ran perfectly over our rental period."
– Rob, Whangarei
---
"Lovely staff."
– Kiri, Brisbane
---
"Loved it."
– Helen, Tianjin
---
"We were on a cruise, great service."
– Gail, Gold Coast
---
"Great Car! Superb from start to finish."
– Will, Wellington
---
"Any questions I had were answered straight away, when we picked up the car the guy was lovely and told us the best way to drop it off at the airport. The man at the airport depot was wonderful, got there a bit early as he knew we had a flight to catch and was so nice and nothing was too much trouble."
– Joanne, Australia
---
"For the price, the vehicle was excellent."
– Todd, Wanaka
---
"We called them two times during the trips and they were really friendly and helpful. We just loved this car and it was amazing that the camping stuff for 5 girls fit in the car!"
– Lisann, Auckland
---
"Great van for the trip, we loved it!! Top bloke got us on the road from NZ Rent A Car, Kaikorai Valley Road, Dunedin. Friendly, informative!! Cheers."
– Ben, Auckland
---
"The owner and his wife are totally hands-on, and very friendly."
– Alan, Swansea
---
"Typical of Kiwis…simply brilliant."
– Augustin
---
"I felt like I was speaking with real NZers who are working for a NZ company."
– Peter, Perth
---
"Pick up, drop off and everything was great. Our plane and exit from airport was delayed extensively and our car person was still waiting. Sweet as!"
– Tony, Brisbane
---
"Responsive, accommodating and helped us to make bookings that saved costs."
– Rachael, Singapore
---
"Yes. I would recommend the service to cruisers."
– Jeffrey, Cedar City
---
"What great service! The people at the branch were really helpful and friendly and it made our stay in New Zealand more enjoyable!"
– Cliff and Jen, Australia
---
"A friend recommended that we use New Zealand Rent a Car for our business trip. The car was clean and reliable and the service was fantastic. The jelly beans were a nice touch too!"
– Rebecca, Masterton
---
"Great Service – Great Cars. What more can I say? We will definitely use you guys again."
---
"The lady at the Auckland Airport branch was very friendly and efficient. The car was just what we wanted. We've used New Zealand Rent a Car before and always get great service."
---
"We have used New Zealand Rent a Car in Nelson a couple of times before and we are very happy with the service we get and the quality of the cars. We would recommend to anyone who visits Nelson to go and see them for rental cars."
– Eva, France
---
"Highly recommend New Zealand Rent a Car and the Whangarei branch – you guys were amazing! And we loved the Audi!"
---