Picton Car Rentals
Visiting Picton Attractions
You can see and do it all with Picton car rentals from New Zealand Rent A Car.
Picton is a picturesque port town in the Marlborough region and is the gateway to the spectacular Queen Charlotte Sound and Marlborough Sounds. Activities and attractions in the region abound, with beautiful beaches and bays to explore, lush gardens to enjoy, world-class wineries to visit, plus a range of activities such as fishing, kayaking, tramping/hiking, mountain biking and more.
Picton offers a selection of excellent gift shops, galleries, restaurants, cafes and bars, so stop for a while and enjoy the warm and friendly waterfront town. Learn more about the best things to do in Picton, as well as things to do in the Marlborough Sounds. Also take the time to learn about some of the top Picton scenic drives and day trips, which you can enjoy in your vehicle from NZ Rent A Car.
Or view our ultimate Picton Itinerary.
Take a closer look at some of Picton's top attractions and activities, all accessible by rental car: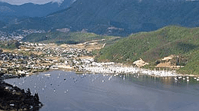 Home to a number of great camping grounds and holiday homes available for rent, Waikawa Bay is representative of the kind of magical place that brings thousands of visitors every year to Picton and the Marlborough Sounds region.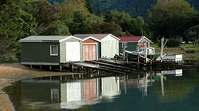 One of the main attractions in the Picton area is the Marlborough Sounds. Popular with overseas tourists and Kiwis alike, the Marlborough Sounds are famous for their warm, pristine waters, amazing scenery, and activities such as dolphin watching.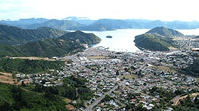 The Picton township is important as a base from which to explore the top of the South Island. Picton is also home to the port from which you can sail on an inter-island ferry across to Wellington, making it an important visitor and tourist hub.
Fancy going further afield? How about taking a car rental vehicle from Picton to Greymouth on the West Coast, then journey on the TransAlpine train to Christchurch. You can pick up another car rental vehicle from the Christchurch car rental branch and continue around the East Coast back to the top of the South Island. Enjoy world class whale watching at Kaikoura and absorb the beautiful scenery as you drive the coast road back towards Picton.
View our full range of Picton rental cars and grab a great deal today.
Great value Picton car rentals let you explore the top attractions at your own pace.