Queenstown From The Air
There is no better way to experience the immense scale and spectacular grandeur of the Queenstown region than by taking to the air. Flight-seeing as it is sometimes called, is immensely popular in New Zealand as it offers extraordinary aerial views of parts of the countryside that are simply inaccessible by other means.
With its rugged alpine mountain peaks and deep glacial lakes and winding widespread rivers providing something of an aerial feast, flightseeing in Queenstown is an excellent way to view the unique geography in a comfortable and convenient way.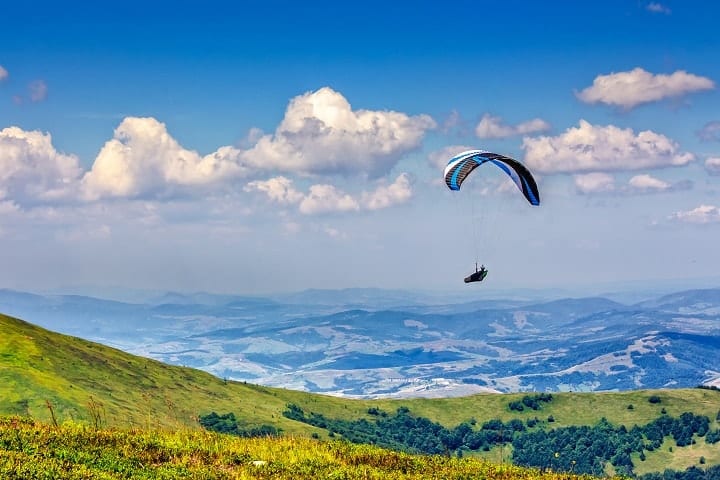 View Queenstown's stunning alpine scenery from the air by small Fixed Wing Aircraft or Helicopter, or for more of an adrenaline hit why not try your hand at Skydiving, Paragliding or Hang Gliding; Queenstown has it all. Flightseeing prices range from $500 to over $2000 and you can try anything from short scenic flights to full on aerobatic experiences.
Many operators offer combination airborne and ground based adventures including stopping for hiking, kayaking, fly fishing, golfing, wine tasting, cruising or gourmet picnic lunches. Whatever your choice you will find New Zealand's scenic flight experiences are truly unique.
Tandem Paragliding And Hang-Gliding
For the ultimate natural flying experience, try soaring and swooping thousands of feet up in the air in a Hang-glider or Paraglider. A tandem paragliding or hang-gliding flight lets you experience the thrill of free flying without going through a lengthy training process.
Tandem flights put you in the capable hands of a professional pilot who will take you on an amazing free flying journey soaring high above Queenstown taking in magnificent views of Lake Wakatipu, The Remarkables mountain range and surrounding low lying areas.
There are two fantastic launch points available in Queenstown, Coronet Peak, which is only a quick 25 minute drive by car from Queenstown and offers the highest commercial take-off point in New Zealand. This option offers simply stunning views of the Wakatipu Basin and the surrounding mountain peaks. Or launch from above the Skyline Complex on Bob's Peak, where you get to soar over central Queenstown and the crystal clear waters of Lake Wakatipu.
Hang-gliding and Paragliding flights are available year round (weather dependent) with flight times varying from between 10 to 30 mins. Remember to take sensible footwear and a warm jumper. Your friendly and experienced tandem pilots will make sure your paragliding or hang-gliding experience is an exciting, suitably scary, memorable adventure.
There are a number of great Paragliding and Hang-gliding companies located in Queenstown, here are a few to get you started.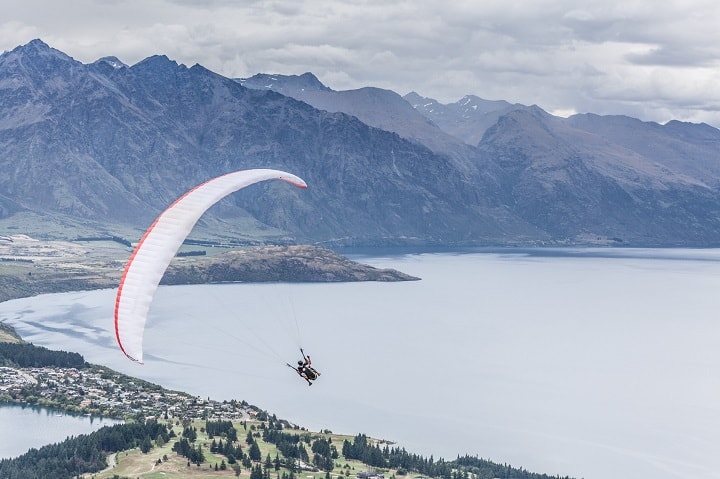 Skydiving
When someone says "choose your jump height 15,000ft, 12000ft or 9000ft" some may embrace their fear and others may run from it. If you are more the 'embrace your fear' type then skydiving in Queenstown is the perfect challenge for you.
There is nothing comparable to the heart-stopping experience of jumping out of a perfectly good aeroplane and plummeting towards the earth at high speeds (apparently). The magnificent landscapes of the Queenstown region take on a whole new dimension when you are freefalling unencumbered from 15,000 feet in the air!
Whether you make your jump from Wanaka or Queenstown you will have a bird's eye view of the vast Central Otago High Country and the expansive snow-capped mountains of The Southern Alps mountain range that the region is so famous for.
Skydiving provides an incredible feeling of exhilaration, fear and excitement all rolled into one, along with an astounding sense of personal achievement upon completion. There are three main skydiving operators in the Queenstown region each with experienced guides who will happily talk you through what to expect, good luck!
Scenic Flights
For a more serene aerial experience where you aren't required to jump out of a plane or off a cliff, there are many fixed wing aircraft and helicopter scenic flight operators located in and around the Queenstown area.
Flights can involve a range of viewing options and fun filled excursions covering various essential sights. From visits to remote snowy mountains for Heli Skiing or snow landings, to aerial views of Lord Of The Rings location sites, to the spectacular fiords and glaciers, valleys, lakes and rivers throughout the Fiordland and Mount Aspiring National Parks.
Your scenic flight will offer you the opportunity to see New Zealand's untouched beauty at its best. Just don't forget your camera! Below are a few of the main flightseeing operators based in Queenstown.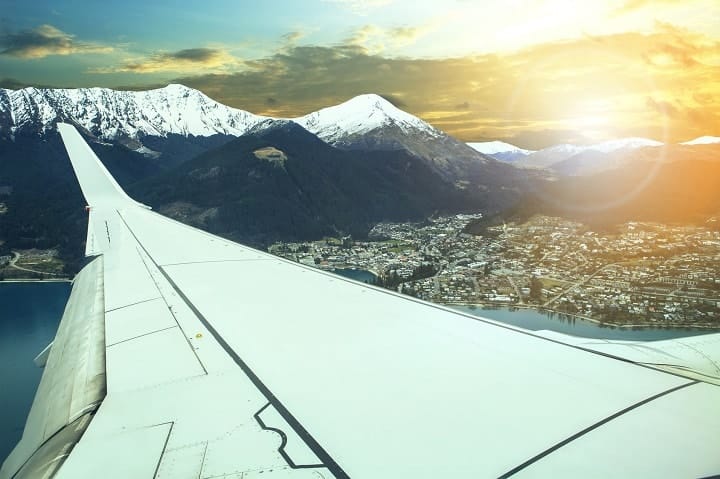 Hot Air Ballooning
Fancy a slower more peaceful pace? Why not take to the air in a Hot Air Balloon! Local operator Sunrise Balloons provides daily hot air ballooning flights (weather permitting) allowing visitors to explore a totally unique way of experiencing Queenstown's spectacular views.
Fingers crossed for a clear day and flights will provide unbeatable views of Coronet Peak, The Remarkables, Mount Aspiring, other parts of the Southern Alps, Mount Tutoko and the Fiordland National Park, Lake Wakatipu, Lake Hayes and the Shotover and Kawarau rivers.
Flights consist of approximately 1 hour in the air and three hours on the ground. A delicious champagne breakfast is also provided right in the landing field, this includes champagne, coffee, juice, tea, danishes, fruit and muffins.
Below are a few more things you should know before heading out on your hot air ballooning trip with Sunrise Balloons.
Complimentary transfers are available on request.
The launch site is 15 minutes by car from central Queenstown.
Flights are scheduled as early as 5 am in summer (some say the best time of the day!)
Don't forget you camera and extra digital storage.
Sturdy footwear is essential along with warm clothing.
It is a requirement that passenger weights are provided when making a booking.
Private charter flights are available by prior arrangement.
Zip Lining And The Giant Swing
Although not technically flying, these zip line/flying fox, giant swing type activities certainly do get participants airborne. Whether it's a giant swing suspended high above canyons and rivers or whizzing over treetops down a zip line these activities offer the thrill of flying while providing the added safety of actually being attached to something.
Participants are able to experience varying degrees of height levels and locations set in and around Queenstown. A relatively new concept here in New Zealand, swings and flying fox contraptions are usually something we would expect to see in a children's playground, but throw in a bit of good old kiwi ingenuity and multiply by about 1000 and you have the giant canyon spanning swings and flying foxes we see in Queenstown today.
Following are the current swing and zip lining/flying fox options for thrill seekers on offer in Queenstown.
Only from the air can you truly appreciate the spectacular scenery of New Zealand's Southern Alps and the pristine rugged landscapes of the Otago region. Enjoy the experience of a life time by taking a scenic flight from Queenstown on your next visit, you won't be disappointed.
Queenstown Travel
Need transportation to make the most of the area? View our full range of affordable Queenstown rental cars and explore the best of Queenstown at your own pace.
Check out our blog for more New Zealand travel and holiday advice.
Back to Queenstown Photograph Gallery
Explore Queenstown at your leisure in an affordable rental car from NZ Rent A Car.
Save