Ziptrek Ecotours
Are you looking to tick 'zip-lining' off your bucket list? Then Queenstown with its stunning alpine forests and picturesque mountain ranges is the perfect place to do it! Situated at the top of the Skyline Gondola are New Zealand's number one, original zipline tour company – Ziptrek Ecotours – experts in zip-lining operations in New Zealand.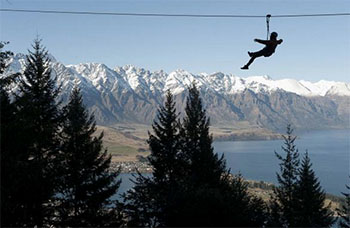 Ziptrek Ecotours engages the young and young at heart through a unique and fun experience in Queenstown.
Operating in some of the most beautiful and spectacular scenery that Queenstown has to offer, Ziptrek Ecotours aims to connect with the young and young at heart in this fun unique experience. With several tour options to suit there is fun for everyone no matter their age or ability and the great news is Ziptrek Ecotours operate year round in all weather conditions.
What To Expect
After enjoying a leisurely gondola ride up to Bob's Peak and taking in the awe-inspiring views of the Queenstown region you will disembark to find a Ziptrek Ecotours treetop aerial platform nearby, this is where your zip-lining adventure will begin. There are two options for starting your journey, which one you head for will be determined by which tour you have chosen.
Accompanied by experienced guides your zip-lining experience will follow the highest of safety standards. All zip-liners will be fitted with a harness and helmet, and two guides are there with each group to connect and disconnect each and every person. The ziplines are gravity based, meaning there is no need to worry about your speed, all that's left to do is sit back, relax and enjoy the adrenaline rush!
While experiencing the exhilarating thrill of zooming down the mountain via the series of carefully designed ziplines, you will pass through and above the forest canopy and will also have the opportunity to take on board some local insight into the surrounding alpine environment; adding an ecological educational aspect to this truly unique experience.
Tour Options
The MOA Tour. Approximately two hours in length, this one is an excellent choice for families and groups. Designed as a perfect starter course, the ziplines begin with a slower pace and gradually increase to being longer, higher and faster. With a total of four ziplines, the highest being just over 25 metres, and 8 aerial treetop platforms, you will reach speeds of up to 50 k/ph as you shoot through the surrounding forest canopy.
Or if you are after something a little different, why not experience the thrill of the Moa tour at twilight? Enjoy plunging into darkness as you step blindly into the night from the treetop platforms. Let your imagination run wild on this unusual twist on your zip-lining adventure. Please note these twilight tours depart daily across the months of June to August only.
The KEA Tour. This one takes approximately 3 hours to complete and provides a longer and faster ride; you can hit speeds of up to 70 k/ph. The tour encompasses 6 ziplines; the longest of which is over 300 metres, twelve aerial tree top platforms and one of the world's steepest ziplines. This unforgettable journey is perfect for families with older children and outdoor enthusiasts seeking an ultimate adrenaline rush!
The Kereru Tour. Only two ziplines in this one, but a incredible 21 metre drop offers a thrill for those seeking a shorter tour option. A minimum age of 10 years is a requirement, and the tour takes around an hour.
There is also the possibility to combine your zip-lining experience with the chance to spot a real live Kiwi in its natural environment at the Kiwi Birdlife Park located at the bottom of the gondola. The Kiwi Birdlife Park has over 5 acres of forest sanctuary where you can learn fun facts about Kiwis, view New Zealand's famous living fossil – the tuatara, or go on a leisurely stroll through the native forest park. Or for a different pace, jump on a bike and head off to discover parts of the Wakatipu basin that are unreachable by motor vehicle. There are lakes, rivers, gorges, historic townships and the wine area of Gibbston valley to explore. For more information go to Around The Basin.
Some Important Points To Remember
There is a maximum weight limit of 125 kgs, and a minimum limit of 30 kgs.
Pricing ranges from approximately $85 through to $300 – this doesn't include you gondola ticket price.
You must be able to walk unassisted as tours include light stair climbing and trail walking.
Age restrictions apply please see the Ziptrek Ecotours website for more information.
This is an outdoor activity; remember to dress accordingly, including sensible closed toe footwear and extra layers of clothing.
Please advise at time of booking if your child is under 30kg as they may be required to go tandem.
You must be a minimum of 15 years old to zipline without a guardian.
Prepare to leave personal belongings behind as you will be unable to take them on the zipline with you.
Go on enjoy the amazing feeling of being high up among the treetops, taking in Queenstown and the surrounding lake views and mountain ranges from this very unique angle whilst learning a little and having lots of fun along the way – what are you waiting for?
Queenstown Travel
Need transportation to make the most of the area? View our full range of affordable Queenstown rental cars and explore the best of Queenstown at your own pace.
Check out our blog for more New Zealand travel and holiday advice.
Back to Queenstown Photograph Gallery
Explore Queenstown at your leisure in an affordable rental car from NZ Rent A Car.