Reasons To Choose NZRAC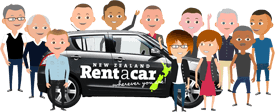 In addition to everything you'd expect from a rental car company – great prices and vehicle range – there are many reasons to choose NZRAC for your next hire car journey, and here are just a few of them:
1. High vehicle availability

With a large fleet of vehicles, there are not only a lot to choose from but a good chance you'll be able to secure the vehicle you want at the right time.

2. One way hires

Because you are able to drop off at a different depot location from your starting point, it's much more convenient for trip planning.

3. Diverse locations around New Zealand

From the main centres to smaller regional towns, NZRAC can be found in 12 different locations.

4. Locally owned and operated

You can always chat to branch staff to get a local opinion on the best things to see and do, as well as travel information and tips specific to the area.

5. Small enough to be friendly

Because each branch is managed individually, you get a more personal level of service and attention – we understand every customer is unique.

6. Large enough to meet your needs

With a wider network of branches throughout the country and many different vehicles and options, let us know your exact circumstances so we can try to cater to your needs specifically.

7. Great customer feedback

We're proud to have served hundreds of satisfied customers over the years, and are thrilled with the testimonials we've received.
For more information about any of our services or to enquire about a booking, feel free to get in touch and we'll sort you out as soon as possible.