Auckland Domain
The Auckland Domain is a carefully preserved natural environment located a short 5 minute drive from downtown Auckland. Sited on the remains of the Pukekawa volcano this popular green space is Auckland's oldest park (and one of the largest) and is a great place to explore at your leisure.
Find the perfect spot for a picnic lunch, wander through the extensive onsite gardens, feed the ducks, explore the sweeping lawns, take the time to appreciate the mature trees and meandering walks. There is something for everyone at the Auckland Domain.
The Wintergardens
The Auckland Domain is also home to the historic Wintergardens complex, originally designed and built in the early 1900's. The Wintergardens consists of two large barrel-vaulted Victorian style glass houses with an ornate courtyard situated in between, featuring a sunken pond.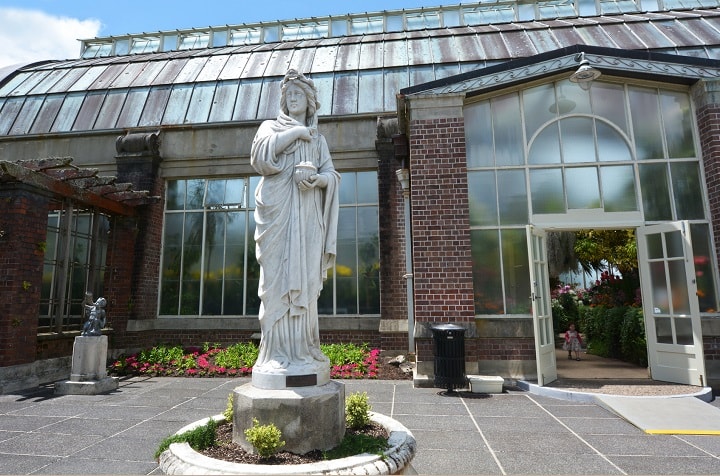 Open all year round the Wintergardens boasts a spectacular display of rare temperate and tropical plants. There's also a top quality restaurant where you can enjoy great food and refreshing beverages. Behind the Wintergardens is a quarry style site which hosts an extensive native fernery. Well worth a look, and a very relaxing way to spend an afternoon.
The Auckland War Memorial Museum
When visiting the Auckland Domain you simply cannot miss the large neo-Greek style building that houses The Auckland War Memorial Museum. Spend some time viewing the exhibitions; including a large selection of Maori and Pacific Island artefacts and learn about the history of New Zealand and its people.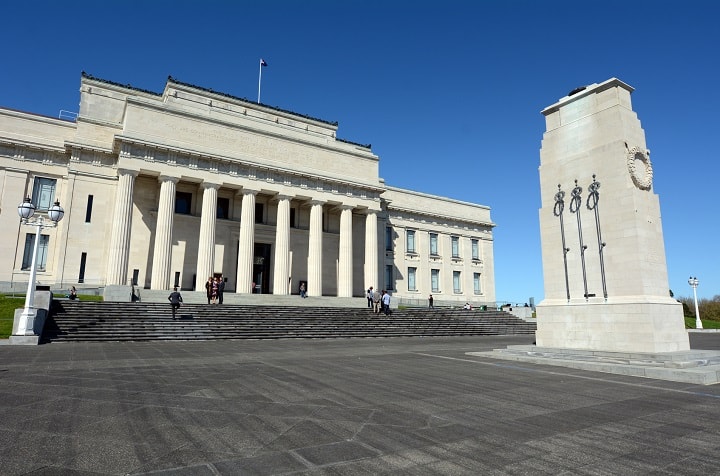 The Museum also serves as a War Memorial, providing a place of remembrance for returned service personnel and families to honour their fallen comrades and loved ones. Open daily Monday to Saturday from 10 am to 5 pm, entry to the Museum is free for locals with a small charge for international visitors.
The Events
The Domain plays host to a variety of events throughout the year, anything from large gatherings like 'Christmas In The Park' and 'Symphony Under The Stars", Half Marathons and the Lantern Festival celebrating the Chinese New Year, to smaller music events with local bands playing on a regular basis at the Band Rotunda.
These events are widely advertised and scheduled well ahead of time if you want to be sure not to miss your favourites.
The Art
The perfect way to take in some fresh air, while appreciating some local art is to take a self-guided walking tour of the Auckland Domain. With some of New Zealand's leading artist's sculptural works on permanent display, eight in total, spread throughout the Domain, demonstrating the diversity and depth of the New Zealand art scene.
Featuring works by Chiara Corbelletto, John Edgar, Charlotte Fisher, Fred Graham, Christine Hellyar, Neil Miller, Louise Purvis and Greer Twiss. If you have trouble finding all eight, a map is available on request from the information desk in The Auckland War Memorial Museum.
Auckland Parks And Reserves
One of the great things about New Zealand is the abundance of regional parks, nature reserves, playgrounds and city-wide green spaces. Freely open to the public these parks and reserves provide visitors with the chance to escape the hustle and bustle of the city, enjoy nature and get some fresh air and exercise.
Including the Auckland Domain, Auckland has over 4000 local parks and recreational areas to explore. Visitors can climb a dormant volcano, wander amongst tranquil New Zealand bushland, along coastal tracks or just hang out and relax at the local playground. Need help finding the right park in Auckland for you? Read on for our top park picks when visiting the city of Auckland.
Albert Park
Next door to the University of Auckland and home to the Auckland Art Gallery, Albert Park offers a quiet oasis right in the middle of Auckland City. The manicured gardens and grounds of Albert Park are immensely popular with city workers and students during their lunchbreak, families and tourists alike.
A large water fountain takes centre place in the park set amongst carefully landscaped surrounds mature trees and statues. The perfect spot for a lunchtime picnic and stroll around the grounds, while there why not take a quick peak in the Auckland Art Gallery.
The Auckland Art Gallery
Home to New Zealand's most extensive collection of national and international art, the Auckland Art Gallery is definitely worth a visit. The collection includes New Zealand historic, modern and contemporary art as well as international painting, sculpture and print collections.
The Auckland Art Gallery is open daily from 10 am to 5 pm is free to enter although donations are greatly appreciated.
Cornwall Park/One Tree Hill Domain
Cornwall Park and the One Tree Hill Domain join together to form Auckland central's largest green space. Cornwall Park offers visitors the chance to explore running and walking trails, play games, visit the Stardome Observatory, BBQ with friends, see sheep and cattle on the farm and even spot some new born lambs or calves if visiting in the spring.
There is also a playground, awesome views from the summit of One Tree Hill, an information centre and the historic Acacia Cottage to enjoy.
Stardome Observatory Planetarium
Be entertained by the incredible digital projections of stars and planets, while relaxing in the reclining seat of the Planetarium or explore the space gallery and exhibits and do some star gazing for real with the onsite courtyard telescopes after dark.
The Stardome Observatory and Planetarium are open during the day and at night (except Monday nights) see the website for more information on times and prices for Planetarium shows. Make a night of it on Tuesdays and enjoy music and laser lights, wine and cheese all for just $35 per person.
Auckland Botanic Gardens
Home to a comprehensive collection of native and introduced plants the 64 hectare Auckland Botanic Gardens contains over 10,000 plant specimens from all over the world. Divided into various garden types the Botanic Gardens includes a herb garden, orchard, rock, rose, and edible gardens as well as an African plants garden just to name a few.
Open 8 am to 6 pm during the winter months and 8 am to 8 pm in summer the Botanic Gardens are found in the Auckland suburb of Manurewa, roughly a 20 minute drive from the central city. Enjoy a leisurely breakfast, lunch or a barista coffee at Café Miko while you are there or take a picnic lunch and find a nice spot under a shady tree. See here for more ideas for things to do at the Botanic Gardens?
Dove-Myer Robinson Park
Commonly known as the Parnell Rose Garden, Dove-Myer Robinson Park is home to an impressive rose garden containing over 5000 rose bushes. After you have made your way around the roses check out the Fred Ambler Lookout, overlooking the container terminal, some garden artworks along the way and some of the oldest Manuka and the largest Pohutukawa trees in the Auckland region.
The very popular Parnell Festival of Roses is held regularly, showcasing New Zealand art exhibits, music, performers and of course thousands of roses. Roughly an 8 minute drive from Auckland Central, the Park has convenient parking available on Gladstone Road and Judges Bay Road as well as parks at Fred Ambler lookout. The Dove-Myer Robinson Park is located at 85-87 Gladstone Road, Parnell, Auckland.
Mt Eden
Enjoy spectacular 360 degree views from the top of Mount Eden, the highest volcano in Auckland. From the summit view the 50 metre deep crater hidden within the 196 metre high cone, suburban Auckland surrounds and beautiful harbour views.
The walk to the summit takes approximately 10 minutes with a number of walkways beginning from surrounding streets, cyclists are also permitted. Mt Eden is home to a sizeable area of native bushland including Karaka, Kohekohe, Mahoe, Karamu, and Ngaio specimens. There are toilets on site and also a substantial playground – perfect for the kids.
Totara Park
The ultimate destination for those wishing to get outdoors and get active. At just over 200 hectares Totara Park has it all; choose from mountain biking and horse riding trails, an award winning adventure playground, walking tracks, tennis court and even an outdoor swimming pool and paddling pools during the summer months.
Free to use BBQ are also available along with picnic tables, dogs are also welcome if kept on a leash. Totara Park is open daily in the summer months from 7 am to 9 pm and during winter between 7 am and 7 pm.
Waikowhai Park
Head on over to the awesome slide and flying fox in Waikowhai Park (they are even big enough for adults!) Toilets are available on site along with picnic tables and enjoyable bush and farmland walks. You can even walk along the foreshore at low tide.
Copious amounts of native bush make for some great bird watching and the perfect way to while away a hot summers day. The Waikowhai Park is located in the Auckland suburb of Hillsborough, with entrances off Waikowhai Road and Cape Horn Road.
The Auckland Domain and other parks of interest in Auckland make for a perfect relaxed day trip in your Auckland rental car. Find a spot amongst the beautifully tended lawns, walks and gardens of Auckland's best parks to stop for a picnic lunch, BBQ with friends or just to watch the world go by.
Auckland Central Travel
Need transportation to make the most of the area? View our full range of affordable Auckland Central rental cars and explore the best of Auckland city at your own pace.
Check out our blog for more New Zealand travel and holiday advice.
Back to Auckland Central photograph gallery
Explore Auckland city at your leisure in an affordable rental car from NZ Rent A Car.
Save