Mission Bay And Other Central Auckland Beaches
Escaping the hustle and bustle of the city is often on many peoples holiday bucket list. Being surrounded by water, visitors to Auckland are lucky to have a number of stunning New Zealand beaches to choose from, these include the ruggedly beautiful West Coast black sand beaches and the golden sands of the East Coast beaches.
Whether hunting out that perfect spot for swimming, sea kayaking, stand up paddle boarding, surfing or just looking for your next favourite café, the beaches of Auckland have it all. North of Auckland visitors will find some great scenic spots like Takapuna Beach, Mairangi Bay, Piha and Muriwai Beach, while more centrally located beaches like Mission Bay and St Helliers are within easy driving distance.
Need a quick rundown on what are the best beaches in central Auckland for swimming, water activities and more? Take a look below for beaches within 30 minutes' drive from Auckland Central.
Mission Bay
For a beachside getaway in the heart of the city, a trip to Mission Bay is the perfect central Auckland destination. On sunny weekends this local favourite is packed with people enjoying the golden sands and clear cool waters. Lifeguards are present during the summer months to keep swimmers safe and there's also a long stretch of footpath along the waterfront that is perfect for jogging, walking or rollerblading.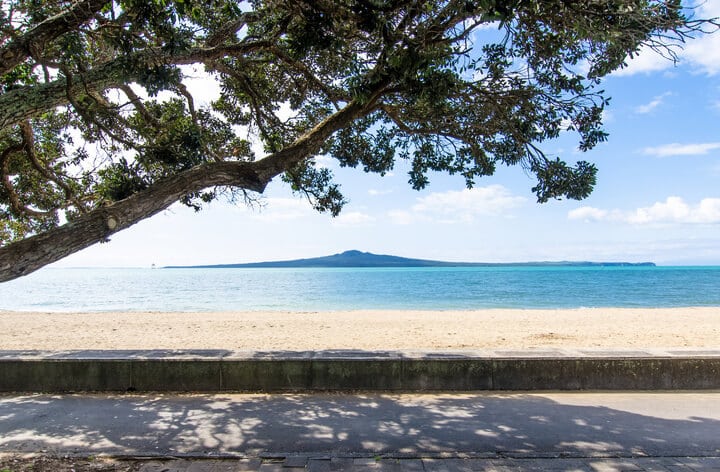 Mission Bay is a very scenic short 15 to 20 minute drive from the central city and also has a number of trendy cafes, shops, playground and outdoor Fitness Park for public use. After a long day in the sun enjoy a refreshing frozen yoghurt at Kiwiyo or indulge in a delicious Movenpick ice-cream. Or head up to the top of the Michael Savage Memorial Park for some fantastic views and a chance to unwind.
Kohirama
Driving along the coast following the famous Tamaki Drive you will come across the small beach at Kohirama snuggled in between Mission Bay and St Heliers. Kohirama is a cute little beach with a good boardwalk – great for walking, jogging or rollerblading.
Kohirama beach is a bit quieter than Mission Bay and a great place for swimming and relaxing in the sun. Grab a freshly squeezed "Garden Harvest" juice (silverbeet, apple, lemon, celery) from Café On Kohi and enjoy a day in the sun.
If planning to spend the day out at Kohirama or Mission Bay it is a great idea to drop by Kelly Tarlton's Sealife Aquarium to check out the sharks, stingrays and thousands of fish on display. The aquarium is the only one of its kind in New Zealand and is open 9.30am to 5pm every day. Tickets are cheaper if you purchase them online.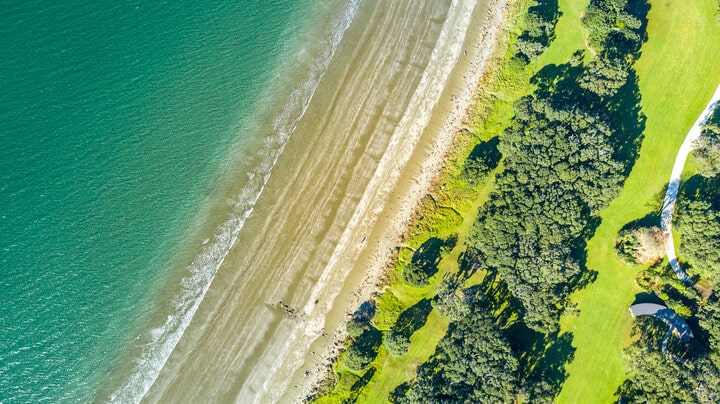 St Heliers
St Heliers is just a few minutes drive further along the coast from Mission Bay, take a dip in the sea, hire a kayak, try stand-up paddle boarding, or just relax with a family picnic and throw a frisbee around. Or grab a coffee and delicious snack from the St Heliers Home Cookery on St Heliers Bay Road (Open from 6.30am!) and head out along the beach for a relaxing stroll.
Feeling energetic? Head down to the St Heliers boat ramp for a guided sea kayaking tour of Auckland's harbour and nearby islands. Tours run every day and you can choose between a half-day, full-day or sunset experiences. Or complete the Point To Point 4 hour hike from St Heliers Bay to Point England.
Bucklands Beach
Encompassing a small peninsula, Bucklands Beach is actually a series of beaches known as 'Big Bucks', 'Little Bucks' and 'Eastern Beach' by the locals. Bucklands Beach is a great place for exploring, getting active and enjoying a quieter pace. Try McCleans Park for a picnic under the trees, after hiring a Kayak for the morning or giving Stand Up Paddle Boarding a go with the team at Give It A Go.
Take a walk alongside the Howick Golf Club grounds and make your way out to the tip of the peninsula where you will find the Musik Point Memorial. Watch the ferries and boats go by and see awesome views of Browns Island, Waiheke Island and beyond.
Beachlands And Maratai
A little further afield beach goers will find the likes of Sunkist Bay Beach and Shelly Beach in Beachlands, as well as Maretai Beach and Magazine Bay on what is known as the 'Pohutukawa Coast'. These beaches are still worth a visit if you have the time and offer a more remote feel and excellent swimming opportunities.
Maraetai Beach is suitable for picnicking and relaxing and has good parking alongside the beach front. There is also a large children's playground, and public boat ramp. The wharf is great for jumping off too – just in case you are interested…
Beach Safety In New Zealand
When swimming or spending time in the water it is always important to stay safe. In New Zealand we have some quite rugged and changeable beach conditions that can catch beach goers off guard. Understanding these conditions and the influence tidal fluctuations and recent weather patterns can have on your visit to the beach is very beneficial.
Here are a few safety tips to keep in mind when visiting beaches in New Zealand.
Where Possible Swim Between The Flags. Many of New Zealand's most popular beaches are patrolled by Surf Life Saving professionals who are there to help keep you safe. Always swim between the flags if possible.
Beware Of Rip Currents. A rip is a strong water current generally flowing swiftly out to sea. Being caught in a rip can be dangerous as it is difficult to swim against the current and you can be swept out to sea very quickly.
Know Your Personal Limits. When out in the water it is important to stick together and consider your own abilities and physical skills, don't get carried away and end up unable to make it back to shore.
Always Actively Supervise Children. Pay close attention to children and family members in the water, do not let them stray from the group and always keep small children within arm's reach.
Obey The Signs. Always look for and adhere to any beach closure, cautionary or safety hazard signs before entering the water. These signs are there for your safety.
Want to enjoy some great seaside coffee, ice cream or fish and chips served the good old Kiwi way? Thinking about learning to surf, paddle board or kayak, but need transport? Affordable car hire from NZ Rent A Car means there is no reason why you shouldn't hit the beach in Auckland today.
Auckland Central Travel
Need transportation to make the most of the area? View our full range of affordable Auckland Central rental cars and explore the best of Auckland city at your own pace.
Check out our blog for more New Zealand travel and holiday advice.
Back to Auckland Central photograph gallery
Explore Auckland city at your leisure in an affordable rental car from NZ Rent A Car.