Earthquake And Road Closure Information In NZ
Tuesday, November 7th, 2017
Having had their fair share of natural disasters over the last few years, the residents of the South Island of New Zealand have had to become accustomed to responding to emergency situations under sometimes chaotic circumstances.
After an emergency situation road closures, interruptions to public transport and severe weather can all cause delays when travelling. Taking a few precautions and planning ahead can make all the difference. Read on for information on New Zealand road closures, earthquake updates and transport delays.
The Hot Spots
A couple of the larger emergency incidences in the Canterbury region include the devastating 2010/2011 Christchurch Earthquakes and the 2016 Kaikoura Earthquakes.
2010/2011 Christchurch Earthquakes
On the 4 September 2010 Christchurch residents were awoken to the most destructive earthquake the country has felt since the Napier Earthquake in 1931. At 7.1 on the Richter scale the Greendale Quake marked the beginning of very uncertain times for Christchurch and Canterbury residents.
Following the September 2010 quake was a series of both disturbing and destructive aftershocks; one of the largest was the 6.3 magnitude 2011 February Quake which resulted in a number of deaths and widespread damage due to its proximity to the central city and its shallow depth.
Where Is Christchurch?
Christchurch is located on the East Coast of the South Island of New Zealand, near the Banks Peninsula. Home to the largest International Airport, Christchurch is considered the gateway to the South Island. Its population currently sits around 370,000 people, it is popular with migrants from the UK, China, India and Japan.
Known as the 'Garden City', Christchurch's abundance of tree lined streets, famous Botanic Gardens and iconic Hagley Park are just a few examples of the city's well known green spaces. The Avon River also winds its way through the city creating tranquil river side oasis spaces all along its banks.
2016 Kaikoura Earthquakes
On the 14 November 2016 at 12.02 am the South Island town of Kaikoura was struck by a 7.8 magnitude earthquake. The modest seaside hamlet of Kaikoura struggled to cope under the strain of telecommunications, power and water outages.
State Highway 1 into Kaikoura was blocked by landslides and damage was known to have extended as far north as Picton and Wellington, causing temporary cancellation of the inter-island ferries. While parts of State Highway 1 have been closed since the Earthquake due to slips, damages and debris it is likely the entire road will be open again by the end of 2017.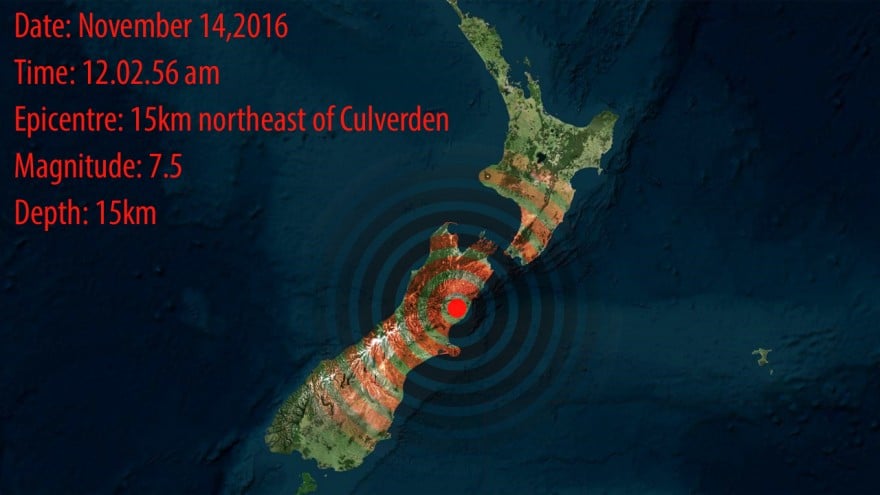 Where Is Kaikoura?
Kaikoura is about halfway between Wellington and Christchurch, in the north Canterbury district. It was not only one of New Zealand's most popular tourist destinations, it is considered one of the world's finest locations in the world for whale and dolphin watching, albatross spotting, and a bounty of other marine activities.
It is said a giant undersea canyon lays just offshore which attracts the abundant sea life so close into the shore. In 2004, Kaikoura was the first town in the world to gain accreditation under the Green Globe scheme, in recognition of its "positive contributions to people and planet" through ecotourism.
Road And Transport Contacts In NZ
Need contact details for road, ferry or rail connections see below for more information.
Road Closure Information
While the majority of road closures in New Zealand are dealt with quickly, sometimes especially in the case of natural causes like flooding, snow and ice, slippage or rock falls roads can be closed for extended periods of time. When travelling In New Zealand it pays to check the route ahead and make sure to avoid any closed roads to avoid delays.
The NZTA Website has all the updates on road closures, making it very easy to see the trouble spots and plan detours.
Inter Island Ferry Cancellations 
Travel between the North and South Islands of new Zealand by car or bus will require the use of an interisland ferry. There are two main ferry services operating in the Cook Strait; the Interislander and the Bluebridge Ferry.
For up to date information on ferry crossings, cancellations and delays it is best to contact the the Bluebridge Ferry and Interislander ferry operators directly.
KiwiRail Disruptions
New Zealand has a series of well utilised rail links spread across the country. Sometimes these lines can be closed for repairs or due to slips and other damage.
For rail updates see the KiwiRail website. Rail New Zealand is also useful for notifications and booking details.
City Transport Delays
When travelling in New Zealand's larger city's it can be useful to avoid traffic congestion, roadworks and accident sites, the NZ Transport Agency provides an excellent resource for journey planning, traffic delays and local Highway information or see below for individual city links.
NZ Disaster Assistance Contacts
When disaster strikes, ensuring the safety of family members and friends is at the forefront of most people's minds. Here are the main disaster assistance contacts within New Zealand.
Disaster Relief Organisations In NZ
While it is fortunate that serious damage is usually limited, it is little consolation to directly affected residents. If you'd like to help in some way please consider donating to the NZ Red Cross, who provide food, water and first aid care on the ground.
It is also possible to support individual causes through the nationwide GiveALittle page. 
Before setting out on your New Zealand road trip it is always a good idea to plan ahead, check for road closures, make sure you have emergency contact information and be prepared. Keep these contacts handy and stay safe out there on the road.