12 New Zealand Beers You Must Try
Monday, September 28th, 2015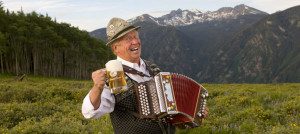 October, or should I say Oktober, is just around the corner. Over in Munich, Germany, the two century old Oktoberfest celebration is a 16-day festival on a giant scale. Carnival rides, parades, children's games, and millions of litres of Hofbrauhaus. Famous around the globe, it is a tourist drawcard of sorts, although of the six million attendees, 90% are still locals.
Like St Patricks Day, the occasion has migrated and is now held almost everywhere. It probably has less to do with cultural heritage than an excuse to drink beer, eat some Bavarian cuisine, listen to oom-pah bands, and drink more beer. Whereas St Pat's official tipple is Guinness, Oktoberfest on its home turf has exclusive Hofbrauhaus Oktoberfest beer, for which the licensing is very tightly controlled. In New Zealand we celebrate with beers of all creeds and colours, and it's a chance to sample the very best of both European and local brews.
Das Festivals
There are several Oktoberfest's being organised around the country, the major one being held in NZ's political and craft-brewing capital, Wellington, on October 2nd and 3rd. For more information see this website. For those who can't get to Wellington, there are options: Mike's Organic Brewery near New Plymouth are running their own Oktoberfest, and there's also the Rosebank Oktoberfest in Christchurch.
Now New Zealand is well regarded worldwide for its wines, but there are many – and I mean hundreds of – world class ales, lagers, malts and stouts being produced here in everything from major breweries to boutique bars and garden sheds. This industry of craft brewing barely existed here thirty years ago, but it has been flourishing in quantity and quality. It's interesting to note that many of the breweries cleaning up at award ceremonies have been in business less than a decade, and are simply the work of young, enthusiastic entrepreneurs. These people are putting NZ beers on the map (please use a coaster).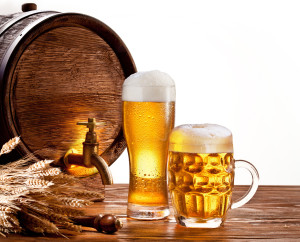 Das Biere
So it is with great difficulty that we have short-listed a dozen locally produced beers we really think you need to try. In no particular order, we have:
Blizzard; Black Dog Brewery, Wellington A bar and a brewery in Wellington, Black Dog have been getting plenty of attention, and awards, for their efforts. Blizzard is Belgian-style wheat beer, pale, cloudy (unfiltered) and refreshing. It's easy drinking, bready, slightly sour, with heady herbal flavours.
Doppelbock; Sprig and Fern, Nelson At 8%, Doppelbock is a full bodied German-style strong, dark lager with heaps of malt character. It recently collected a silver medal at the Australian International Beer Awards.
Sassy Red; Mac's Breweries, nationwide This pioneering Kiwi brewery paved the way for the flood of craft brewers we are blessed with today, and now have a host of "brewbars" around the country. Sassy Red is a classic British-style bitter named after its rich colour. It balances five malts with a generous dose of Motueka hops for a profound ale experience.
Organic Ale; Mike's Organic Brewery, New Plymouth Mike's is one of only five certified organic breweries in the country, and this classic offering is an English-style dark mild ale: roasty, toasty subtle coffee chocolate and nuts with plenty of roasted malts.
Bitter Bitch; Parrotdog, Wellington Having nabbed Champion Small International Brewery in Australia this year, Parrotdog show the world how it's done with this India Pale Ale. An aggressive, tropical NZ hopped aroma gives way to the rich, copper coloured malt base and a huge lingering bitterness to finish.
Pernicious Weed; Garage Project, Wellington The arrival of hops to the brewing scene in England in the 1500's led to a moral panic. Hops were condemned as a "wicked and pernicious weed", one which would lead to the erosion of social and moral standards. Thank goodness they were right. A strong, golden, hoppy IPA. Bitter, yes. Intensely hoppy, absolutely. Too much, never.
Base Jumper; Fork & Brewer, Wellington F&B are a bar/restaurant/brewery in NZ's capital with a huge range of their own beers on tap. Base Jumper replaces one of their trademarks, Base Isolator. It is an American Pale Ale bursting with notes of citrus, grapefruit and lychee, followed by a truly quenching bitter finish.
Hop Zombie; Epic Brewing Co., Auckland Epic won gold for their Armageddon pale ale this year, however Halloween is nigh, and the Hop Zombie India Pale Ale is actually placed higher on ratebeer.com. Made with more hops than any other beer in NZ, it's amazingly drinkable and texturally creamy; exhibiting wine like complexity with its mango and pink guava aroma and flavours.
Montieth's Velvet Stout; DB Breweries, nationwide Winner of Best Stout in this year's Australian International Beer Awards, a prestigious event in which NZ took many of the top honours. Big, smooth and full of body, the mix of toasted malts, oats and chocolate in this Velvet Stout gives it a soft bitterness and a deep rich flavour.
iStout; 8 Wired Brewing Co, Warkworth In 2011 8 wired were crowned Champion Brewery at the Brewers Guild Awards, New Zealand's highest brewing honour. Since those heady days (look, a pun) they have also been featured on the prestigious Ratebeer.com list of "100 best brewers in the World", as the only Southern Hemisphere brewery. 8 Wired go even further: among the top 20 NZ beers on ratebeer.com there are no less than 8 of their products, with iStout at number one. It is brimming with luscious roasted coffee and chocolate malt flavours which are balanced by a brisk bitterness and bold freshness from the hops.
Port Road Pilsener; Panhead Custom Ales, Upper Hutt Panhead Custom Ales are a modest craft brewery, who walked away with Best New Zealand Lager Style at the 2015 Brewer's Guild of NZ Awards for their Port Road Pilsenser (named after the local drag races). According to retailer Glengarry Wine, it's "a classic Kiwi hop style of passionfruit and grapefruit… made with a hybrid of New Zealand and German malts."
Beck's; Lion breweries, nationwide Not a Kiwi beer, granted, but made here, and it is Oktoberfest after all. Beck's is the best-selling German beer in the world, and this pilsener lager is instantly recognisable by its crisp, fresh palate and slightly bitter aroma. It is produced in New Zealand by Lion Breweries, who this year out-brewed 93 other contenders to be named Champion Brewery at the Brewers' Guild of New Zealand Beer Awards, also winning Best International Lager Style with their rendition of Beck's.
That's our roundup, hopefully that will help you make the most of the festival season, and encourage you to explore the vast selection of excellent local beers now available. Happy Oktoberfest!