15 Queenstown Extreme Adventure Activities
Sunday, September 9th, 2018
Widely considered the adventure capital of the world – Queenstown is full of extreme adventure activities guaranteed to get the adrenaline pumping. From whitewater rafting, bungy jumping and riversurfing to heli skiing, canyon swinging and jet boating, how can you possibly decide?
The friendly staff at NZ Rent A Car Queenstown live and breathe everything that Queenstown has to offer on a daily basis, they have come up with their own top ten recommendations for thrill seekers visiting the Queenstown area in their rental car.
1. Paragliding With GForce Paragliding
Launching from the top of the Skyline Gondola GForce Paragliding will have you sailing high over Queenstown and Lake Wakaptipu in a tandem flight experience that's hard to beat. Flights can be tailored to suit your requirements, offering thrill seekers the opportunity to amp up the ride. Optional video and photos of your experience are also available on request.
Prices range from $189 for the Early Bird Special (10am flight time) to $219 for other time slots. The entire experience takes approximately an hour, with actual flight time ranging from 8 – 12 minutes. A short walk up to the launch site is required along with a reasonable standard of fitness.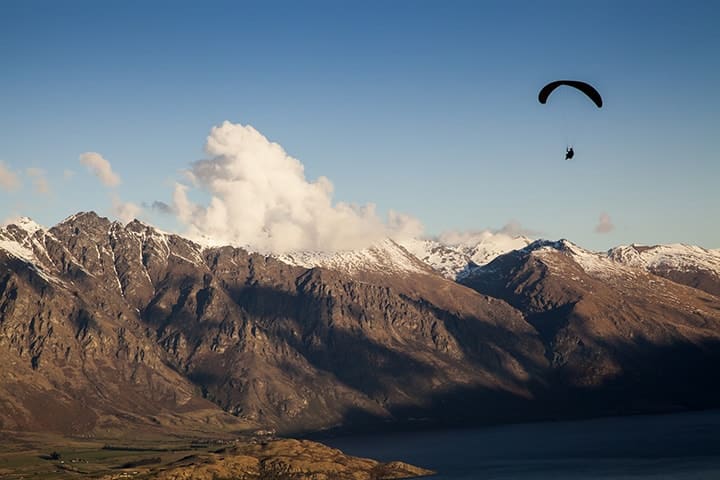 NZ Rent A Car Staff Comment: "My wife and I both paraglided with Gforce and we loved it. It was one of the best experiences I have had in my life. You actually feel like you are flying like a bird! Dominic our Pilot was excellent. He was very friendly, knowledgeable and we both felt very comfortable and safe. He was great on the camera and took some awesome photos and videos for us to keep and relive the experience for years to come. We highly recommend doing a glide with Gforce. This is an experience to remember."
2. Canyoning With Canyoning Queenstown
Out of the air and into the water – canyoning offers a contrasting change of environment with most of your trip spent getting wet. Canyoning Queenstown are the longest established canyoning operators in the Queenstown region, with three unique locations to choose from there is something for everyone. Choose from Queenstown Canyon for a moderate challenge, Routeburn Canyon for a medium challenge and for those extremists out there the Dart Canyon is the one for you.
Spend the day testing the limits of your confidence and abilities as you slide off waterfalls, zipline across ravines and rappel down rock walls. A reasonable level of fitness is required and in some cases prior experience. Prices range from $199 for a half day up to $450 for a full days adventure.
NZ Rent A Car Staff Comment: "This trip is like a confidence in water course. Fun guides allow you to gain a feeling of personal achievement. A good option for those looking to further water, rope and height confidence."
3. Skydiving With NZONE Skydive
It takes courage to step out of perfectly good aeroplane in mid flight; but if you are going to jump you might as well do it with NZONE Skydive. New Zealand's first Skydive operation NZONE has world leading skydive facilities, including the largest plane capacity in New Zealand. Jump from 9,000, 12,000 or 15,000 feet above Queenstown and feel the exhilarating thrill of freefalling, followed by blissfully parachuting back down to earth.
Prices range from $299 up to $439 with freefall times increasing depending on your jump height. Photo and video options are available at an extra cost, the perfect way to prove you actually did it!
NZ Rent A Car Staff Comment: "Take some courage and expect a lot of adrenaline and excitement in return. It's quite different to a bungy jump, once you gather your nerves when you've left the plane there is a surreal rush. Even on my first jump I felt surprisingly safe. Highly recommended."
4. Bungy Jumping With AJ Hackett Bungy
Bungy jumping is adrenaline fuelled fun at its best and what better place to tick this one off your bucket list than Queenstown. AJ Hackett Bungy are the original New Zealand bungy specialists, with over 28 years of experience they have developed some of the best bungy jump experiences in New Zealand. Choose from the Queenstown based Nevis Bungy, the Ledge Bungy or the Kawarau Bridge Bungy and now the Auckland based Auckland Bridge Bungy or why not try them all!
Prices range from $160 – $275 for adults depending on your chosen jump, and include a completion certificate and T-Shirt. Some age and weight restrictions apply.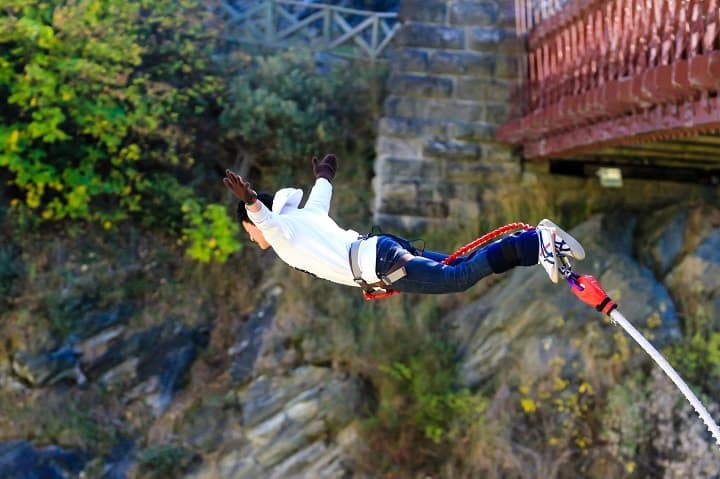 NZ Rent A Car Staff Comment: "Live your life and live it with no regrets, tick it off the "before I die list" and be part of the Queenstown Bungy experience – with more adrenalin than a syringe shot, its excitement times…infinity and beyond! An essential iconic leap of faith – aarrgghh!"
5. Heli Skiing With Southern Lakes Heliski
The ski season in Queenstown is internationally renowned and sees people from all around the world trying out the numerous ski fields all while enjoying the breath-taking scenery. Heliskiing is the ultimate form of skiing adventure.
Southern Lakes Heliski offers access to a wide range of terrain around Queenstown and Wanaka, ranging from beginner to advanced. Take your pick of powdery slopes, make you way up in the helicopter removing all the hard work, and then hit the untouched slopes and enjoy the exhilarating ride down. Prices include lunch guides and fees and start from $995 per person for a 4 run day with 6 and 8 run options available as well as customised multi day experiences.
NZ Rent A Car Staff Comment: "This activity is an absolute must for any person who wants to remember their stay in Queenstown. The pilot made me feel safe the whole time so all I had to do was sit back and enjoy the ride. The views from the helicopter are unbelievable!"
6. Canyon Swinging With Shotover Canyon Swing
If launching yourself off a cliff sounds like fun then this is the one for you. The Shotover Canyon Swing involves jumping off a 109 metre high cliff and freefalling past the rocky cliff face for 60 metres towards the Shotover River below before entering into a massive swinging motion across the canyon. Free-style it, or try some of the popular jump styles like The Pin Drop, The Chair or The Slide.
Pricing starts at $229 with optional add-ons available. Photos and videos of your jump are available for purchase after your swing. Tandem swings are available if you prefer.
NZ Rent A Car Staff Comment: "This would have to be one of the best thrill activities I have ever done. These guys are turning heads with the concept; there is a fun vibe from the crew, and the safety procedures are 2nd to none. If you are looking for a dose of thrill medicine… This is the doctor!"
7. Ziplining With Ziptrek Ecotours
New Zealand's number one original zipline guides, Ziptrek Ecotours provide an enjoyable guided journey whizzing along tree-to-tree ziplines while passing over native beech forest. The tours include varying speeds and zipline lengths with the highest treetop platform sitting impressively at over 25 metres.
Prices range from $135 up to $185 for adults and $85 to $135 for children (6-14 years). Skyline Gondola tickets are extra and need to be purchased separately. Closed-toe shoes are essential.
NZ Rent A Car Staff Comment: "This adventure activity has it all. What a combination of amazing views, exhilarating rides through the trees & a challenge for all of us to look after this planet of ours.The last 2 runs were an absolute rush of adrenalin & awe as we hurtled to the bottom of the hill at 70 kph. Good times!"
8. Riversurfing With Serious Fun Riversurfing
Surfing is for the ocean right? Well you are in for a surprise, Serious Fun Riversurfing have taken the popular ocean based sport and adapted it for Queenstown's unique river based conditions. Surf standing river waves, ride whirl pools, and conquer the rapids of the Kawarau River.
At $219 per person riversurfing is perfect for those wanting to get up close and personal with the Kawarau River. Don't forget swimming gear and a towel, you will be on the river for approximately 1.5 to 2.5 hrs.
NZ Rent A Car Staff Comment: "The Kawarau River (featured in 'The Lord of the Rings') was great fun, fast water and rock jumps to challenge those who were brave enough. I was very impressed with the quality of equipment provided and the eco awareness of the company."
9. Jetboating With KJet Queenstown
Proudly the world's first commercial jet boat operators, KJet Queenstown are based in the beautiful city of Queenstown. Considered the must-do New Zealand jetboating experience, the KJet fleet of jetboats skim along the crystal clear waters and offer 360 degree spins and high speed twists and turns across some of New Zealand's most scenic waterways; Lake Wakatipu, the Kawarau River and the Shotover River.
For 60 minutes of jetboating fun the price is$129, with additional combination experiences available for those wanting to make a day of it. Video and photo packs available to purchase at additional cost upon completion.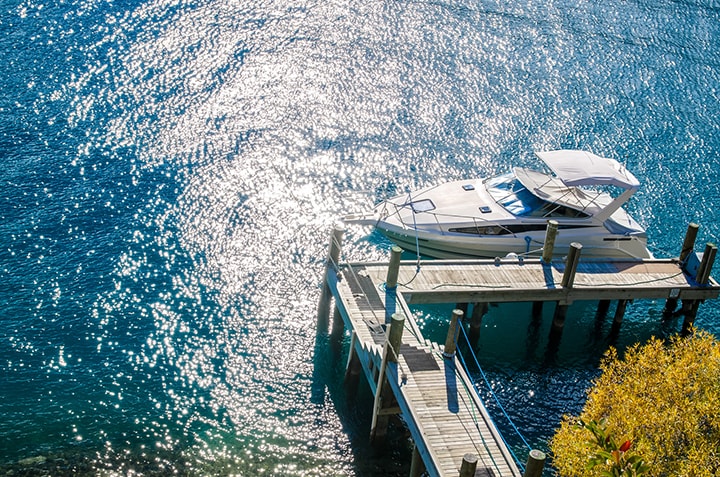 NZ Rent A Car Staff Comment: "What an exciting trip. Within seconds of leaving the Pier we were blasting our way across the lake heading towards the confluence of the mighty Kawarau & Shotover Rivers enjoying spins, twists and turns and informative commentary along the way. At 60 mins long, this trip provides excellent value for money."
10. Whitewater Rafting With Challenge Rafting
Challenge Rafting operates a selection of thrilling whitewater rafting experiences on the Shotover and Kawarau Rivers in Queenstown. Tackle the impressive grade 4-5 rapids and journey through a 170 metre long Oxenbridge Tunnel in complete darkness all while enjoying the superb scenic river surroundings.
You can experience these amazing whitewater rafting tours for just $219 per person. Don't forget your swimming gear, snacks and a change of clothes, wetsuits are provided. Rafting is restricted to persons 13 years of age and over.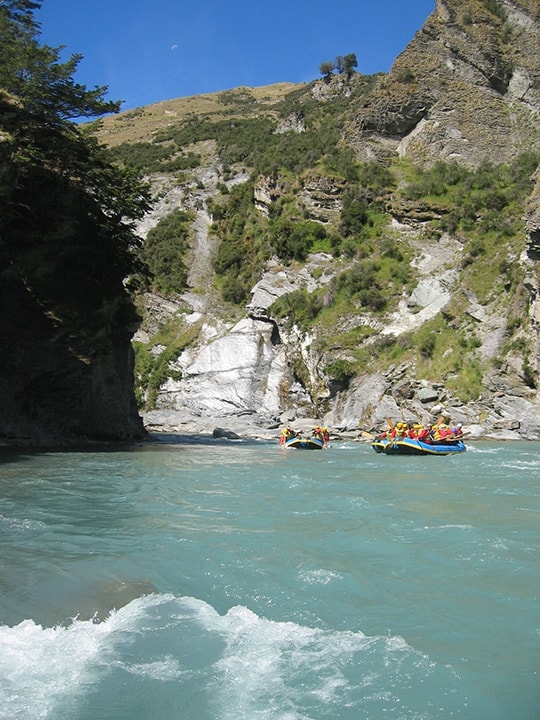 NZ Rent A Car Staff Comment: We combined our rafting trip with a bungy and a jet boat trip for a truly awesome day of excitement and at the same time saved time and money!"
11. Dirt Biking With Off Road Adventures
Explore over 11,000 acres of Queenstown's back country by motorbike with the team at Off Road Adventures. Ride your own dirt bike over the impressive hill climbs, creek crossings and tracks and trails near the stunning Kawarau Gorge.
The 1.5 hour High Country Trail Ride costs $289 per person, there are other ride options including Quad Bike tours, all rides tailored to suit the rider's abilities. A minimum age of 16 years is applicable, and all motor bike gear (helmets, boots, goggles, gloves, pants & riding tops) are provided. Choose from a selection of 250cc bikes with an optional upgrade to 400 or 450 cc for an additional cost.
NZ Rent A Car Staff Comment: "Wow, we took the High Country Trail Ride and it was amazing, loved crossing the creeks and the guys tailored the ride to suit us and let us really get out and explore – what a great experience"
12. Fat Tyre Heli Biking With Heli Bike NZ
Enjoy a fantastic 15 minute scenic helicopter flight over the edge of the Remarkables mountain range and the isolated Nevis Valley to land at an altitude of 1700 metres and hit the trails on your fat tyre mountain bike all the way to the bottom.
This full day helibike option is $585 per person or there is a couple of other options available for $399 per person. Bike hire is not included in this tour price, full suspension bikes are available to hire at an additional $60 per person. This activity is seasonal and runs across the summer only due to the need to wait for the snow to melt.
NZ Rent A Car Staff Comment: "We took our own bikes on this epic adventure and the team at Heli Bike NZ carried them up for free – now that's great service!"
13. Drive Like You Mean It With Radical U-Drive
Strap yourself into the driver's seat and hit the track in a real race car with the team at Radical U-Drive. Choose from the Radical SR3 or the Repco V8 Muscle Car and see if you can drive like the pros in five high speed laps.
A valid driver's licence is required and the ability to drive a manual vehicle. Maximum weights and height restrictions do apply. Driving the Radical SR3 is $429 per person and the V8 Muscle Car is $395 per person.
NZ Rent A Car Staff Comment: "This one has to top my list of must-do things in Queenstown, wow what an awesome ride!"
14. Rock Climbing And Abseiling With Climbing Queenstown
If scaling the side of a rocky cliff face sounds like you then this is the one for you. Climbing Queenstown offers a selection of rock climbing and abseiling adventures suitable for all abilities. Take it to the top with a privately guided rock climbing tour or simply enjoy the views while climbing some of their easier routes.
Half and full day options are available along with private tours. For a group half day tour you are looking at around $180 and for a full day around $300. Privately guided tours range in price depending on the number in your group. All gear and equipment is provided.
NZ Rent A Car Staff Comment: "After not really thinking we could do it, we were pleasantly surprised at this awesome adventure activity. The views were amazing and its so peaceful out there – thanks heaps to the team at Climbing Queenstown"
15. Flyboarding With Flyboard Queenstown
What is Flyboarding you ask? Well it's when you are strapped to a board and propelled high above the water using pressure that is expelled from a jetski into a 45ft hose that is connected to the board on your feet of course. Just another one of Queenstown's epic adventure activities for the adrenaline junkies out there – why not tick this one off the list today!
Flyboarding adventures cost between $150 and $200 per person with a minimum age of 10 years. A wetsuit, life jacket, helmet and towel are provided and you must be able to swim confidently for this one.
NZ Rent A Car Staff Comment: "Well this turned out to be my new favourite thing to do in Queenstown! You have to give this one a go, the feeling of shooting up above the water is so much fun"
Please be sure to check company websites for up to date pricing and activity availability or for more information head into the NZ Rent A Car Queenstown branch where our friendly staff can offer you their personal insight into these amazing activities. Need transportation? NZ Rent A Car Queenstown has a wide range of rental cars in Queenstown ready for any adventure.
Save