Auckland's Hauraki Gulf – A Guide to the Islands
Monday, May 25th, 2015
   We Aucklanders sometimes forget, but we are lucky.  We live on the doorstep of the Hauraki Gulf, a pocket of Pacific Ocean tucked into the North Island's eastern side. It is sheltered by the 80 kilometre long thumb of the Coromandel Peninsula to the east, and Great Barrier/Little Barrier islands above that.  Dozens of beaches are stitched around it's coastlines, and Auckland's eastern shores are particularly prized for their white sands and mild waves – perfect for families. 
  Since 2000 the whole area has been designated the Hauraki Gulf Marine Park, and thanks to the efforts of DOC (Department of Conservation) it's islands are almost pest-free, and home to a growing number of rare and protected birds and plants as well as human residents.  Some islands are now wildlife sanctuaries and permission is needed if you wish to visit them.  All of them have had much work done, some of it very recently, to restore the wildlife that used to flourish in the Gulf, but the ecology is still extremely fragile.  Because of this, DOC request that you clean your boots and/or camping equipment before traveling to any island, as pests that have taken decades to remove could be re-introduced accidentally.   The marine environment, bruised by the ongoing issues of over-fishing, sewage and agricultural run-off, is also being monitored.  Fortunately it still includes hundreds of whales and dolphins. 
 There are 50-plus islands in the region, and each one has its own unique story and character.  Shipwrecks, secret wartime installations, mining and historic residences, you name it. We don't have the space to cover them all at once, but let's check out the most familiar and accessible ones first. Much more to follow in future blogs!
Waiheke Island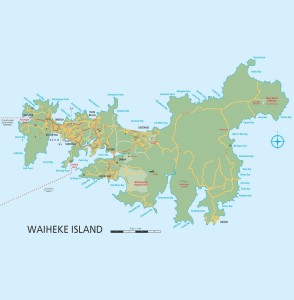 Name Translation: Trickling Waters
Size: 92 sq km
Population: Nearly 9000 permanent residents, plus approximately 3000 who own holiday homes or baches.
Access: Fullers run very frequent passenger ferries, hourly from Auckland or every couple of hours from Devonport.  The trip takes approximately 40 minutes.  If you would like to take your car over, Sealink operate a car ferry from either downtown Auckland, or Half Moon Bay.  This takes about an hour.  Light aircraft and helicopters operate from Waiheke Island Aerodrome, the island's privately owned airport.
General: Waiheke is the Gulf's second largest island (after Great Barrier), but the most convenient, the most populated, and the most civilised. Most of the residents dwell on the western (Auckland) side of the island, with the eastern side being largely farmland and vineyards.  Wine is a big thing on Waiheke, and there are, at last count, 27 vineyards producing boutique bordeaux-style wines to great critical acclaim. The visitor numbers spike over Xmas and Easter holidays, and during events such as the very successful Wine Festival and Jazz Festival.
There are many beautiful beaches around the island, including:
Oneroa Beach – The main beach, on the northern side of the town of Oneroa.
Little Oneroa Beach – A small secluded beach at the east end of Oneroa Beach, separated by a protruding cliff wall.
Palm Beach – Similar in shape to Oneroa Beach (complete with protruding cliff wall at the east end that separates a small private beach in Boatshed Bay), it gets its name from the mature phoenix palms at the east end.
Little Palm Beach – A small clothes-optional beach at the west end of Palm Beach.
Blackpool Beach – The south-facing counterpart of Oneroa Beach, lining Blackpool and popular for kayaking and windsurfing.             Surfdale Beach – A zoned-in beach on the southern side of Surfdale, separated from Blackpool Beach by a small protruding peninsula, which has a scenic unsealed route called The Esplanade linking the beaches. Popular for kitesurfing.                                                                         Onetangi Beach – A 1.87 km long, north-facing beach lining Onetangi. For many years it has been the site of the Onetangi Beach Races. Its western end, often inaccessible at high tide, is clothes-optional. It has annual sandcastle building contests.                                                           Cactus Bay – Considered by many locals to be the most perfect beach and, with nearby Garden Cove, a romantic place for picnicking. The beach is accessible only by boat or kayak, as land access is blocked by private property.
   During WWII three gun emplacements were built on Waiheke's eastern edge to guard against the threat of a Japanese invasion. The invasion never came, although vast sums of money went toward similar emplacements on Rangitoto, Motutapu, and Devonport's North Head, plus a fleet of fast Fairmile patrol boats.  The now empty emplacements and the extensive tunnels below them can be visited seven days a week.
For everything you need to know about Waiheke and it's many attractions, this website seems to have it covered.
Great Barrier Island
 Maori Name: Aotea (White Cloud)
Size:  285 sq km
Population: About 940 permanent residents
Access: SeaLink operates a fast ferry over the summer months and a passenger, car and freight ferry several times a week. Sailing time for this is approximately four and a half hours, and usually less than two hours for the fast ferry, weather permitting.  Barrier Express also offer a fast ferry service from Sandspit or Auckland.
There are airfields at Claris (Great Barrier Aerodrome) and Okiwi. Great Barrier Airlines and Fly My Sky operate services from Auckland Airport and North Shore Aerodrome. Sunair operates from Ardmore Airport in Auckland to/from Great Barrier Island. Flight time is approximately 35 minutes from Auckland.  Other air travel options:  Flight Hauraki, Christian Aviation, Auckland Seaplanes, Heletranz, Oceania Helicopters.
General:  Remote and rural, Great Barrier Island is the polar opposite of Waiheke, which seems like an expensive suburb of Auckland in comparison.  The lack of mod-cons keep the casual tourists at bay, although Kaitoke, with it's white sand beaches, nearby natural hot springs and airfield, is a popular vacation spot.  These days limited employment options, the lack of a secondary school, and long commute to Auckland limit the island's appeal for long-term residents.  There is no central water or electricity supply, so water tanks, solar panels, and wind or petrol powered generators are common.  Activities such as diving, surfing and fishing are all popular with locals and visitors alike at 'The Barrier.'
   The island once thrived on the dead industries of mining (copper, manganese, silver and gold), whaling, kauri logging and digging for kauri gum.  Mechanical graveyards left by these industries still exist here and there, however many have been reclaimed by forests, or are only accessible by boat.  Over the years much of the island's wilderness has come under the care of DOC (the Department of Conservation), who have created more than 100km of walking tracks, some of which are open for mountain biking.  Under their stewardship many pests have been eradicated and the island is a haven for many rare birds.  Much of the native forest, too, is regenerating after decades of milling, thanks to approximately 150,000 kauri trees that were planted in the 70's and 80's by the NZ Forestry service.
   In 1894 Great Barrier was the scene of one of New Zealand's worst shipwrecks, when the steamer SS Wairarapa struck Miner's Head, the northern tip of the island, in thick fog.  Those who were able to swim ashore found themselves at the base of a 200 metre cliff.  Trapped clinging to rocks they survived on fruit washed up from the wreck for some 30 hours, until rescued by local Maori in boats.  121 lives were lost during the ordeal, and some of these were buried in two impromptu cemeteries on the island, still accessible by walking tracks. 
In 2007 a series of the BBC reality franchise Castaway was filmed on the island, with participants "cast away" for three months on land leased from DOC in Harataonga Bay.
 Kawau Island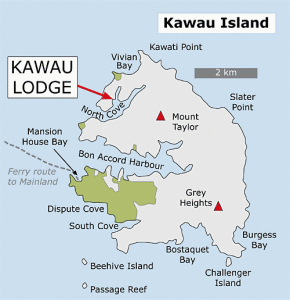 Name Translation:  Cormorant (bird species common on Kawau)
Size: 20 sq km
Population:  Less than 50? permanent residents, but many holiday homes.
Access:  Ferries from Sandspit run several times a day, and water taxis are also available for the short trip to Kawau.
General:  North of Auckland now, abreast of Warkworth, is Kawau Island.  At its nearest point, it's little more than a kilometre from the mainland.  Holiday homes are convenient and idyllic; most houses have their own jetties, as owning a boat is really a necessity if you intend to spend much time there.  Scores of non-resident Auckland boaties have also made the journey north to spend summer nights in the sheltered anchorages of Mansion House Bay or Schoolhouse Bay.
   Occupied as early as the 1300's, it is thought, by Maori tribes known for their piracy and cannibalism, the island seemed to be vacant when local Maori sold it to a visiting Australian in 1831.  It was in turn purchased by the British Loan and Investment Company, who planned to use it for farming and grazing. With this in mind the company sent cattle, sheep, donkeys (the first in NZ) and farm implements to Kawau, from England.  
   Their investment was further rewarded when, after just a few years, copper was discovered on the island, and mining began in 1844.  For a time over 400 people, miners and their families, lived on Kawau in dozens of shacks, and a large house was built in Bon Accord Harbour for the mine manager.  This copper mine is thought to be New Zealand's first underground mining operation, however the business proved challenging and dangerous.  Most of the work took place below sea level, and so keeping the mine pumped dry was a life-and-death matter.  A catastrophe may have occurred or at least been forseen, as work was halted in 1852 while a solution was found.  The solution took the form of the Coppermine Engine House, housing state of the art imported pumps driven by a steam engine.  Whatever good this did, it apparently wasn't enough, as mining resumed in 1854 but ceased for good the following year.  The remains of the engine house and it's 20 metre stone chimney are still there to be seen by walking trail (or boat) at the southern end of Dispute Cove, and have recently been the subject of some restoration work by DOC after 160 years of erosion and decay.  Across the harbour from the old mine manager's house, the ruins of a copper smelting house still stand (barely).
   Enter Governor Sir George Grey, New Zealand's third Prime Minister, who purchased the island in 1862 and revamped the mine manager's house into a grand colonial mansion.  After he sold it in 1888, the island passed through many private hands, with subsequent owners adding the splendid verandahs, various outbuildings, and alternately renovating or neglecting the huge property.  Ownership eventually returned to the New Zealand Government in 1967 and Mansion House was eventually restored to the condition it is in today.  See it on tours such as this.
   Sir George's other local legacy was his introduction of wallabies imported from Australia, as well as several other exotic species: deer, kangaroos, peacocks, zebras, monkeys.  It is said he was a collector of plants and animals and wanted to create a garden of Eden on the island, but whatever his motivation, it backfired when the wallabies ran rampant in their new environment, destroying fauna and forestry and consuming the food sources that many other creatures depended on for survival – including some of the other imported species.  Concerted efforts to eradicate these pests throughout the 20th century failed, and the task was thought to be impossible once the island was divided up into private sections.  However, in 1992 the Pohutakawa Trust was formed by residents of Kawau, whose aim is to eradicate the wallabies and restore or re-introduce the island's native flora and bird life.
Rangitoto Island
Name Translation: Bloody Sky
Size: 23 sq km 
Population:  Once home to several hundred people in about 140 houses, Rangitoto is now a scenic reserve and no permanent (?) residents remain, all but 30 or so baches have been removed.  They date from the early 20th century, as building on Rangitoto was outlawed in 1937.
Access:  Fullers run frequent sailings to Rangitoto Wharf weather permitting, diverting to Islington Bay Wharf if necessary.  The trip takes about 25 minutes from downtown Auckland, even less from Devonport.  
General: Rangitoto's low, dark silhouette is familiar to all Aucklanders, clearly visible from almost anywhere on the eastern shoreline.  It's also Auckland's newest volcano, being formed 550 – 600 years ago.  In fact, according to Wikipedia, "the 2.3 cubic kilometres of material that erupted from the volcano was about equal to the combined mass produced by all the previous eruptions in the Auckland volcanic field, which were spread over more than 250,000 years."  
   Now a popular spot for day trips and picnics, the island is visited by an estimated 70,000 people annually.  There are a few lava tubes nearer the top of the cone which can be explored – the larger ones are signposted but you will need a torch.  The walk to the summit is about an hour each way from the wharf, but for those with small children, the elderly or just inexcusably unfit and lazy, there is a land train pulled by a tractor which will shuttle you almost to the top.  This can be booked as part of your Fullers ferry ticket for an extra cost.  
   Like Waiheke, military installations were built in the years before and during WWII to support Auckland's harbour defences. Near the summit you can still visit the observation post, fire command post, and a wireless room.  Most of the roads, and a stone salt water pool near the wharf, were built by prison labour in the 1920's and 30's. 
   For nearly a century the northern shore of the island, as with other islands in the Gulf, was used as a wrecking ground for outmoded ships, and 13 vessels are known to have met their final rest in a spot called Wreck Bay, adjacent to Boulder Bay.  Several wrecks are still visible at low tide, and you can take the Wreck Bay walk from Islington Bay Wharf to reach them.  There is an information panel on site to help identify the hulks.  Islington Bay itself was colloquially known as Drunkards Bay.  Ship captains, having extricated their merry but reluctant crews from the taverns and brothels of Auckland, would sail the short distance to Rangitoto and anchor in the bay until the sailors were fit to put to sea.
Motutapu Island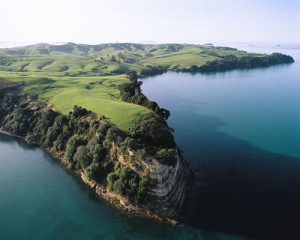 Name Translation:  Sacred Island
Size: 15 sq km
Population:  None
Access: Ferries to Home Bay on Motutapu take about 35 minutes, or walk from Rangitoto!
General:  Away from the prying eyes of Aucklanders, Motutapu is connected to the eastern side of Rangitoto by a man-made causeway.  Estimated at 20 million years old, it is New Zealand's oldest land mass, and by chance it is holding artificial hands with our newest land mass, Rangitoto.  Motutapu is known to have been occupied by Maori until the eruption of its younger sister obliterated their settlements.  Visually it is quite different, being without Rangitoto's abundant forestation.  This is not due to the logging that took place on Great Barrier and elsewhere, as Motutapu was though to be virtually barren by the 1850's, thanks to lasting damage from the eruption, and pests such as rabbits, stoats and rodents, introduced by both Maori and Europeans.  Relatively recently the Motutapu Restoration Trust has begun a reforestation program, and very recently – in 2011 – both Motutapu and Rangitoto were declared pest-free.  So what is there to see?
   Well, almost treeless Motutapu may have been, but the volcanic soil proved ideal for farming, plus by the 1860's it was also becoming a popular destination for holidaymakers.  In about 1870 the Reid brothers, two wealthy Scottish farmers, bought the entire island and owned it outright until 1943.  They built homesteads first in Emu Bay, then in Home Bay, farmed the land and continued to promote their island as a picnic destination. Home Bay retains their homestead, plantings, seawall, and graves. Emu Bay has the foundations of four separate groups of buildings, the last of which were demolished in 1976.
   The island is also a military historians amusement park, because according to Wiki – big breath: "The military structures on Motutapu comprise a largely intact World War II landscape including: the main 6" gun emplacement with 3 gun pits, underground magazines, shelters and stores; the battery observation post, engine and radar rooms; the Emu observation post and engine room for the anti-submarine defences; the ground level plotting complex with miniature range, plotting and generator rooms; the underground plotting complex with command exchange, radio, plotting generator, battery and fuel rooms, as well as access tunnels and corridors; the search light emplacements and directing station; personnel camps at Administration Bay and the battery; the US Navy magazines north of the causeway and store at Home Bay; and numerous pillboxes to protect the battery from a commando assault."  And breathe.
The barracks for the old Artillery Camp are preserved, and now leased to the Motutapu Outdoor Education Camp.
Motuihe Island
Name Translation:  Ihenga's Island
Size: 1.8 sq km
Population:  None
Access:  Fullers do occasional sailings to Motuihe, but only a handful per month.  See their schedule for details.
General:  Nestled in between Motutapu and Waiheke is the pistol shaped form of Motuihe, a DOC recreational reserve.  As a boy I remember outings there, but it has been much improved since then.  The Motuihe Trust has overseen the eradication of rats, mice and rabbits in the last 20 years.  With the main predators gone, many species have been re-introduced, including the North Island saddleback, red-fronted parakeets, and little spotted kiwi.  The trust is slowly replanting sections of the island with native trees, and in May 2009 the 350 volunteers of the Nikolai Organisation – including many children – planted 22,400 trees in just one day. Purchased from local Maori in 1839, the island was farmed initially, but in 1873 the government opened a quarantine station for passenger of immigrant boats arriving with illnesses such as scarlet fever, much like the one on St Martin, in Otago Harbour.  
   During WWI this was modified to serve as a POW camp, and its prisoners included Count von Luckner and the crew of the German raider Seeadler. Von Luckner became a hero to both sides when, in a 40 year-old sailing ship, he and his crew captured or sank 16 merchant ships in eight months, with only one (accidental) loss of life.  When Seeadler was wrecked on a reef Luckner and five hand-picked crew rigged a long boat and sailed 3700km of open ocean, until they were captured in Fiji.  
   Imprisoned on Motuihe in the latter months of 1917, von Luckner escaped in the camp commander's motor launch, and headed for Coromandel using a homemade sextant and a map copied from a schoolbook.  Seizing a scow in Coromandel he sailed to the Kermadec Islands, where he was finally recaptured.  His DIY sextant in apparently on display at Te Papa, and the ensign from Seeadler is in the Auckland War Memorial Museum.