Auckland Rental Car Travel Itinerary
New Zealand's largest city, Auckland is packed full of things to see and do. Exploring the region is best achieved with a rental car if you are looking to set your own itinerary and enjoy the freedom of travelling at your own pace.
Need some ideas on where to go and what to see while in Auckland? We have put together this handy travel itinerary with tips and ideas on the best things to do for a whole week in Auckland.
Day 1
Hit the ground running by spending the first day exploring the sights and sounds of Auckland City.
The Sky Tower, Kelly Tarlton's Underwater World or the Auckland War Memorial Museum are great places to kick off a holiday, or for some adrenaline fuelled fun try Auckland's Rainbows End theme park.
When the hunger strikes head down to the waterfront and sample some of the culinary delights of award winning restaurants and cafes along the Viaduct Harbour.
For a quiet afternoon, drop in at the Auckland Art Gallery, then take a walk through Albert Park for some fresh air and sunshine.
For an extra special dining experience take a ride on the ferry across the Harbour to the seaside village of Devonport. Dine at one of the many restaurants within easy walking distance from the Devonport Ferry Terminal, Portofino, the Vic Road Kitchen and Vondel are our top picks.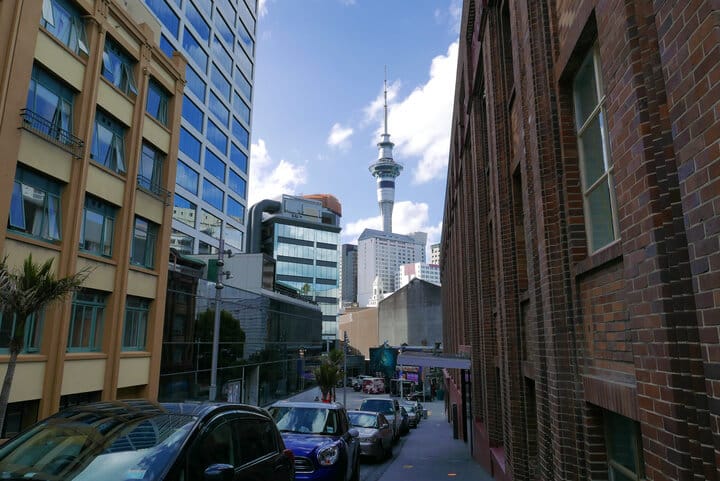 Day 2
Get out of the city and back to nature with some of Auckland's best beaches and scenic reserves.
Head out west via Titirangi for some great coffee and spot of morning tea as you make your way towards the beautiful Waitakere Ranges.
Call in at the Arataki Visitors Centre, the gateway to the Waitakere Ranges Regional Park to discover the best bush walking tracks and a bit of safety advice from the Park Rangers. Or head straight on to Piha, one of Auckland's most famous west coast beaches.
Dip your toes in the water, hit the surf, take a long walk along the beach or climb the iconic Lion Rock for some amazing views.
Need more beach! Well Anawhata is a little further up the coast as well as Bethell's Beach (a popular on-location spot for filmmakers – Taylor Swift reportedly filmed her music video for Out Of The Woods there). Muriwai is also located further up the west coast.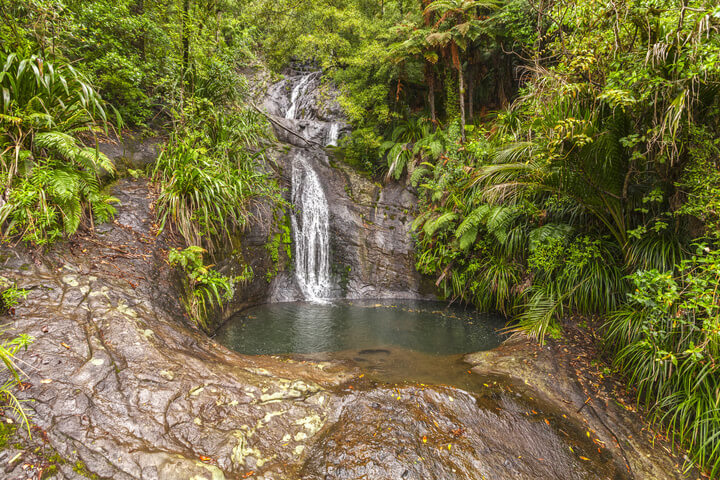 Day 3
You simply can't visit Auckland without getting out on the water. Let's go Island hopping!
Jump aboard the Ferry and head out to Rangitoto Island, where you can climb the summit, enjoy the views and even take a guided tour.
Motutapu Island is right next door to Rangitoto and also has some great walks to enjoy. Definitely worth a look particularly if you are already on Rangitoto as they are connected by a short causeway.
Waiheke Island is up next with vineyards, restaurants, tours and beautiful sights – part of the regular entertainment. It is possible to take your rental car across to Waiheke on the Ferry if you wish to make getting around easy.
Stay on Waiheke for dinner or head back and enjoy the pumping Auckland nightlife along Karangahape (K Road) or Ponsonby Road.
Day 4
And it's to the north we go today …
Jumping in the car head northwards along State Highway 1 , pausing at Warkworth to sample the village's arts and crafts outlets and to stroll along the riverfront.
Experience rural New Zealand with a visit to Sheepworld, just 5 minutes drive further on from Warkworth. Enjoy the delights of the Farm Show, feed the animals, pick up a souvenir or enjoy a bite to eat in the onsite cafe.
Snorkelling and scuba diving are popular attractions near the Goat Island Marine Reserve out towards the coast. Paikiri Beach is also nearby, great for surfing and swimming, or cross horse riding along the beach off your bucket list with the team at Pakiri Beach Horse Rides.
Alternatively, you could jump on a ferry bound for Kawau Island, known for its historic Mansion house and old copper mine.
Day 5
Spend the night up North and take the scenic route back towards the city along the Hibiscus Coast.
Soak in one of the relaxing thermal mineral pools at the Waiwera Hot Pools. Enjoy wandering through Wonderholm Regional Park and the historic Couldrey House (open weekends, public and school holidays).
Follow the picturesque coast downwards, grab some snacks at Orewa and enjoy a picnic by the sea or take an art class at the Estuary Arts Centre.
Explore the Whangaparaoa Peninsula, full of secluded beaches, stopping to check out the animals at the working farm in Shakespear Regional Park.
Take a ferry to the bird sanctuary Tiritiri Matangi Island from the Gulf Harbour marina or play a round of golf at the Whangaparoa Golf Club before making it back to Auckland just in time for a quick meal at one of the fabulous Auckland Food Courts.
Day 6
While the north is all about beaches and bays the south offers its own special set of attractions.
You cant go past One Tree Hill (Maungakiekie) without taking a look. It stands proud with remnants of a Muangakiekie Pa (a Maori fort) and stunning views over the city.
Take a detour out to Howick, home to Howick Historical Village and one of the city's earliest European settlements.
Driving south you can then connect with the Pacific Coast Highway and enjoy one of the Pacific's best touring routes, incorporating stunning Regional Parks such as Omana, Waitawa, Duder, Tawhitokino, Orere Point and Tapapakanga.
Mirana Bird Sanctuary, located along the Firth of Thames, provides a must-see for bird-watchers. The biggest thermal pool in the Southern Hemisphere can be found at the Miranda Hot Springs, also nearby.
Day 7
After spending the night at one of the many campgrounds on offer, lets get active!
Covering 18,500 hectares of bush and providing a number of excellent bushwalks and tramps, the Hunua Ranges Regional Park is just waiting to be explored. Don't miss the Hunua Falls, ancient Kauri Trees and the fun suspension bridge.
Choose from a variety of bush walks, hiking trails and mountain bike tracks. As always, be very prepared when venturing into New Zealand's great outdoors, conditions can be highly changeable.
Enjoy the arts and crafts and polo grounds at Clevedon on your way out and grab a bite to eat.
Be sure to stop and visit the 64 hectares and over 10,000 species of plants at the Botanic Gardens as you head back towards Auckland City.
Auckland Travel
Getting around Auckland is easy with a rental car and there are plenty of options for you to choose from.
NZ Rent A Car has car rental locations throughout New Zealand, including three handy Auckland car rental depots in the central city, at Auckland Airport and on the North Shore, offering a wide range of reliable affordable rental cars to suit all budgets.
Check out our Blog for more travel tips and ideas
Explore Auckland at your own pace with low cost car rental from New Zealand Rent A Car.