Whitianga Rental Car Travel Itinerary
Whitianga is a thriving coastal town located on the east side of the Coromandel Peninsula, in the heart of Mercury Bay. Taking a road trip along the coast is a popular thing to do both with tourists and locals alike – and the Coromandel is the perfect place to start.
Exploring the area is easy with a rental car, giving you the freedom to discover the sights and activities on offer at your own pace. We've put together a travel itinerary to help you make the most of your holiday plans.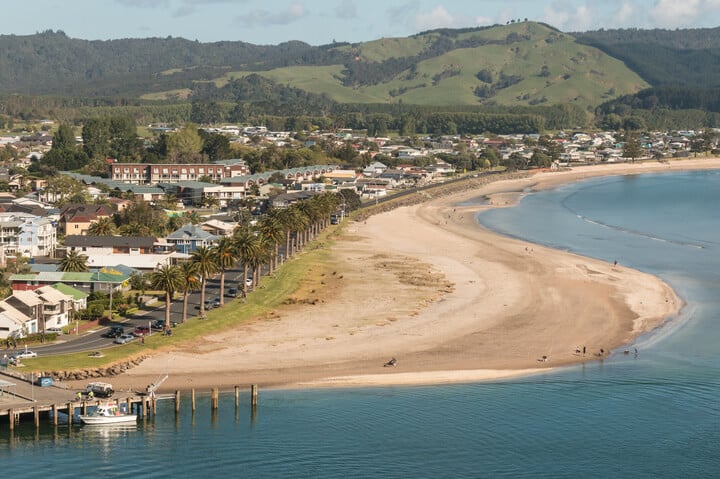 Day 1
It's road trip time! Coastal style.
On the way to Whitianga stop off in Thames and head over to the Kauaeranga Valley where you can enjoy a variety of walks and tramps or take a dip in Hoffmans Pool lake.
Head back to Thames for lunch, try the historic Brew Bar and Cafe or grab a good old Kiwi pie form the Sola Cafe & Restaurant on Pollen Street.
Hitting the road again the next stop up the coast is Tapu where you can wander around the Rapaura Watergardens and have afternoon tea at the Royal Oak Hotel.
Take a detour to Waiau Falls, a wonderful forest glade with an impressive waterfall. The pool at the bottom of the falls is a great place for a swim in summer. Then drop in at the impressive Waiau Kauri Grove to view some of the ancient native trees.
Back on the road Coromandel is next, stopping in at Driving Creek Pottery and Railway for a tour. Then take Highway 25 across county to Te Rerenga, Matarangi and down to Whitianga.
Day 2
After a relaxing night in Whitianga how about a visit to the Hot Water Beach?
Hot Water Beach and Cathedral Cove are absolute must-see attractions in this region. Hot Water Beach is exactly that – take a shovel and dig yourself a wee mini spa and soak away the stresses of the day. Hot Water Beach is roughly 30 minutes drive from Whitianga.
Cathedral Cove is another 10 minutes drive from the turn off at Whenuakite. It is approximately 45 minutes walk from the carpark to Cathedral Cove.
The Hahei Explorer offers trips over to the Hahei Marine Reserve, where you can see Cathedral Cove from the water and spectacular views of the coastline.
Day 3
The Bay of Plenty here we come!
Heading south to arrive in Whangamata in time for lunch, try Blackies Cafe on Ocean Road or Chill Cafe on Port Road for some great choices or just hit the beach for a picnic lunch and some sun, sand and surf.
Moving on, find out why Katikati is called the 'Mural Town' and continue on to Tauranga where you can take an afternoon tour swimming with dolphins, cruising the harbour or just enjoying a late afternoon climb of Mount Maunganui, the views are well worth the effort – trust me!
Dining out in Tauranga there are loads of choices to suit every taste and budget. Try the Harbourside for traditional Kiwi fare or take your pick from various restaurants along The Strand.
Day 4
Kiwifruit anyone?
Call in at Te Puke's Kiwifruit Country attraction where you can gain insights into the New Zealand kiwifruit industry and its wonderful produce.
70 classic and vintage vehicles are on display just next door at the Te Puke Vintage Auto Barn – well worth a look.
Back on the road, Whakatane is up next. Observe the active volcano of White Island from a tour by either sea or air for some amazing photo ops and sights you will never forget.
Dont miss the Awakeri Springs for a nice soak in the natural thermal pools. Just 15 minutes inland from Whakatane.
Day 5
Stick with the coastline or head inland it's up to you?
From Whakatane you can choose to keep following the coast up through Opotiki, Waihau Bay, Tikitiki, Te Puia Springs and down to Gisborne – about 5 and half hours drive or cut across from Opotiki on Highway 2, reducing the trip to 2.5 hours.
Upon arrival in Gisborne enjoy a leisurely walk on one of the city's many walkways. From gardens and historic walks to bush, nature reserves and coastal tracks, there's something to interest everyone.
The Motu and Mohaka rivers offer jet boating and whitewater rafting experiences with Motu River Jet, Motu River Expeditions, or Wet n Wild Rafting.
There are also many local attractions to explore, such as Morere Hot Springs, Cook's Landing Historic Reserve, the Eastwoodhill Arboretum and Gardens, and climbing treks up Mount Hikurangi that require permission from Ngati Porou Maori.
Day 6
Art Deco architecture anyone?
Head onward to Napier, taking the time to enjoy a morning of the city's best attractions, such as the Hawke's Bay Museum, the Hawke's Bay Exhibition Centre and Marine Parade.
The Napier Visitor's Centre offers pamphlets for those who wish to take a self-guided tour viewing the city's iconic Art Deco architecture.
Or book a winery tour for the afternoon, the region is well known for its excellent wines.
Enjoy dinner at one of the winery restaurants on the way, our top pick is the Mission Estate Winery on the outskirts of Napier housed in an elegantly restored historic seminary building.
Day 7
Wildlife, wildlife and more wildlife!
The famous Napier gannet colony at Cape Kidnappers is on the agenda for today, so grab a hearty breakfast at 'Mister D' on Tennyson Street and lets get going.
A guided tour is the best way to see the Gannet Colony but you can partially view one of the colonies from the beach, see the Department of Conservation website for more information.
Tours are available from September through to April and cost around $50 per adult and take up to 4 hours.
After an awesome morning viewing the Gannets take some time and enjoy a late lunch in Hastings before hitting the road again to head inland to Taupo and even more adventures!
Whitianga Travel
Getting around Whitianga is easy with a rental car and there are plenty of options for you to choose from.
NZ Rent A Car has car rental locations throughout New Zealand, including handy depots in Whitianga and Tauranga, offering a wide range of reliable affordable rental cars to suit all budgets.
Check out our Blog for more travel tips and ideas:
Explore Whitianga at your own pace with low cost car rental from New Zealand Rent A Car.