Car Rental in Port Chalmers, Dunedin
New Zealand's popularity as a cruise ship destination has experienced significant growth in recent times and many of the world's major cruise companies now offer regular services to New Zealand. The cruise industry has flourished here partly due to the vast coastal nature of the country and partly due to the continuing upgrade of national port facilities. Cruising is widely considered one of the more comfortable and luxurious ways of travelling and is an ideal way to explore the unique coastline and diverse landscapes New Zealand has to offer.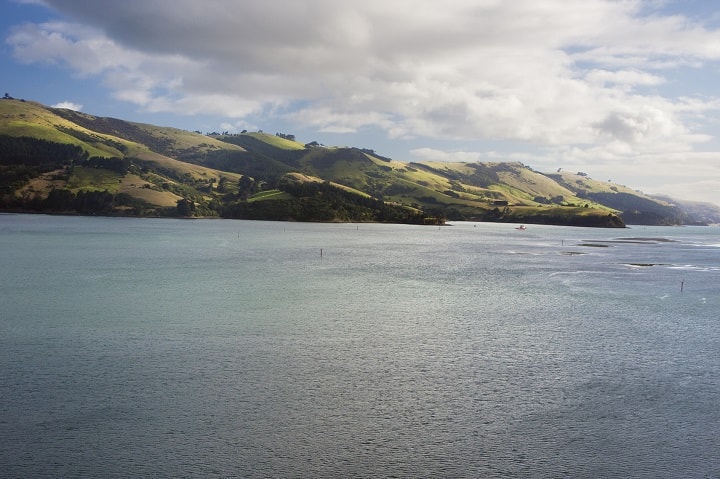 Arrival by cruise ship certainly provides easy access to the famous landmarks and wildlife reserves of the Otago region. Port Chalmers just to the north of Dunedin city is the main point of entry for cruise ships to the South Island. One of two wharf systems operated by Port Otago, Port Chalmers is situated on the northern shore of the Otago harbour. Alternatively, smaller ships sometimes use the Dunedin Wharf located on the fringe of Dunedin city. Dunedin is one of the more popular cruise stops in New Zealand and provides excellent options for cruise ship travellers.
Port Chalmers
When disembarking at Port Chalmers you will find that the Township caters well to traveller's needs. There is an eclectic mix of accommodation providers, some great cafes and restaurants, and of course the quirky range of boutique galleries, antique and jewellery stores that the town is famous for. Adding to the heritage atmosphere, and offering a brief insight into what the Otago harbour side was once like, some of the shops are located in the port's original historic buildings. For more information take a look through the Port Chalmers website.

Cruise Ship Car Rental
For travellers looking to explore a bit further afield, there are local bus, taxi and train services available; however a self-drive rental car is the most popular travel option when looking to explore all the region has to offer at your own pace. NZ Rent A Car offers a wide range of rental cars; from compact 3 door hatchbacks to 12 seater minibuses and have the perfect vehicle to meet every budget or special requirement. Along with competitive rates and efficient friendly service, NZ Rent A Car can offer you free Roadside Assistance, making you trip across New Zealand's sometimes challenging roads a safer one. Rental car hire allows you the flexibility of creating your own itinerary and taking sometimes taking the road less travelled. Sometimes heading off the beaten track can be a little daunting, but there is no need to worry about getting lost, GPS navigation systems are also available for hire with each rental car. Best of all if you are arriving on a cruise ship NZ Rent A Car are happy to deliver your vehicle upon arrival and pick it up on departure from the Port.

Exploring The Region By Rental Car
Once you have your car rental sorted, Port Chalmers is only a short 20-minute drive from the closest main city of Dunedin. Considered New Zealand's oldest city, Dunedin features beautiful Victorian and Edwardian architecture, a lively arts and culture scene; with a wide range of galleries, libraries, museums and theatres, and it is also home to New Zealand's very own one-of-a-kind Lanarch Castle. Built in 1871 the castle is a must see for visitors to Dunedin city and offers the perfect way to spend a sunny afternoon with family and friends. Soak up the historic nature of the castle by enjoying 'High Tea' at the Ballroom Cafe, their freshly prepared selection of sandwiches, slices; scones and cream cake are simply divine. While in Dunedin don't miss taking the short drive out to Taiaroa Head where you can view the world's only mainland Albatross breeding colony in their natural habitat, and maybe even spot one of the very rare Yellow Eyed Penguin. The wildlife reserves in the Otago region are world renowned for their pristine nature and rugged beauty, allowing visitors to experience the true essence of New Zealand.
Port Chalmers also acts as an ideal entry point if you are heading west to the famous Milford Sound in the Fiordland National Park. Milford Sound is very popular for kayaking, hiking and scenic boat trips and features spectacular cliffs, pristine native bushland and cascading waterfalls; some as high as 1000 metres. As it is the only fiord accessible by road it is the perfect destination by rental car and some say the road trip in is an often overlooked highlight of the trip. Parts of the road are steep and narrow with many twists and turns but there are multiple opportunities to stop and photograph some of the spectacular scenery.
On the way back from Milford Sound why not take a quick detour over to New Zealand's premier four season lake and alpine resort; Queenstown. With a reputation as New Zealand's favourite visitor destination, the natural beauty of Queenstown's simply stunning scenery is breath taking. Surrounded by snow-capped mountains and the crystal clear waters of Lake Wakatipu, it's the perfect backdrop for a holiday full of adventure or relaxation. For a slightly different pace, head down to Invercargill for some of their world famous Bluff oysters. New Zealand's southernmost city offers a combination of cultural and historic attractions as well as impressive nature reserves, it is a really great place to spend a few days unwinding and appreciating the character and warmth of the people of New Zealand.
When looking for rental car hire in Dunedin after departing your cruise ship, you will find NZ Rent A Car has the right vehicle for you. Enjoy the flexibility and freedom a rental car provides for your next holiday and experience the very best New Zealand has to offer.
For more information on cruise ships arrivals and departures in Port Chalmers, please refer to Port Otago's Cruise Ship schedule or Cruise New Zealand's website for information on ports around the country.
Save