Greymouth Rental Car Activities
Beaches
Explore the top tourist attractions and activities in Greymouth by rental car and set your own sightseeing timetable.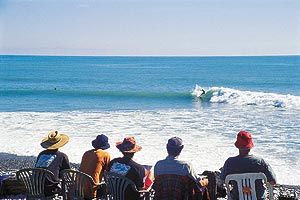 Visit all the great surfing spots in a vehicle from our Greymouth car rental.
Just watching the sea can be a calming escape. Take your Greymouth rental car along to one of the many beautiful beaches that line the western coastline and stop for a picnic. The vista can change completely with the weather, going from moody grey to beautiful blue and gold in a matter of days.
Greymouth Travel
Need transportation to make the most of the area? View our full range of affordable Greymouth rental cars and explore the best of Greymouth at your own pace.
Check out our blog for more New Zealand travel and holiday advice.
Back to Greymouth Photograph Gallery
Explore Greymouth at your leisure in an affordable rental car from NZ Rent A Car.