Car Hire Hamilton
Our Promise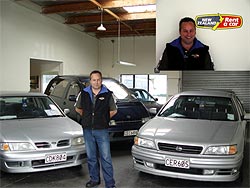 Our Hamilton car hire branch is a locally owned and operated company and part of New Zealand Rent A Car –
a national network of independent car hire companies, working together to provide you with quality car hire at affordable prices.
We promise to provide you with quality service, and affordable rental car hire. Our friendly, experienced staff will help you choose the right Hamilton car. Hire from us and be safe and happy.
Before you leave our depot, we also invite you to make use of our knowledge. A lot of people hire cars from Hamilton, and we talk to them after their trips. Our staff have an in depth knowledge of Hamilton, and the benefits and potential pitfalls of hiring a car.
Free Hire Car Delivery
Hire your car from us and get the service you deserve. We offer free pickup or delivery of your rental car within Hamilton CBD at any of the hotels, motels or backpackers.
Hamilton Airport Car Hire Service
We can meet you at the Hamilton Airport in your hire car, or, if you are not so keen to drive straight away, we can pick you up and take you back to the Hamilton Rent A Car depot. We work with you to meet your needs.
Check out our full range of Hamilton rental cars and view our convenient central Hamilton car rental location.
Reliable car hire in Hamilton from New Zealand Rent A Car lets you see NZ your way.