Top 10 Nelson Walks
An abundance of beautiful bays, native forests, carefully preserved nature reserves and stunning coastal scenery makes the Nelson region one of the best places in New Zealand to go walking, hiking or tramping.
There are plenty of walking tracks to choose from, all within easy driving distance from Nelson. Tracks vary in length from a few hours to several days with a variety of terrain and difficulty thanks to the region being home to a number of New Zealand's best National Parks. These include the Abel Tasman National Park, Kahurangi National Park, Farewell Spit and the Puponga Farm Park and the Nelson Lakes National Park.
1. Abel Tasman Coast Track
Taking three to five days to complete depending on your pace, this 54 km track is a great way to see the best of the picturesque coastline forming the northern border of the Abel Tasman National Park.
The Abel Tasman Coast Track includes a number of challenges including several stream crossings, a handful of steep inclines and even a tidal crossing (only passable within a few hours either side of low tide). The track is well formed and maintained and is considered fairly easy; however it does require a reasonable level of fitness.
Huts and non-powered DOC campsites are available along the way, (these will need to be booked in advance, especially during the summer months). The track can be walked from either direction and accessed from multiple locations by Water Taxi.
2. Abel Tasman Inland Track
Already done the Abel Tasman Coast Track or want to make a loop out of it? The Inland Track is 41 km of New Zealand's pristine forest at its best. An advanced level track, expect steep inclines and some fairly challenging terrain.
DOC Huts along the way enable trampers to break up the walk if necessary, these do need to be booked in advance. There is also several opportunities for side trips; near the Wainui Saddle it is possible to detour (using the Moa Park Track) and visit Harewoods Hole, the deepest natural vertical shaft in NZ.
Near Gibbs Hill it is possible to veer off towards the coast (using the Gibbs Track) dropping in on the final leg of the Abel Tasman Coast Track at Totoranui. Or to connect with a Water Taxi service to make the return trip to Marahau with ease.
3. Aorere Goldfields Track
At just 3 hours, the Aorere Goldfields Track is an easy day trip for the whole family. A walking and mountain biking track, you will pass through historic gold fields and original mining pathways as well as the opportunity to make two short detours to Stafford's Cave and Ballroom Cave.
Both of these caves can be explored with extreme care provided you are appropriately prepared with all the necessary equipment. Look out for the names of miners carved into the walls of the caves and remnants of early mining days.
The shores of Druggan's Dam are a great place to stop for a break, enjoy views of the Wakamarama and Burnett ranges why you rest. This walk is considered an intermediate grade, and the track is steep and narrow in places.
4. Cobb Valley To Fenella Hut Walk
Beginning at the end of Cobb Dam Road near the Trilobite Hut, Cobb Valley to Fenella Hut is a 13 km walk usually lasting around 5 hours (however there is the opportunity for many stops along the way so it pays to allow extra time).
Making your way along the edges of the Cobb River it is hard to resist the chance to swim, fish or just relax a while in the cool clear waters. If planning to enjoy the river, keep in mind the track veers away from Cobb River at Tent Camp (roughly 3-4 hours in).
Upon reaching Cobb Hut, walkers have the option to include a detour to the left around the shores of Cobb Lake and over to Round Lake, or to continue on to the right to the Fenella Hut. There is opportunity to explore beyond Fenella Hut, however this would be best suited to those well prepared with extensive experience and knowledge of the outdoors.
The Fenella Hut contains 12 bunk beds, basic heating and cooking facilities. Access to the Hut is on a first come first served basis, no bookings are required.
5. Heaphy Track
One of the longest and most famous walking tracks in New Zealand, the Heaphy Track covers a huge range of majestic landscapes, from inland rainforests and rivers to the rugged shores of the West Coast. The track takes 4-6 days depending on your level of fitness, and at a length of 78 km the Heaphy is only suitable those with a good level of fitness and some hiking/tramping experience.
The Heaphy Track is not a loop track you will need to arrange for pickup/transfers upon completion of the track. It can be walked in either direction (From the Aorere Valley, Kahurangi National Park Nelson end or from Kohaihai on the West Coast. (Be aware that these two locations are a seven hour drive apart).
DOC huts and campsites are scattered along the route, making stops easy to plan for and breaking up the distance in sizeable chunks. Not counting the Brown Hut at the entrance in Aorere Valley and the Kohaihai Campsite at the West Coast entrance, there are three tent sites and six huts to pick from. Always book in advance to ensure availability.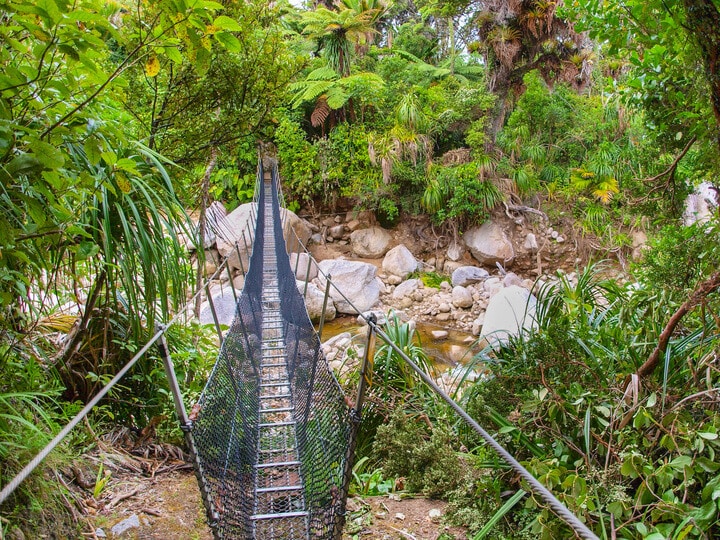 6. Puponga Hill Top Track
Crossing undulating farmland and enjoying stunning coastal views, the Puponga Hill Top Track covers a distance of 8 km and takes approximately 4 to 5 hours. The track can be walked in either direction, and although this walk is considered one way, it is possible to return over the same track or make your way back along Wharariki Road (roughly 6 km).
The track takes on a steady incline culminating in passing by the 'Trig Station' at approximately 155m above sea level and the Pillar Point Lighthouse on the windswept cliff tops. Care is needed along the cliff tops as strong winds are common.
The drive to Puponga is the longest in our selection of Nelsons top 10 walks, it takes roughly 2 ½ hours. Keep in mind Puponga is a working farm, leave gates as you found them and always respect all animals and wildlife. Camping is not permitted in the Puponga Farm Park.
7. St Arnaud Range Track
Heading down country, the St Arnaud Range Track offers a more inland route climbing to heights of over 1650 metres on the St Arnaud mountain range. Spectacular views out over the Wairau Valley, the Mt Richmond Forest Park and the Nelson Lakes National Park are the reward for enthusiastic walkers taking on this 10 km long hike.
The St Arnaud Track is not a loop track it is necessary to return via the same track (at least it is all downhill on the way back though!) Warm clothing and appropriate hiking gear is necessary as weather is highly changeable in New Zealand's alpine regions.
The track begins at the carpark next to the Kerr Bay Campground, look out for the Loop Walk track turn off on the way back down and add in a nice (slightly longer) return walk along the shores of Lake Rotoiti. The St Arnaud Track is considered to be for advanced trampers only.
8. Lake Rotoiti Circuit
Also starting at the Kerr Bay Carpark is the Lake Rotoiti Circuit. At 23 km the track offers a good amount of distance, throw in a river crossing, waterfall a swing bridge and some really great lakeside views and you have one of the best tracks in the area.
There are two huts at the head of the Lake which make for a great way to break up the walk if necessary. Water Taxi services are also available from the huts if you don't wish to walk out. Or there is the opportunity to get dropped off at either hut and make you way out at a leisurely pace.
Be aware that if the Lake Rotoiti Circuit river crossing is not possible for whatever reason, this will add a further 8 km to the walk as it is necessary to continue on further up the valley to the swing bridge.
9. Dun Mountain Walkway
Popular with walkers and mountain bikers the entrance to the Dun Mountain Trail is located just 15 minutes drive from Nelson. Following the path of the historic Dun Mountain Railway, the trail contains significant uphill portions, however enthusiastic walkers will be rewarded with superb views along the way.
Rocks Hut provides basic accommodations along the way for trampers, most walkers easily complete the 37 km loop track over two days. Or choose to add in one of the many optional detours available along the way.
Enjoy picturesque views of the surrounding vegetation, rock formations, forestry and valleys and see historic structures such as the 'Third House Shelter'. Keep in mind these tracks are shared with mountain bikers and care must be taken. It is also commonly mentioned that although signposted tracks can be confusing so it is recommended to carry an accurate Topo map.
10. Wakamarina Track
For advanced trampers only, the Wakamarina Track offers a decent 7 hour hike among the rugged Richmond range. Two huts are available for accommodations including the popular Devils Creek Hut (roughly 2 hours walk) which offers 6 bunk beds and convenient access to the Wakamarina River. Fosters Hut is roughly 5 hours walk in and offers 4 bunks and heating facilities.
Water is available at the Butchers Flat camp site on entry. Due to the rough terrain trampers boots and specialised gear is recommended for this walk.
Access to the Wakamarina Track is via Wakamarina Road, roughly an hours drive from Nelson travelling along State Highway 6 towards Picton. The track is one-way and hikers will need to arrange transport at the other end.
NZ National Park Tips And Guidelines
Insects. During the summer month's insects such as wasps, bees, ants, flies, sand flies and mosquitoes can be an annoyance. It is always a good idea to carry insect repellent, antihistamines if an allergic reaction is possible and itch relief creams.
Weather. New Zealand's warmest months are December, January and February, if travelling during these months temperatures are likely to be favourable however heavy rainfall is possible at any time of the year. All regions in NZ are prone to highly changeable weather conditions – always be prepared. Always check local weather reports on the day, before setting out.
Safety. You are responsible for your own safety. Always tell someone where you are going, carry emergency food and clothing and never stray from the marked tracks. Mobile phone coverage in remote areas of NZ is not always reliable or available, do not rely on a mobile phone as a communication device in an emergency.
Fires. Fires are not permitted in any of the NZ National Parks other than in designated fireplaces within huts or campsites. It is important to only use dead wood and pant material, cutting branches or foliage from live trees is not permitted.
Flooding. Weather conditions can change rapidly, any amount of rainfall can result in rivers and streams becoming flooded and impassable. Always be prepared and do not attempt to cross waterways in adverse conditions.
Waste. There are no facilities for the disposal of general waste, rubbish or trash in NZ National Parks. All rubbish must be carried out; this includes water bottles, plastic wrappers, food scraps and any other form of waste.
Water. In some areas water sources have become contaminated and it is necessary to sterilise, boil or filter water before use, for this reason it is best to carry a good supply of drinking water in with you at all times.
Conservation. New Zealand and its people are passionate about the conservation and protection of their natural resources and reserves. Please treat our wildlife and flora and fauna with the respect they deserve.
Be Prepared. Always do your research and make sure you aren't taking on more than you can handle. The Department of Conservation's "Know Before You Go" webpage is a great resource for preparing to venture out into New Zealand's great outdoors.
These top ten Nelson walks are a great way to see the Nelson region at its best, truly experiencing the clean green environment that New Zealand is famous for.