Guide To The Abel Tasman National Park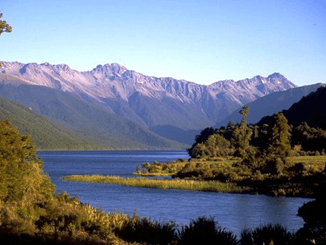 Nelson is known as the gateway to the Abel Tasman National Park, New Zealand's smallest national park and home to hectares of pristine native bush and coastlines. There are so many walking tracks and tramping trails to explore, as well as secluded beaches and camping grounds. You can hire a guide or walking service, or you can simply hop in a New Zealand rental and check it out for yourself. To help, we've put together a guide explaining the region and the top attractions and activities.
The Park
The Abel Tasman park is New Zealand's smallest at just 22,530, but it's still densely packed with varied landscapes including white sand beaches, subtropical beech forest, and smooth granite cliffs. It was marked as a national park in 1942, due to concerns that logging would further deplete the natural resources of the area. It's named after Abel Tasman, a dutch explorer and the first European ever to visit New Zealand. As such the area and the park have a strong historical connection.
The Tracks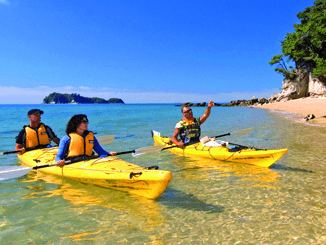 There are two main tracks to explore the Abel Tasman National Park, each taking you through unique scenery.
Abel Tasman Coast Track. As it says, the coastal track weaves around the beautiful golden coastline of the park. There are a number of river mouth crossings that need to be made at low tide, however it is generally a fairly easy walk. There are a number of entry and exit points including some accessible by water taxi, so you can decide the length of trip you want to do.
Inland Track. The Inland Track on the other hand takes you straight through the native bush that once made up the logging industry that built the region up. Again there are a number of access points so that you can choose where you wish to begin and end the track, including regular bus services between some of the major points. There are a number of huts along the way, though these should be booked in advance especially during peak seasons.
Other Ways To Explore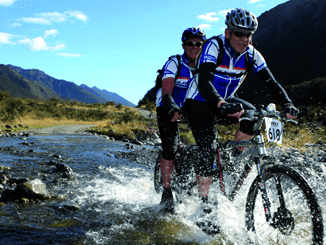 There are ways besides walking to explore the Abel Tasman, including mountain biking and kayaking. Mountain biking lets you cover the same terrain in a much shorter time, and mountain bike paths are clearly marked and well maintained. However some of them should only be attempted by experienced riders, or you risk a nasty spill.
Kayaking on the other hand allows you to access secluded bays that may not be included on the main tracks. It's also a great way to see what a fantastic marine environment the Abel Tasman is. There are a number of rental facilities dotted around the park, however it's important to know your limitations. Paddling can be an exhausting action if you aren't used to it, so don't overestimate what you're capable of doing and always allow for the trip back.
Nelson is a great stepping stone to the rest of the Abel Tasman National Park, and there are so many ways to explore. Whether it's native bush or sparkling coastlines, it's a natural playground.