Picton Foreshore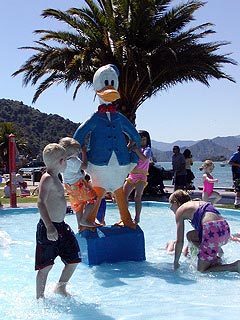 Children Enjoying Picton Foreshore
The quaint seaside town of Picton lies at the top of the South Island in the Marlborough region, and is the gateway for ferries heading across Cook Straight to Wellington. This gives it a rich maritime culture and facilities. The foreshore of Picton is well groomed with grass and palm trees forming a tidy garden space, with benches and walks all along the shoreline. The beach itself is sandy and golden, making it a great place for paddling and swimming.
Gear hire is available if you would like to take off onto the water in a kayak or pedal boat, or you can book a cruise on a larger vessel to take you round some of the bays that litter the Marlborough Sounds. Back on land, you're only a short walk from the Picton town centre, filled with trendy cafes and eateries for you to have some lunch and relax.
Getting Around Picton
Need transportation to make the most of the region? View our full range of affordable Picton rental cars and explore the best of Picton, the Marlborough Sounds and beyond at your leisure.
Check out our blog for more New Zealand travel and holiday advice.
Back to Picton Photograph Gallery
Explore Picton at your own pace in an affordable hire car from NZ Rent A Car.