Top 20 Things To Do In Queenstown
Known as the 'Adventure Capital of New Zealand', Queenstown is blessed with a huge number of excellent adrenaline pumping activities, attractions, and outdoor excursions. Everywhere you turn there are things to speed along, slide down and jump off, with ample opportunity to be scared for your life – in a good way of course!
From skydiving to jet boating to zip line rides and beyond, there is bound to be an adventure activity that will suit your tastes and budget. Discover some best things to do in Queenstown whether you are here for a family holiday or just a weekend away and make the most of this epic adventure destination.
1. Skiing And Snowboarding In Queenstown
One of the biggest draw cards to the Queenstown region is its esteemed reputation for snow sports such as skiing and snowboarding. There are numerous ski-fields in and around Queenstown to choose from, our top picks include The Remarkables, Cardrona, and Coronet Peak or take a look here for an in-depth guide to the top south island skiing and snowboarding resorts.
All of the Queenstown ski resorts provide great opportunities for the beginner right through to advanced as well as excellent facilities and snow making abilities. As a guide full day lift passes will cost around $120 per adult and gear hire comes in around $50 each for the day.
2. Jet boating On The Shotover River
Experience the thrill of shooting down the Shotover River at high speeds, complete with whizzing past high canyon walls and rocky outcrops, as well as dramatic 360 degree turns – all just a ten minutes' drive from Queenstown.
Reaching speeds of 85 kilometres per hour, the highly skilled operators at Shotover Jet will ensure the ride of your life as they navigate the narrow twists and turns. Riding the Shotover Jet will cost around $150 per adult and $80 per child, bookings are essential.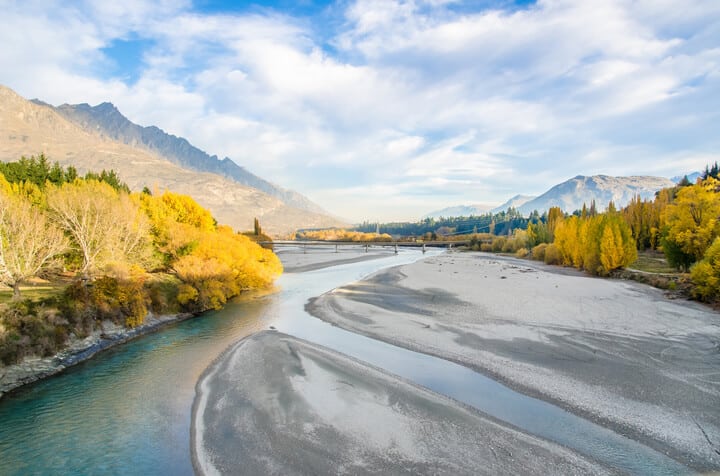 3. White Water Rafting On The Kawarau River
Perfect for first time rafters, the Kawarau River offers up a Grade 2 – 3 level white water rafting experience. Take on the longest commercially rafted rapid in New Zealand, at 400 metres this one is sure to test the skills!
Keep a look out for some Lord of the Rings scenery, pass under the famous Kawarau Bungy Bridge and enjoy the beautiful remote surrounds as you travel along the Kawarau River in this amazing 4-5 hour experience with Challenge Rafting. White Water Rafting the Kawarau River will cost around $239 per person.
4. Skydiving In Queenstown
Skydive Southern Alps and NZONE Skydive are the two skydiving companies operating out of Queenstown. Both offer up exhilarating and thrilling skydiving experiences over Queenstown's' uniquely beautiful landscapes.
Choose from jump heights of 15,000 feet, 12,000 feet and 9,000 feet, and don't forget your personal jump video so you can show all your friends and family. Jump prices are fairly similar between the two companies, with the highest jump coming in at between $450 and $430 and the lowest at around $300. Both offer a 60 second freefall from the 15,000 feet jump height.
5. Hangliding Or Paragliding At Coronet Peak
Fly like a bird and fully experience Queenstown's peaceful surrounds from the air with an unforgettable tandem hangliding or paragliding ride. The Coronet launch points are roughly 20 minutes drive from Queenstown, allow around an hour and a half to two hours for the entire experience.
Coronet Peak Tandems or Skytrek both offer Coronet Peak take off points with approximately 10 to 20 minute flight times. Prices for tandem hangliding or paragliding come in around $200 to $230 per person. Age and weight restrictions do apply please check with your operator before booking. For more information on hangliding and paragliding in Queenstown see here.
6. 4WD Safari Through Skippers Canyon
Travelling along old gold mining roads carved from the cliffs high above the Shotover River, these epic four wheel drive adventures are definitely one not to miss. Travel across the historic Skippers Bridge to the old Skippers township and even try your hand at gold panning at Deep Creek on the way back, all while enjoying a glimpse into the rugged Queenstown backcountry hills.
4WD adventures with Nomad Safaris cost around $200 per adult and $100 per child, the entire trip takes approximately 4 hours. Bookings are essential. The team at Nomad Safaris also offer 4WD trips around Glenorchy and the Wakatipu Basin.
7. Quad Biking And Dirt Bike Trail Riding
Hitting the back country trails on a quad bike or dirt bike is a great way to get off-road and enjoy that 'real New Zealand' feel – dirt, dust and all! Depending on your riding abilities choose from Quad Bike (four wheelers) or the traditional two wheel option – the dirt bike.
The team at Off Road Adventures are the people to see for quad bike and dirt bike tours in Queenstown. Bike tours will range in price depending on length and content, but expect to pay between $150 and $290 for one hour to one and a half hours ride time.
8. Rock Climbing In Queenstown
Taking it to new heights, rock climbing in Queenstown is not for the faint hearted. Traversing the sides of cliff faces while dangling from a rope may not sound like fun for some people but for others it is the ultimate test of strength and resilience.
Climbing Queenstown offers a good selection of cliffs to climb with something to suit everyone from beginners through to more advanced climbers. For a full days climbing expect to pay around $300, or for a half day $180. Abseiling and rappelling options are also available if you just prefer the downward run!
9. Canyoning In Queenstown
Looking for something a little different to the usual thrills and spills? Then canyoning is the one for you. Zipline you way into the canyon area, descend cliff walls by abseiling, and float along in the water through narrow chutes and naturally formed waterways.
No experience is necessary but you do need to be comfortable in the water. Expect to pay around $220 per person for a half day Canyoning Queenstown experience which will include roughly 2 hours in the canyon. There is also a more challenging Routeburn Canyoning experience for those wanting a little more.
10. Scenic Flights In Queenstown
Taking a scenic flight is the best way to really get a feel for the place and take in Queenstown's majestic mountain ranges and the magnificent Lake Wakatipu. There are several good scenic flight operators in Queenstown, all offering equally amazing flight options.
Whether you prefer the maneuverability of helicopter or the consistency of a fixed wing aeroplane, Queenstown has a number of scenic flight operators to choose from. Here are a few to get you started or take a look here for more information on getting airborne in Queenstown.
11. Fergburger In Central Queenstown
No visit to Queenstown can be considered complete without a pilgrimage to the Mecca of gourmet burgers – Fergburger. Sample a mouth-watering array of gourmet burgers and sides, and mingle with locals who can give valuable insight into which is the best burger to try.
If you consider yourself a bit of a burger connoisseur, then going to the world-famous Fergburger is going to be one of your best things to do in Queenstown. Don't forget to grab a side of hand-cut onion rings and be aware the lines do get pretty long around peak times.
12. Queenstown By Night
Queenstown is famed worldwide for its fantastic nightlife. If you're in the mood to put on your dancing shoes and enjoy some great southern hospitality (as well as mixing with friendly locals and tourists alike) then a night out on the tiles in Queenstown is perfect for you.
There are a number of excellent clubs and watering holes in the Queenstown CBD; the ice bars are particularly popular with visitors, and provide a totally unique atmosphere in which you can party all night long. Try Winnies for great pizza, the Minus 5° Ice Bar or the famous World Bar and Restaurant for starters.
13. Skyline Gondola And Luge
Heading up the Queenstown Gondola for the day is a great way to enjoy some of Queenstown's fantastic views as well as adding in a range of fun activities for the whole family.
From the top of the Gondola you can enjoy a delicious lunch, go Ziplining, get speedy on the Luge, hit the trails on a mountain bike or take a walk along Bob's Peak – choose one or do them all! The Gondola ride costs $39 per adult and $24 per child, there are package deals available for the luge, restaurant and mountain biking.
14. Mountain Biking At Lake Hayes
While there are many great places to go mountain biking in and around Queenstown Lake Hayes is perfect for those wishing to get out in the fresh air and enjoy the day with the family.
The full circuit of the Lake is approximately 8 km and is rated at an intermediate level. Take a tip from the locals – riding the trail in an anti-clockwise direction is easier! Bike hire is readily available from Queenstown with bikes, helmets and gear suitable for the whole family.
15. Gold Panning In Arrowtown
The Queenstown area is known for its gold mining history, in fact many of the small towns, bridges and roadways were originally formed from the 1860's gold rush days. Arrowtown is the best place to go for a glimpse into the regions gold mining past, complete with some original buildings, relics and the chance to visit the Arrowtown Museum.
Taking a guided tour is a great way to get a good sense of the history and find the best gold mining remnants, while also trying your hand at a bit of gold panning yourself. Shop around for the best gold mining tour to suit and don't miss the Goldfields Mining Centre on Kawarau Gorge Road.
16. Vineyard Hopping In The Gibbston Valley
Taking a winery tour is a great way to see some of the countryside while enjoying a privileged back door entry to some of the best wineries however a self drive winery tour is great when you just want to pick out your favourites and skip the rest. Most visitors will make their way along the Gibbston Valley visiting such places as:
Finishing up at the Gibbston Valley Winery for a leisurely dinner at the Winery Restaurant serving beautiful Central Otago produce.
17. Bungy Jumping In The Nevis Valley
If you are going to go Bungy jumping in Queenstown and want the biggest and the best then the Nevis Bungy is the one for you. With over 28 years of experience AJ Hackett Bungy are the original New Zealand bungy specialists, they will make sure your bungy jump is a safe, memorable and fun experience all round.
The Nevis Bungy experience includes 4WD transport to the jump site and takes around 4 hours in total. There is a minimum age requirement of 13 years of age. Prices are set at $275 for per person and include a completion certificate and T-Shirt. Some weight restrictions may apply.
18. Walking At Mount Crighton
With so many great walking tracks in Queenstown it can be hard to pick just one but our favourite is the Mount Crighton Loop Track. The walk takes in the beautiful native bush, historic sites, birdlife and even a waterfall – all just 15 minutes drive from Queenstown.
Rated 'easy' the Mount Crighton walking track takes anywhere between 2 to 4 hours depending on how fast you want to walk, and how many photos you stop to take! The entrance to the track is well signposted from along the Glenorchy-Queenstown Road.
19. Kayaking At Glenorchy
Kayaking out across Lake Wakatipu is one of the best ways to experience the stunning beauty of the Lake and its peaceful surrounds. Departing from Glenorchy, the team at Rippled Earth offer guided kayak tours out to the three islands at the Glenorchy end of the lake – Pigeon Island, Pig Island and the tiny Tree Island.
Tours include approximately one and a half to two hours of paddling time and an Island walk, plus refreshments are provided. Tours are suitable for ages 8 and over and keep in mind they will be weather dependent. We recommend driving yourself out to Glenorchy before joining the tour as this will save you about $30. The Glenorchy Islands Safari costs $135 per person (when starting at Glenorchy, $165 if requiring collection from Queenstown).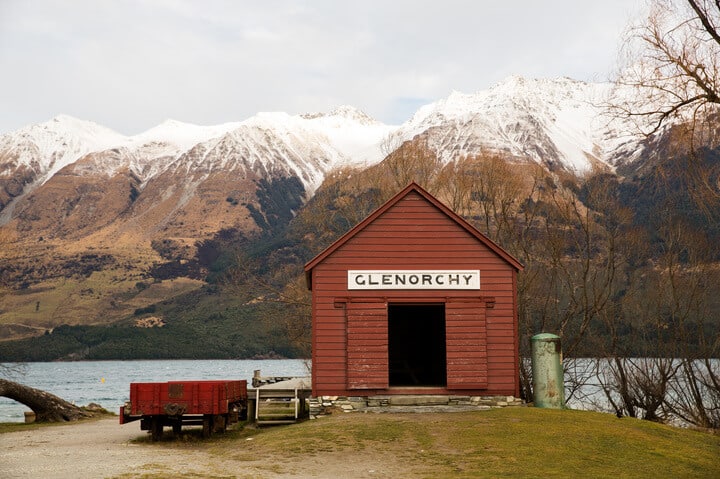 20. Cruising On Lake Wakatipu
If you are going to cruise the lake why not do it old school style on the TSS Earnslaw Steamship. Lake cruises operate year round and are around 1 hour 30 minutes in duration. Refreshments are available as well as the opportunity to explore the vintage steamship while on board.
Expect to pay $70 per person for the TSS Earnslaw Lake Wakatipu cruise, bookings are essential. Combine the cruise with a visit to the Walter Peak High Country Farm for a guided farm tour, and the chance to go horse riding or on a farm bike ride to round off the perfect day.