Christchurch Tram
The historic Christchurch trams are an iconic feature among the central city streets, long enjoyed by tourists and locals alike. Navigating through the city streets on the electric trams is a great way to see the city from a different perspective – adding that just that something a little bit special!
The heritage trams used in Christchurch are all originals sourced from around the world that have been carefully preserved and restored. Find out more about your tram on your journey around the city.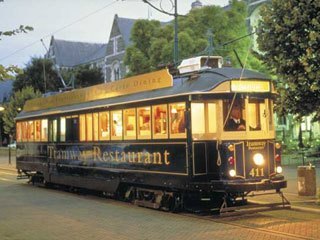 The Tram Route
The trams make a rough loop of the central city, taking in Cathedral Square, a short detour around Oxford Terrace and High Street before passing over the Avon River and making a loop down Worcester Street past the Canterbury Museum and back up Armagh Street finishing with a quick stop on New regent Street.
There are currently a total of 17 stops along the route, passengers can get on and off at any of the stops throughout the day. Trams run roughly every 15 to 20 minutes, and the full circuit takes around 50 minutes. See here for a map of the current tram route in Christchurch.
The Tramway Restaurant
For a dinner with a difference, the Tramway Restaurant offers diners the chance to a ride the tram while enjoying a full four course dining experience. The meal includes starter, entrée, main and dessert – all for $109.
The restaurant is not suitable for children under 10 years of age, and reservations are essential. Passengers must be ready to depart at least ten minutes prior to advertised departure times. The full experience takes approximately 2.5 hours and the tram can seat up to 36 diners.
The Tramway Restaurant Dinner Tour departs the Cathedral Junction (tram stop number 1) at the following times during the year.
7 pm March – October
7.30pm November – February
Group bookings are available on selected dates, during the summer months.
Ticket Prices
Tickets are valid for one full day, get on and get off as many times as you like
$25 per Adult
$0 for up to three children per paying adult
$0 per Infant
$5 for any additional children (more than 3)
$109 Tramway Restaurant
Opening Hours
Summer 9am – 6pm daily (September – March)
Winter 10am – 5pm daily (April – August)
Location
Cathedral Junction, 109 Worcester Street.
Quick Facts
Here are a few things you should know before booking your tram ride in Christchurch.
Tram Tours are suitable for all ages
The Tramway Restaurant Tour is only suitable for those aged 10 years and over.
There are a choice of both inside and outside seats.
Children must be accompanied by a paying adult.
There are 3 to 5 Tramcars operating daily.
Infants ride free of charge.
Group rates are available for school groups.
Whether you choose to ride the tram during the day or dine in the Tramway Restaurant this uniquely Christchurch experience will be one to remember!
Christchurch Travel
Need transportation to make the most of the area? View our full range of affordable Christchurch rental cars and explore the best of Christchurch at your own pace.
Check out our blog for more New Zealand travel and holiday advice.
Back to Christchurch Photograph Gallery
Explore Christchurch at your leisure with affordable hire cars from NZ Rent A Car.