Central Otago
Deep in the heart of New Zealand's lower South Island, lays the inland region of Central Otago. Renowned for its isolated yet picturesque countryside and extreme temperatures, Central Otago is a world away from the fast paced hustle and bustle of Queenstown and offers the perfect opportunity to slow down, regroup and relax while enjoying an easy day trip or overnighter in your Queenstown rental car.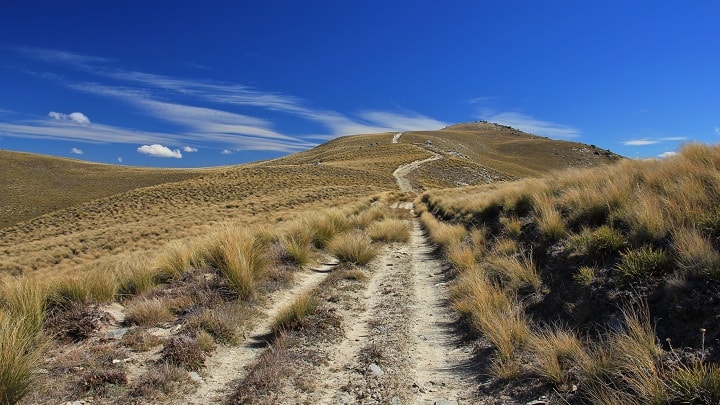 Take a deep breath of fresh air and embrace the quiet life as you make your way through this uncluttered, sparsely populated landscape, discover and enjoy the delicious orchard produce while experiencing some of New Zealand's best outdoor recreational activities and local vineyard delights.
Cromwell
Perched on the edge of Lake Dunstan, Cromwell is just 40 minutes by rental car from Queenstown. Parts of the town were relocated to their current positions when the Clyde Dam was formed, flooding some of the original township. The reconstructed buildings have formed a heritage precinct and are now home to various artists, shops and cafes.
Rich in gold mining history but now best known for its vineyards and stone fruit orchards, Cromwell is popular in the summer months where you can sample some of the famous stone fruit or try your hand at some of the many water sports available on Lake Dunstan. The Clyde Dam is also worth a visit; even if just to appreciate the sheer size of this manmade structure.
Cromwell hosts a good scattering of services and facilities, with cafés and restaurants, wineries, and bars all at your disposal. Accommodation options are varied; there is something for every budget.
Things To Do In Cromwell
Alexandra
Considered the commercial hub of Central Otago, but perhaps best known for its superb fruit orchards and sheep farming since the gold rush days, Alexandra is easily found about an hour's drive from Queenstown heading along the banks of the Clutha River from Cromwell.
Alexandra offers some unique walking and cycling trails, some that follow the tracks gold miners used back in the 1800's and is also a popular stop on the well-known Otago Central Rail Trail cycling track that runs throughout the Central Otago region.
The local museum and gallery provide a glimpse into the rich gold mining heritage of the town and you can also see examples of this dotted around the township, with stone cottages, walls and mining remains still standing today.
Alexandra offers a good range of places to eat and is home to some excellent wineries. There is a adequate range of accommodation, with everything from camp grounds through to well-equipped motels. Outdoor recreation is at its best, look for boating, swimming, fishing, walking, cycling and four wheel drive opportunities.
Things To Do In Alexandra
Ranfurly
Two hours by rental car from Queenstown, Ranfurly is a small town originally settled in the gold rush days and later made popular with the arrival of the railways. Long since closed, the old railway track now forms part of the Otago Central Rail Trail. An information centre is now housed within the old railway station.
Instantly recognisable for its prominent Art Deco buildings, the result of a building boom in the 1930's, Ranfurly is also a popular pit-stop on the Otago Central Rail Trail offering a good choice of places to eat and various forms of accommodation.
Not surprisingly Art Deco themed activities are found in abundance in Ranfurly, including a second-hand Art Deco furniture and fittings store, a self-guided Art Deco walk and the Southern Hemisphere's only Art Deco Museum – housed in the historic Centennial Milk Bar building.
Things To Do In Ranfurly
Roxburgh
Situated in the beautiful Teviot Valley, Roxburgh is an easy two hours by rental car from Queenstown and makes a great rest stop if you are heading on to Dunedin. Roxburgh is one of the best apple growing areas in New Zealand and is nestled amongst some amazing tussock clad countryside and very productive fruit orchards.
Summertime roadside stalls offer an abundance of apricots, plums, berries, cherries, apples and more. Don't worry if you eat too much fruit, there lots of mountain biking and hiking trails in and around the township. The Roxburgh area also has many historic relics from the gold mining era, including buildings, water-races and various other bits and pieces. For some well-preserved examples of the Chinese miners rock huts head out along the Roxburgh Gorge Trail.
Take a stroll through the town for some quaint art galleries, historical buildings, cafes and restaurants and keep an eye out for one of the famous New Zealand Jimmy's Pies along the way. Pinders Pond is the perfect place to pitch a tent for the night or if camping is not your thing check out the Roxburgh Lodge for a touch of luxury.
Things To Do In Roxburgh
Useful Central Otago Links
Need more information on where to stay, what to do and which of the amazing wineries you are going to visit in the Central Otago region? Check out the links below.
The mountainous high country and tussock filled valleys of Central Otago region hold a special place in the hearts of New Zealanders, a place of history, a place of solitude and a place of wonder, please remember to look out for our precious flora and fauna and treat our countryside with the respect it deserves. Enjoy!
Queenstown Travel
Need transportation to make the most of the area? View our full range of affordable Queenstown rental cars and explore the best of Queenstown at your own pace.
Back To Queenstown Photo Gallery
Explore Queenstown at your leisure in an affordable rental car from NZ Rent A Car.