I always thought that Queenstown was a winter holiday destination but it is one of the busiest places in New Zealand during the summer, so if you are heading south check it out. When visiting the Southern Lakes area of New Zealand book your hire car with Paul and Jo at NZ Rent a Car's handy Queenstown car rental depot.
Paul and Jo have grown up in the area, love the place, and can help you out with activities and places to visit in and around Queenstown. Queenstown is sited on the north east shore of Lake Wakatipu. The town is surrounded by spectacular mountains which are ideal for skiing, mountain biking, and paragliding to name a few, plus plenty of water activities such as jet boating, cruising and sailing. There are so many activities to enjoy in Queenstown it is referred to as the Adventure Capital of the World, but you can also enjoy the beautiful scenery and climate if you're seeking a slower pace for your holiday.
While in Queenstown recently we hired a rental car from Paul and Jo, who picked us up from the airport. We found our friends who were meeting us in Queenstown and drove out to Arrowtown, a quaint early settlers gold mining town. This is a really pretty town with restored heritage buildings, specialty shops and cafes. We had a stroll around the streets, and then drove towards the Kawerau gorge and visited the Gibbston Valley Winery.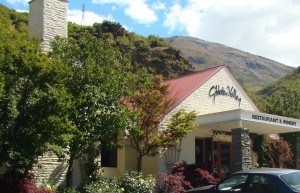 At Gibbston you can take a tour of the vineyard and view the cave where all the wine is stored, taste some of their wines, eat at the restaurant which is open daily, and check out the gift shop. There are numerous vineyards sited along the Kawerau River, each unique in their own way and worth a visit. We also visited the Peregrine Vineyard and Amisfield, but there are many more vineyards you can visit in your rental car by following this wine trail map.
The following day we took a ride with Real Journeys across Lake Wakatipu on the old steamship Earnslaw and then tried the Walter Peak Horse Trek.

This is a beautiful way to spend a cruisey day. The scenery is stunning and the pace a welcome respite from city life. If you have never ridden a horse this is a great way to have a go. Lloyd was an experienced horseman who made it all very stress free and enjoyable. The horses were quiet and well behaved, and the views well worth the ride. You can also check out the farm tour while there and see the dogs rounding up the sheep before shearing. There was also a wedding held at the Walter Peak Homestead so there was no shortage of entertainment. On arriving back at the original Station Farmhouse an afternoon tea was served on the patio where you can look out over the beautiful garden and lake, a truly magical place.
Queenstown Travel
Getting around Queenstown is easy with a rental car and there are plenty of options for you to choose from.
New Zealand Rent A Car has car rental locations throughout New Zealand and the South Island, including Paul and Jo's friendly Queenstown car rental, offering a range of reliable affordable rental cars to suit your budget.
So what are you waiting for? Hit the road and enjoy the Adventure Capital at your leisure.
Happy Travels!
Heather
New Zealand Rent A Car
Related Articles:
Queenstown Car Rental Road Trips
Queenstown: Top 5 Tourist Attractions