Easy travelling distances, a great climate and an abundance of fresh air and natural attractions make New Zealand the ideal place for enjoying the great outdoors. In New Zealand camping out at your favourite scenic spot during the summer is something of an iconic Kiwi tradition.
While there a many excellent recognised camping grounds, holiday parks and Department of Conservation (DOC) huts and facilities, camping out on public land or 'Freedom Camping' as it is commonly known in NZ, is still permitted in designated places across the countryside.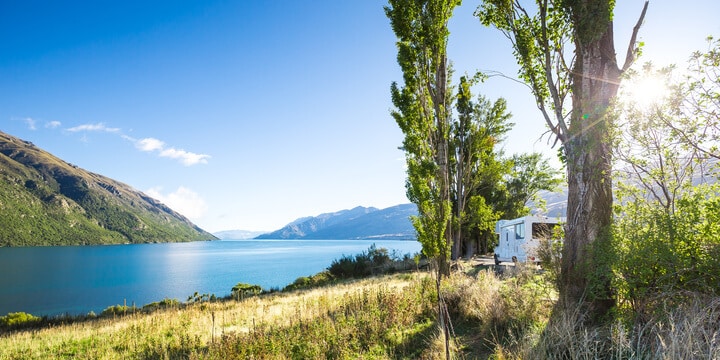 Where Can I Freedom Camp In NZ?
Freedom Camping is not as simple as just parking up anywhere. Local government strictly regulate where you can and can't camp, breaking the rules will likely result in a knock on your window in the middle of the night from local police, and the possibility of a fine.
Freedom camping is permitted in NZ in two main forms; designated camping sites without a toilet for use with self-contained vehicles, and sites with basic toilet facilities and access to running water. The Department of Conservation website has an extensive list of the areas where freedom camping is expressly prohibited or restricted to self-contained vehicles only, but it is always best to check local council as the rules will vary from region to region.
According to DOC areas where freedom camping is prohibited will show this sign:
5 Of The Best Freedom Camping Spots In NZ
With so many great camp sites on offer it can be tough to choose where to stay, here are our top 5 picks when travelling in New Zealand.
1. Reid's Farm Recreation Reserve – Taupo
Just north of Taupo, Reid's Farm Recreation Reserve is very popular with freedom campers. There are basic toilet and showering facilities located on site and plenty of campsites for pitching a tent or parking a vehicle.
2. Waikawa Recreation Reserve – Southland
Suitable for self-contained vehicles only, this quiet spot is one of the best if you are in the Invercargill area. Waikawa is approximately an hours drive east of Invercargill.
3. Dotterel Point Reserve – Western Bay of Plenty
Suitable for self-contained vehicles only, this lovely camp site is right by the beach at Pukehina. The Reserve is approximately 45 min drive from Tauranga.
4. Ocean View Recreational Reserve – Otago
Public toilets and a Dump Station are available onsite for campers in any type of vehicle. The Reserve is just 20 minutes from Dunedin central.
5. Ray's Rest Camping Reserve – Coromandel
One of the most popular freedom camping areas in NZ, Ray's Rest Camping Reserve is located off East Coast Road approximately 4.5 km south of the Coromandel township of Kaiaua. Approximately 30 minutes drive along the coast from Thames. Suitable for self-contained vehicles only.
NZ Freedom Camping Laws And Regulations
In New Zealand freedom camping is regulated firstly by the Freedom Camping Act 2011 and secondly by Regional Council Bylaws. The Freedom Camping Act sets out the rules and regulations for freedom camping along with the possible penalties for breaking those rules. While Regional Council Bylaws have the power to state which areas (if any) allow freedom camping.
Council Bylaws
Most regional councils in New Zealand have their own bylaws relating specifically to freedom camping. This information is readily available through the individual websites, see below for links to some of the regions.
Freedom Camping Offences
These are a summary of the main offences liable for prosecution under the Freedom Camping Act 2011. Please note this information is given as a guide only, it is necessary to refer to the official Act documents for more detailed information. It is currently an offence to:
Camp in places where freedom camping is not allowed.
Make preparations to camp in places that are not allowed.
Cause any damage to the area while camping. (This includes any structures or flora and fauna, or leaving behind any waste/trash/rubbish).
Fail to leave the area when asked to do so by local enforcement officers.
Discharge or leave waste that is likely to be detrimental to the environment or cause concern to the wider community or others who use the area.
Prevent, obstruct, intimidate, threaten or abuse an enforcement officer while they are carrying out their duties, or encourage anybody else to do the same.
It is important to note that prosecution under the Act does not require proof that the offenders intentionally or recklessly committed the offence or even in fact knew they were committing an offence.
Penalties For Illegal Camping
Under the Freedom Camping Act 2011, breaking the rules for freedom camping or camping without a self-contained campervan in areas where it is necessary can result in an on the spot fine of between $200 and $1000 NZD or a maximum $10,000 NZD fine if prosecuted.
Offenders may also be liable for any costs incurred in repairing or cleaning up any damage as a result of their actions.
What Is A Certified Self Contained Vehicle?
In order to continue to be able to enjoy the privilege of Freedom Camping in New Zealand, it is important to consider both toiletry and general waste disposal requirements. Responsible freedom camping is best achieved by renting a "certified self-contained vehicle" which contains on-board facilities such as a water tank, toilet, shower and the capacity to contain the waste water from these amenities.
The official definition of a certified self-contained vehicle is that it must have the ability to contain the "ablutionary and sanitary needs of the occupants for a minimum of three days". These vehicles need to display the following New Zealand Standard 5465:2001 Self Containment of Motor Caravans and Caravans blue warrant sticker.
The good news is when travelling in a certified self-contained vehicle there are many more options for overnight freedom camping. The NZ Motor Caravan Association (NZMCA) Travel Directory provides a searchable database of Freedom Camping sites throughout New Zealand that permit certified self-contained vehicles.
Where Can I Find A Dump Station?
In order to aid responsible waste disposal a series of Dump Stations have been set up nationwide to provide a suitable means of disposing of grey water waste from self-contained vehicles. Local i-SITE Visitor Information Centres will be able to point you in the right direction or there are several camp friendly Apps that display nearby Dump Station locations. The NZMCA website also provides a searchable list of Dump Station sites.
New Zealand Camping Apps And Useful Links
If planning a road trip around New Zealand, getting a New Zealand Camping App can make finding the right camping spot, the nearest dump station or avoiding parking up in the wrong place a whole lot easier.
These apps also provide useful information including how far away the next petrol station is, where to find the i-SITE Visitor Information Centres or where to access good WiFi. Here are four apps that can help take the hassle out of camping in New Zealand.
Other Useful Links
Freedom Camping Etiquette
Debate has risen in recent years over the environmental and economic implications of allowing Freedom Camping in NZ. Local residents, government and tourism related businesses all have their own valid concerns as to whether it is something New Zealand can continue to offer.
There have been reports of piles of rubbish left behind, copious amounts of faeces, urine and toilet paper left out in the open, fires being lit and people holding noisy parties at freedom camping sites around New Zealand. While only in the minority, these sorts of campers spoil the fun for everybody and have led to local councils increasing restrictions on where campers are allowed to stay, for how long and in what capacity.
In order to preserve the privilege for future generations to enjoy freedom camping it is important for all campers to behave in an acceptable and responsible manner. This includes:
Respecting the environment
Following the rules
Leaving no trace of your stay
Camping only where camping is permitted
Limiting the duration of your stay
Disposing of waste correctly
Using the toilets, not the bush, side of the road or waterways
Adhering to fire bans
Being mindful of personal safety while camping in isolated areas
Freedom Camping Tips
The New Zealand climate can easily throw four seasons in one day at you when out and about so it always pays to be prepared. Some things to think about if intending to freedom camp in New Zealand are:
Overnight Temperatures. Whether camping in a tent, campervan, or other type of vehicle overnight temperatures can drop quite low particularly in parts of the South Island.
High Winds. When travelling in larger vehicles high winds can become a problem in exposed places. There have been occurrences of campervans being blown over at times.
Wet Weather. When choosing a parking spot keep in mind that the ground can get quite muddy after heavy rain, the last thing you want is to find yourself stuck or stranded.
Flooding. When camping next to rivers, beaches or streams ensure you camp at a safe distance from the water. Heavy rain upstream can cause rivers and streams to swell rapidly and stormy weather can bring tides higher than usual.
Safety. While it's always nice to have the place to yourselves, parking up with other campers provides an increased level of safety.
Popularity. Most freedom camping sites have limited spaces available and work on a first come first served basis. Be aware that you may arrive to find there aren't any spaces left – get in quick to avoid disappointment.
Isolation. While some areas are city based most freedom camping spots are usually fairly remote with little or no access to shopping. To save time and hassle stock up on supplies at the nearest town before heading out to the camp site.
Security. When away from your vehicle always lock up securely. Keep belongings out of sight and covered if possible.
Driving Safely. In NZ we drive on the left hand side of the road, make sure you familiarise yourself with NZ road rules and safe driving practises.
Toilets. Don't want to get caught out? Invest in a portable chemical toilet. Small, portable and comfortable these things can be a valuable asset when travelling in remote areas.
Water. Don't forget to carry drinking water with you. While some camping areas will have running water, others may not and you may find yourself some distance from the nearest town. Think ahead and always carry enough water to last several days.
Is Freedom Camping In NZ Safe?
In some places freedom camping tourists have become an easy target for criminals. The remoteness and seclusion of many camping spots can lead to a false sense of security for many unknowing travellers. While for the most part the risk is low, there is still a risk so it pays to keep personal safety in mind at all times.
Look out for overnight spots where there are several vehicles present, and try to park in such a way that you can always drive off if necessary. Keep in mind city based park-ups can be overrun with partying crowds, particularly on weekends and be sure to lock up if leaving the vehicle unattended and at night. It also pays to know that mobile phone coverage can be a little dodgy in some of the more remote areas of New Zealand.
Freedom camping in New Zealand can offer a level of flexibility and affordability attractive to all kinds of visitors from back packers and families through to adventurous couples and groups. Whether you choose to travel NZ in a campervan, caravan or van rental always remember to leave this wonderful countryside exactly as you found it, act responsibly and help to preserve the privilege of being able to freedom camp for generations to come.