Hiring a rental car in New Zealand is the best way to really get out and experience all that New Zealand has to offer at your own pace. However New Zealand has a wide variety of unique, sometimes challenging terrain, and some equally challenging driving conditions at times.
Safety should always come first, it is important to make sure you are fully prepared before driving your rental car in New Zealand. This includes familiarising yourself with your rental car on pick up and recognising that driving conditions, road rules and safe driving practises can vary greatly from country to country.
To ensure your travels around New Zealand are as safe and enjoyable as possible, New Zealand Rent A Car has developed this quick guide to driving in NZ.
New Zealand Driving Basics
Before getting behind the wheel, make sure you have studied the New Zealand Road Code, it provides a useful information on driving safely and NZ traffic law.  Key things to remember are:
In New Zealand we drive on the LEFT hand side of the road.
Speed limits are in kilometres per hour (kph), not miles per hour (mph).
The speed limit in built up areas (towns and cities) is 50 kph (approximately 31 mph) unless otherwise indicated.
Always give way to pedestrians at crossings even if you are turning at traffic lights.
Seat belts are mandatory for all vehicle occupants.
Using a hand-held mobile phone while driving is illegal.
Drivers must always carry a valid New Zealand, international or internationally approved driver licence.
The speed limit on motorways is 100 kph (about 62 mph) unless otherwise indicated.
You must come to a complete stop at all Stop signs.
Drink-driving is taken very seriously; do not drink alcohol and drive.
Give Way Rules To Remember
If you're travelling from overseas you must be aware of the Give Way rules that apply in New Zealand, especially if you're planning on driving a rental car. In all of the diagrams below the The Red car (dotted arrow) must give way.
1. If Turning, Give Way To All Traffic Not Turning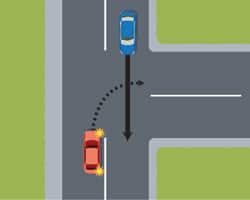 This rule includes giving way to cyclists and also applies when both vehicles are facing the same road control, for example Stop signs, Give Way signs or green traffic signals. You are deemed to be turning if you leave the path of the centre line.
2. If Turning Right, Give Way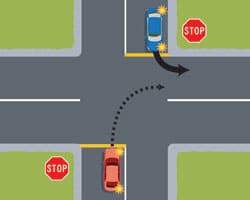 If turning right and the opposing vehicle is turning left, you must give way. All vehicles turning right must yield to traffic coming the other way and turning left. This applies at cross roads, T-intersections and driveways where both vehicles are facing each other at an intersection with either no signs or signals, or the same signs or signals.
3. Top Of The 'T' Goes Before Me  
When turning from the bottom of a 'T' intersection (the terminating road) with no signs or signals you must give way to all vehicles on the top of the 'T' (the continuing road). This applies to all road traffic and any road user on the footpath or cycle path.
4. In All Other Situations Give Way To Your Right 
In any circumstances not covered by the above rules, give way to the right.  For example, any uncontrolled intersections.
To see how prepared you are – take the NZ Transport Agency's Interactive Quiz.
Driver Licences
You can drive a rental car in New Zealand if you hold a current, valid driver licence from another country or an international driving permit and:
You've not received a disqualification or suspension in New Zealand, and
You last entered New Zealand less than 12 months ago, and
You've not been granted a New Zealand driver licence and
Your overseas licence is in English; if not, you have an accurate translation
If your driver's licence or international driving permit doesn't meet these requirements, you cannot hire a car in New Zealand and you must apply for a New Zealand driver licence.
Safe Driving Tips In Your Rental Car
Often your hire car might differ from the cars you are used to driving at home and given New Zealand's rugged terrain, long periods of driving can be hard work.  When driving in New Zealand always remember to:
Get plenty of rest before a long trip
Take a break from driving every two hours or more frequently if needed
If possible, share the driving with someone else
Drink plenty of fluids
Drive to the weather conditions
If you begin to feel sleepy, stop and have a short sleep for up to 40 minutes
If feeling very tired, find a place to stay overnight
Don't drink alcohol
If you want to check out the scenery, pull over safely
Keep an eye on the traffic behind you
Be courteous to other road users
Take care on unsealed or gravel roads
Weather conditions can change quickly in New Zealand, check the forecasts before setting out and be prepared for rapid changes in conditions, particularly in the alpine regions of New Zealand.  The winding and sometimes steep gradients of New Zealand roads mean slower travelling speeds are necessary, leave plenty of time for your journey and ensure you have enough fuel for a round-trip in case you encounter a road closure or obstruction.
Useful Speed And Fuel Conversions
Speed conversion to imperial: 1 kph equals 0.621 mph
Speed conversion to metric: 1 mph equals 1.61 kph
Fuel conversion to imperial: 1 litre equals 0.26 US gallons or 0.22 UK gallons
Fuel conversion to metric: 1 US gallon equals 3.79 litres and 1 UK gallon equals 4.55 litres
If unsure about driving in New Zealand please feel free to ask the friendly staff at NZ Rent A Car when booking your hire car.  Or see the NZ Transport Agency's website for more information on Driver Licensing and the Give Way Rules.  Stay safe, enjoy your stay in New Zealand, and take care on the roads.
New Zealand Travel
New Zealand Rent A Car has handy car rental locations throughout New Zealand, offering a large range of quality, affordable rental cars to suit your budget.
See here for more tips for driving your hire car in New Zealand: