If you live in New Zealand, and it's summer, hosting a barbecue is considered almost a civic duty. And luckily it's not too hard to do – some packs of sausages and chops, a couple of trays of beer, and you've fulfilled the obligation. But for those who aspire to slightly higher culinary heights, the budding Michelin Star barbecue-ist, the host with the most roast… we present half a dozen recipes to show your guests that a BBQ needn't be about burned sizzlers and warm brews. The menu needn't be fancy, but as these recipes show, just a little care and preparation will go a long way. Pull any of these off and you'll be a legend.
Don't forget to up your beer game too. Rather than grabbing a slab of whatever's on special, check out these exemplary Kiwi brews.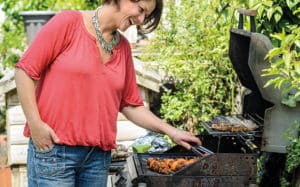 BBQ Spiced Lamb and Apricot Kebabs
Influenced by the North African tradition of serving meat with fruit, these spicy kebabs are delicous served simply with buttery couscous and a green salad. Toasting the cumin and coriander seeds is not essential but it does really 'wake up' the flavours, so I would recommend it.
SERVES: 6
INGREDIENTS:
800g boneless lamb leg steaks,diced into 3-4cm cubes
6 fresh apricots
Olive oil,for drizzling
Sea salt flakes,for sprinkling
Handful of chopped coriander
For the spice paste:
1tbsp each cumin and coriander seeds
2 tbsp paprika
1-2 tsp dried chilli flakes
1 tsp ground cinnamon
1 tsp ground ginger
1 tsp soft light brown sugar
2 cloves garlic,crushed
Finely grated zest and juice of 1 lemon
3 tbsp olive oil
Sea salt and freshly ground black pepper
METHOD:
First make the spice paste. Heat a small,dry frying pan,toast the cumin and coriander seeds together for a minute or so, then grind roughly using a pestle and mortar. Add everything else to the ground seeds, seasoning with salt and black pepper as you go,and mix to a paste.
Add the spice paste to the lamb and mix it thoroughly through the meat.
Cover and leave in the fridge for a couple of hours, or overnight if possible.
When you are ready to cook,cut the apricots in half and remove the stones.
Thread the lamb on to skewers, dividing it evenly and adding 2 apricot halves to each skewer amongst the meat, then drizzle over a little oil.
Cook over a hot barbecue for about 7-8 minutes,turning occasionally,by which time the lamb should be lovely and crisp on the outside and just pink in the middle.
Arrange on a serving plate,sprinkle with a few sea salt flakes and scatter of coriander.
Taken from "How to Eat Outside: Fabulous Al Fresco Food for BBQs, Bonfires, Camping and More" by Genevieve Taylor (Bantam Press) Source: telegraph.co.uk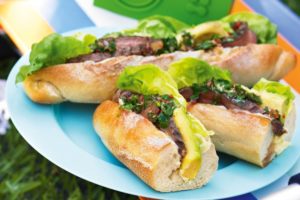 Argentinian Steak Sandwiches
INGREDIENTS:
3 x 200g beef sirloin steaks, at room temperature
1 tablespoon olive oil
3 half baguettes or
6 large bread rolls
150g (1/2 cup) whole-egg mayonnaise
1 butter lettuce, washed, leaves separated
1 avocado, halved, thinly sliced
Chimichurri sauce:
125ml (1/2 cup) olive oil
80ml (1/3 cup) red wine vinegar
1 eschalot, finely chopped
1 ripe tomato, peeled, seeded, finely chopped
2 cloves garlic, finely chopped
1 cup chopped flat-leaf parsley
1 teaspoon dried oregano
1 red bird's-eye chilli, seeded, finely chopped
METHOD:
To make chimichurri sauce, combine all ingredients and 1/4 teaspoon salt in a bowl.
Preheat a chargrill pan or barbecue over medium–high heat. Brush steaks with oil, then season with salt and pepper. Cook steaks for 2 minutes each side for medium-rare or until cooked to your liking. Cover loosely with foil and rest for 5 minutes.
Cut a slit lengthwise along top of baguettes, cutting almost to base, then prise open without splitting. Brush inside with mayonnaise, then fill with lettuce and avocado. Thinly slice steaks across the grain, then divide among sandwiches. Spoon over sauce to serve.
Source: taste.com.au
Grilled Chicken Breasts With Chive Herb Butter
SERVES: 4
INGREDIENTS:
½ cup (1 stick) salted butter, at room temperature
3 chives, minced
1 tablespoon fresh parsley, minced
1 tablespoon fresh thyme leaves, minced
2 lemons, halved, plus zest of 1 lemon and juice of ½ lemon
4 boneless, skinless chicken breasts
2 tablespoons extra virgin olive oil
Kosher salt and freshly ground black pepper
METHOD:
In small bowl, combine butter, herbs, lemon zest and lemon juice until well mixed. Lay out large piece of plastic wrap on clean counter. Spoon butter mixture onto bottom third of plastic wrap then roll into log. Refrigerate for hour or until firm.
Bring grill to high heat and oil it lightly. Brush chicken breasts with extra virgin olive oil and season chicken breasts with kosher salt and freshly ground black pepper. Let rest at room temperature for about 10 minutes.
Put chicken on grill along with 4 lemon halves, cut side down. Grill chicken for about 5 minutes per side or until grill marks form and chicken turns golden. Turn off one side of grill and move the chicken breasts to that side, keeping other side of grill on high heat. Remove lemons from grill. Cook chicken for 8-12 minutes or until 185 degrees internal temperature, turning once if needed.
Slice chive and herb butter into ½ inch slices.
To serve, squeeze grilled lemon half over chicken breast and top with pat of chive and herb butter.
Source: foodiecrush.com
Knife & Fork Grilled Portobello Sandwich
SERVES: 2 – 4
INGREDIENTS:
For the Walnut Butter:
½ cup (70g) toasted walnuts
1 tbsp unsalted butter, at room temperature
Sel gris or fleur de sel
For the Sandwich:
4 large portobello mushrooms, cleaned, stemmed, gills removed, and peeled
1 large aubergine, thinly sliced lengthwise
1 large courgette, thinly sliced lengthwise
¹⁄₃ cup (75ml) extra-virgin olive oil, plus more for the bread
Sea salt and freshly ground pepper
55-115g good melting cheese such as Muenster or Fontina, very thinly sliced
4 thin slices full-flavoured rustic bread such as whole grain or sesame
1 bunch rocket, stemmed
1 firm, ripe avocado, peeled, pitted, and thinly sliced
½ lemon
METHOD:
To make the walnut butter, grind the walnuts to a fine meal in a food processor or coffee grinder, stopping just before they turn into a paste, about 2 minutes. Pulse in the butter, or if using a coffee grinder, transfer the walnut meal to a bowl, add the butter, and stir into a chunky paste. Season with sel gris.
Prepare a gas or charcoal grill to cook over high heat, or preheat a cast-iron grill pan on the stove top over high heat until hot.
Brush the portobellos, aubergine, and courgette generously with the olive oil. Season with salt and pepper. Working in batches, if needed, grill the portobellos until tender, turning once, about 8 minutes, and the aubergine and courgette until tender-crisp and lightly charred, turning once, 6 to 8 minutes. Add the cheese to the tops of the mushrooms during the last 2 minutes of cooking. While the cheese melts, brush the bread with olive oil and grill until lightly charred, turning once, 2 to 4 minutes.
Place the bread slices on a work surface and spread with walnut butter. Layer the bread slices with rocket, aubergine, mushroom, courgette, and avocado. Squeeze fresh lemon juice over the top and season with salt and pepper. Serve warm with a knife and fork.
From "FEAST" by Sarah Copeland (Chronicle Books) Source: houseandgarden.co.uk
Grilled Mustard-Herb Salmon
SERVES: 4
INGREDIENTS
2 tablespoons Dijon mustard
1 tablespoon minced shallot
1 teaspoon dried dill
1/4 teaspoon ground coriander
Four 170g skin-on salmon fillets
Kosher salt
Freshly ground pepper
Lemon wedges, for serving
METHOD:
Light a grill or preheat a grill pan. In a small bowl, mix the mustard with the shallot, dill and coriander. Season the salmon with salt and pepper and brush the mustard mixture over the fish, avoiding the skin.
Grill the salmon skin side down over moderately high heat until the skin is crisp, about 5 minutes. Carefully turn the fillets and grill over moderate heat just until opaque in the center, about 4 minutes longer. Transfer the salmon to plates and serve with lemon wedges.
Source: foodandwine.com
Fully Loaded Baked Potatoes
INGREDIENTS:
4 large russet potatoes, scrubbed clean
4 slices bacon
2 green onions
1/4 cup (57 g) butter, softened
1 cup (250 ml) sour cream
1 1/2 cups (150 g) shredded cheddar cheese
Salt and pepper
METHOD:
Preheat the grill, setting the burners to high. Oil the grate.
Individually wrap each potato in aluminum foil. Place on the grill, close the lid and cook for 30 to 40 minutes, or until tender. Let cool slightly.
Meanwhile, grill the bacon slices for 2 to 3 minutes on each side, or until crisp. Drain on paper towels. Chop finely.
Chop the whites of the green onions, then thinly slice the green part. Set aside separately.
Lay the potatoes horizontally on a work surface and slice a thin layer off of each. Scoop out the potato flesh, leaving about 1/2 inch (1 cm) of flesh all around. Set the hollowed-out potatoes aside.
In a bowl, lightly mash the potato flesh. Add the butter, sour cream, onion whites, 1 cup of cheese and half the bacon. Combine well. Season with salt and pepper.
Generously stuff the hollowed potatoes. Sprinkle with the remaining cheese, bacon and onion greens.
Reduce the grill heat to medium. Place the stuffed potatoes directly on the grate and continue cooking for 15 to 20 minutes, or until the cheese has melted.
NOTE: For smaller portions, instead of simply cutting off the top of the potato (after the first baking), cut them in half to make eight servings rather than four. For a spicy kick, add finely chopped pickled jalapeno pepper to the mashed potato stuffing.
SOURCE: ricardocuisine.com