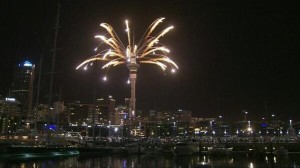 Here we are, on the eve of New Year's Eve. 2015 and all it contains is about to become a memory. So Thursday night, where will you be? A family evening out with the kids, partying with friends, a quiet wine and some TV with your significant other, or catching a show and doing the countdown with thousands? With New Zealand summertime just kicking in, we are spoilt for choice on New Year's Eve. Let's consider some of the most public options:
Paihia, Bay of Islands. A popular tourist stop and a unique part of NZ. Check out the excellent farmers market in the morning and scope out local bars with good live bands in the evening. Fireworks at midnight.
The Northern Bass Festival returns to Worsfold Farm in beautiful Mangawhai, and this time Shapeshifter will propel revelers into the new year.
Dowtown Auckland will be hosting the Britomart Beach Party. A long list of top local names (Che Fu, Manuel Bundy, North Shore Pony Club, King Kapisi etc) will be appearing at several downtown venues, and a ticket will get you access of all of them. The beach will be brought to you – 20 tonnes of sand will set the stage – and beachwear is encouraged. This is an R18 event, and only a few tickets remain.
The Sky Tower will be at the nucleus of a substantial fireworks and laser animations display. Beginning at 11pm a countdown will appear on two giant LED panels. The fireworks should be visible from many Auckland suburbs, however SkyCity spokeswoman Lydia Jarman particularly recommends Mt Eden, the Domain, Devonport or around Silo Park and Wynyard Quarter.
There are fairly extensive alcohol bans are in place around the city – along Ponsonby Rd and the roads that come off it, along Karangahape Rd and the roads that come off it, and throughout the CBD. Basically, drink in the bars but not on the street, and obviously don't drink and drive.
Waiheke Island has the Highlife Stonyridge NYE party, an R22 dance music event at Stonyridge Vineyard. Dedicated ferries have been organised to cater to those not staying on the island, and of course ticket numbers by now are very limited.
Mount Maunganui and Whangamata are fantastic locations which traditionally attract hoards of students at New Year's Eve. Their laudable commitment to binge drinking tended to result in an outbreak of littering, vandalism, and the occasional riot. In recent years a strict alcohol ban and large numbers of police bussed in to enforce it have kept things semi-civilised, but the Party Central reputation still draws a mostly young crowd.  From New Year's Eve until January 11 at The Mount there are surf lessons and bungy trampolining during the day, live music in the evenings.
Rotorua has the GLO Festival over three evenings and at three locations. Music, lakeside movies, food and kids activities, these are free family events.
Taupo have the family friendly Big Bang Festival, with a lolly scramble and glow stick giveaway for the kids, live music and fireworks over Lake Taupo. Plus, the carnival is in town!
As the first city in the world to see the sunrise, Gisborne is a prime destination for occasions such as this. As well as this priceless attribute, New Zealand's eastern-most city hosts the three-day Rhythm & Vines festival at Waiohika Estate. 70-some acts appear this time around, including Kiwi rock icon Dave Dobbyn.
Wellington will be celebrating with music, movies and fireworks at Frank Kitts Park, Jervois Quay. Featuring the Rodger Fox Big Band, this event is free for all ages.
Christchurch also has a free, and alcohol free, family event in Hagley Park from 6.30pm. Early evening kids entertainment (outdoor cinema, bouncy castle, confetti cannon) is rounded off with a kids countdown at 8.30pm. Live music ensues until the countdown repeats at midnight – must be deja vu for any kids still awake…
In Queenstown you (and several thousand tourists) can see in 2016 on the shores of Lake Whakatipu in an alcohol-free environment, or from the lake itself, aboard the antique steamship TSS Earnslaw. Daytime should be warm and fine, but be prepared for temperatures to fall below 10C in the wee hours. Free, fireworks at midnight, spectacular surroundings, and a slew of other touristy indulgences on hand if you are spending a few days.
Wanaka draws its own crowd, mostly the younger set who will be taking in the two-day Rhythm and Alps festival. This features over sixty music acts including Shihad and Katchafire. At this time there are tickets still available and you can camp. Festival aside, the town has its own festivities and fireworks and is a popular New Year's Eve destination.
Wherever you are (must shove our slogan in somewhere), we hope you all have a great night.