The Queenstown International Marathon is proving to be just as popular for its 2019 event this year as it has in previous years. This fantastic annual event, fast building a reputation as a 'destination marathon', attracts participants from all over the New Zealand and the world with the majority of entries coming from people well outside of the Queenstown Lakes District.
Previous years events have included participants from Australia, America, the UK, Hong Kong and Singapore just to name a few. The influx of visitors the marathon brings to Queenstown means the hospitality and tourism sectors are set for a big weekend as athletes bring family and support crew along for the ride.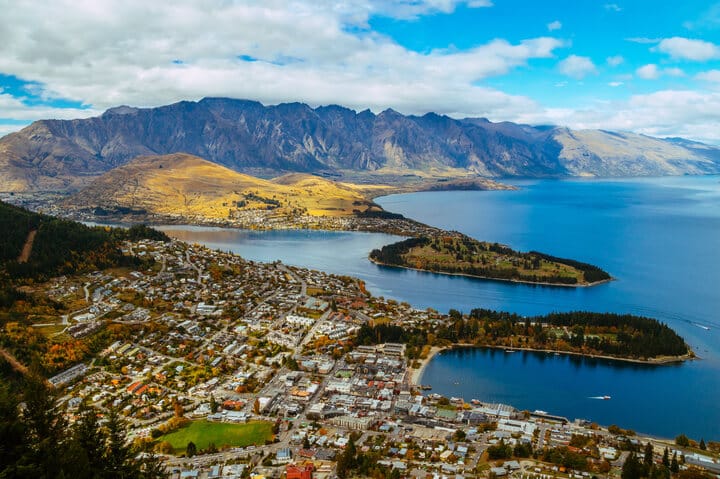 Queenstown Marathon Race Day Details
When? Saturday November 16th is when all the action takes place.
Where? The Event Hub located at the Queenstown Recreation Grounds in central Queenstown acts as the finishing line for all stages. Marathon starting locations vary depending on the event.
Start Times. 7:45 am for the 10 km, 8 am for the Half-Marathon, 8:20 am for the Marathon and 1 pm for the Kids Run.
Registration. Participants must register prior to event day online registrations close on the 13th November.
Entry Costs. Marathon entry fees range from $25 to $75 for children aged 5 to 15 years and $70 to $190 depending on the event entered. Race number, personalised race bib, gear bags and a Finishers Medal are included in the entry fee.
Athlete Check In. All competitors are required to check in at the Queenstown Events Centre either on Thursday 14 November between 3 pm and 7 pm or on Friday 15 November between 9 am and 9 pm.
Aid Stations. Eleven aid stations are available to participants over the length of the entire marathon course, providing water, Powerade sports drinks and toilet facilities along with First Aid.
Prize Giving. This will take place on Saturday 16 November at 3.30 pm at the Queenstown Recreation Grounds.
Course Information
For the 2019 Queenstown International Marathon there are 4 different events open for entries from participants wishing to run, walk or take the kids.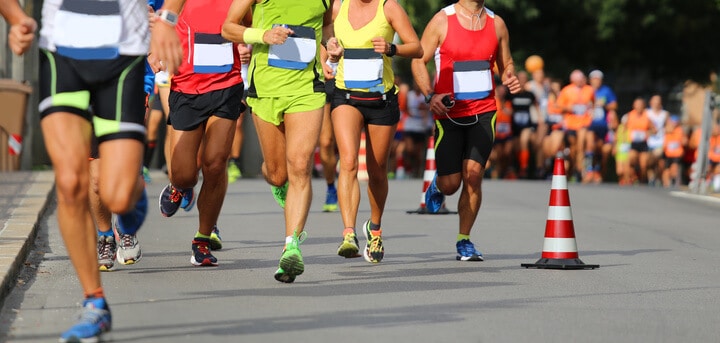 1. Air New Zealand Marathon
Covering a total of 42.2 km, the Air New Zealand Marathon is the big drawcard for both serious and amateur runners. The entire course contour is mainly flat with approximately one third of the race run on sealed roads and the remainder on hard packed trails.
Arrowtown, the Arrow River, Lake Hayes, the Old Shotover Bridge, the Shotover River, the Kawarau River and the beautiful Kawarau Falls Scenic Reserve are just some of the highlights runners will experience along the way as well as Lake Wakatipu of course!
Entrants must be at least 18 years or over on race day. The start line is The Avenue, Millbrook Resort, finishing at the Queenstown Recreation Ground. See here for a link to the full course map for the Air NZ Queenstown Marathon 2018.
2. NZ Sotheby's RE Half Marathon
The NZ Sotheby's RE Half Marathon course covers a distance of just over 20 km, combining both road and trail surfaces. Walkers are welcome to enter this event providing they keep out of the way of the runners.
Passing over the Old Shotover Bridge, nearby the Kawarau River, along the Frankton Arm Walkway, alongside Lake Wakatipu and Queenstown Gardens are the top highlights of the NZ Sotheby's RE Half Marathon.
The start line is at Speargrass Flat Road, finishing at the Queenstown Recreation Ground. Competitors must be 16 years or over on race day to enter. See here for a link to the course map for the NZ Sotheby's Half Marathon.
3. Cigna 10 km
Starting on Allan Crescent in Frankton, the Cigna 10 km run is open to participants from the age of 7 and up. Highlights include the Frankton Arm walkway, the Queenstown Gardens and Lake Wakatipu as well as the finishing line outside the Queenstown Memorial Centre in the Queenstown Recreation Grounds.
All participants who complete the 10 km run will receive a Finishers Medal and place getters will receive a non-monetary prize. The perfect distance for families and children, the 10 km run offers a fun aspect to the day for all ages. It is important to note that all entrants under the age of 13 need to be accompanied by an adult at all times during the run.
The start line for the Cigna 10 km is at Allan Crescent, Frankton, the race finishes at the Queenstown Recreation Ground. Competitors must be aged 7 years and over to enter. See here for a link to the course map for the Cigna 10 km race.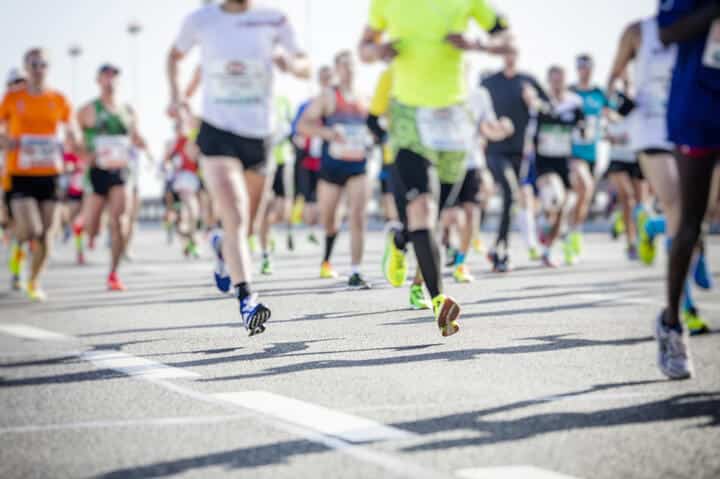 4. Kids Run
At just over 2 km the Kids Run is the perfect way to get the younger kids involved in some of the event day excitement. Starting at 1pm at the Queenstown Gardens, the Kids Run takes participants though the Gardens and out on to the streets of Central Queenstown, finishing up at the official Queenstown Marathon Finish Line at the Queenstown Recreation Grounds.
Entry is open to children from the age of 5 to 12, however children between the age of 5 and 7 must be accompanied by an adult at all times (It is not necessary for parents to register, only children). Prams/Pushchairs and buggies are permitted on the course.
See here for a link to the course map for the Queenstown Marathon Kids Run.
Queenstown Marathon Accommodation Options
Marathon competitors, families and support crews will find Queenstown has a great selection of accommodation ranging from back packers and hostels through to luxury resorts and holiday homes. See below for a few examples of the different types of accommodation or check out the Queenstown New Zealand website for more accommodation options in Queenstown.
Millbrook Resort
Providing 5 Star luxury accommodation, Millbrook Resort offers visitors the choice of over 150 rooms, day spa, several world class dining options, a gymnasium, a 25m swimming pool and outdoor hot pools as well as a 27 hole championship golf course and covered driving range for the golf enthusiasts. Prices range from around $265 per night for a Deluxe Studio through to $605 for a Private Cottage, or stay in a Fairway Home for $1230 per night.
Eichardt's Private Hotel
Located in central Queenstown, Eichardt's delivers highly sought after 5 Star luxury accommodations. Opulent interiors, fine dining, in-house spa treatments, an on-site gym, plus a personal 'pillow menu' are just a few of the impressive features on offer. Look forward to unwinding and relaxing those tired aching muscles after the race with Eichardt's Private Hotel. Prices range from around $1200 per night for a Lakefront Apartment through to $2100 for the Lakefront Family Apartment, or for the ultimate in indulgence, book the Penthouse Suite for $10,000 per night.
Cranbury Court Apartments
Enjoy the amazing alpine views from the Cranbury Court Apartments as you relax in the modern spacious surrounds. Free WiFi, 1, 2 and 3 bedroom options as well as fully equipped kitchen and laundry facilities are provided. Just a short 5 minute walk from the International Marathon Event Hub at the Queenstown Recreation Grounds, the Cranbury Court Apartments are an excellent choice for runners and their support crew. Prices range from around $240 per night for a one bedroom apartment through to $499 for a superior 3 bedroom, 2 bathroom apartment.
Shades Of Arrowtown
For a quieter pace, Shades of Arrowtown offers motel style accommodation 20 minutes drive from central Queenstown. The motel provides affordable 1 and 2 bedroom studio units along with a standalone 2 bedroom cottage set among a peaceful garden setting with mature trees and lovely lavender bushes. Prices range from around $155 per night for a studio unit through to $250 for their 2 bedroom cottage.
Haka Lodge Queenstown
Very near to the Queenstown Recreation Grounds, Haka Lodge offers centrally located, dormitory and private room back packer style accommodation. Guests are provided with shared toilet and bathroom facilities, along with free WiFi and the use of two fully equipped kitchens. Prices range from around $33 per night for a dormitory style bed in a 4 bed dorm room through to $230 for a one bedroom apartment.
Tahuna Pod Hostel
Offering visitors a slightly different take on the traditional New Zealand accommodation, the Tahuna Pod Hostel is perfect for those on a budget. There are a variety of single, double and superior pods on offer as well as private rooms. Pods are available in a dormitory/bunk house style format with rooms housing between four and twelve semi-enclosed beds (curtains are provided to aid privacy). Prices range from around $28 for a single bed in a 12 bed dorm room through to $125 for a Private Queen room.
Things To Do In Queenstown
Staying on after the race and want to know the best things to do in Queenstown? Known as the adventure capital of the world, Queenstown has no shortage of world class attractions and activities designed to excite and delight even the most marathon weary traveller.
Bungy jumping, canyon swinging, zipling, hot air ballooning, fly fishing, mountain biking, four wheel driving and horseback riding are just a few of the activities visitors to Queenstown can choose from.
Don't forget about the irresistible selection of boutique wineries, the chance to go gold panning just like the old days or head off the beaten track and explore some of Queenstown's famous back country valleys and rugged alpine landscapes. Need more? Take a look here for more information on Queenstown Highlights and the top 10 Queenstown Extreme Adventure Activities.
However long you plan to stay in Queenstown, this little corner of paradise in New Zealand never fails to impress. Need transportation while in town for the Queenstown International Marathon? Take a look at the great range of cars for hire available from New Zealand Rent A Car Queenstown.