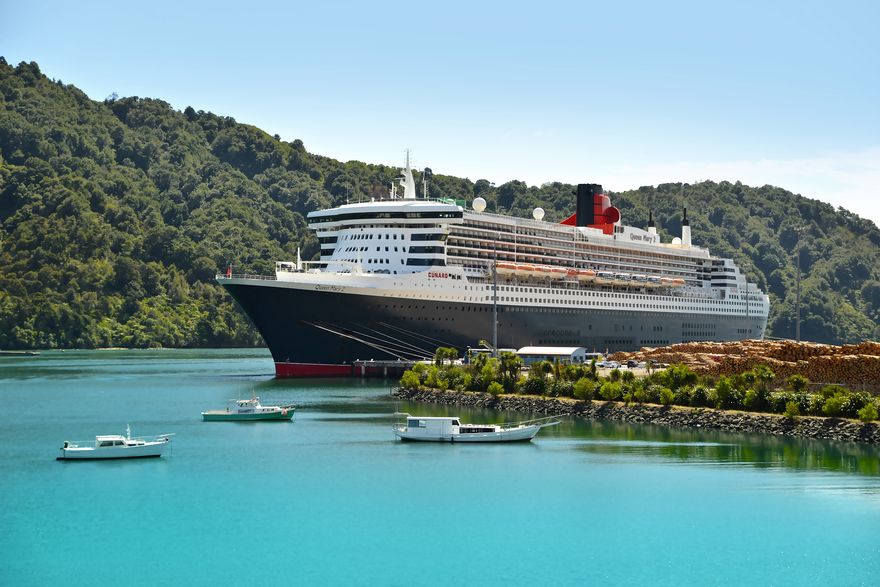 Summer is here, and the cruise ship season, predicted to be New Zealand's biggest ever, has begun. Between November 1st and April 30th 33 ships (up from 28 ships last summer) will make as many as 600 stops in ports all around the country. Another biggest ever is the arrival before Christmas of the Ovation of the Seas, the newest leviathan from Royal Caribbean and the largest mega-liner to sail kiwi waters at a stonking 348m (1142′) long. She arrived in Doubtful, Dusky and Milford Sounds on December 21st, wallowed into Port Chalmers the next day, then turned north on a typical cruise route which included stops at Picton, Wellington, Tauranga and Auckland.
If you are coming to NZ by ship this season there's quite a lot to take in on your brief stopovers, and to make the most of your holiday you need to be prepared. You can of course:
Remain aboard the ship, suspiciously surveying the harbour and waterfront from the safety of an air conditioned lounge.
Go for a wander around the local shops or cafes, then meander back to the ship.
Board a bus and get a guided tour, there are many to choose from.
But if you really want to explore, on your own terms and schedule, you should be considering a rental car. NZ Rent a Car can meet you at many of the ports regularly visited by cruise ships, and within minutes you can be on the road, away from the herds of tourists queuing for souvenirs and taking photos of the ship. If you do decide to hire a car and plan your own personal tour our key piece of advice is to plan your day trip – tours, activities, and for that matter rental cars, can be booked out months in advance. Also, allow time: The ship may dock at 7am but there can be delays before you will be permitted to clear customs, which takes more time. Allow for traffic which may affect your route, especially if you are traveling in or out of major cities on weekdays. Check Google maps for driving time estimates, and consider opting for a GPS with your car to save navigation delays. 
Here is our round up of local must-sees, must-do's, and must-knows as recommended by our branch staff!
Things to do in Dunedin
Dunedin is a common stop for cruise ships, although in reality they don't go up the Victoria Channel, the narrow dredged passage through Otago Harbour. Instead the ship docks at Port Chalmers and passengers make their way into nearby Dunedin in rental cars and tour buses. Here's what people come to see in Dunedin:
Baldwin Street The world's steepest residential street with a gradient of 35%, apparently because early roads in Dunedin were mapped out by city planners in London who were unaware of the extremely volcanic nature of the terrain. It's only 350 metres long, so you can walk up if you're keen, but hold tight to the baby stroller. 
Cadbury Chocolate Factory Take a tour of Cadbury World, grab a few kiwi-made chocolate souvenirs, and kid yourself that you'll save them for the nieces and nephews and won't scoff them during the voyage home.
Moeraki Boulders  On the windswept Otago coast, the tiny fishing village of Moeraki has a rich Maori, whaling and sealing history. These days people flock to see the Moeraki boulders, clusters of perfectly formed geological eggs. The town is about an hour's drive from Port Chalmers, and the rocks are a 45 minute walk from there, either on the beach or along the Millennium Walkway. It is also common to see yellow-eyed and blue penguins, seabirds, and even seals along the coast.
Olveston House Built at the dawn of the 20th century, this spectacular 35 room residence represents the pinnacle of Edwardian opulence and elegance. From the grand exterior designed by Sir Ernest George, to the collections of furniture, art and ceramics housed within, Olveston is breathtaking.
For more ideas see our post 5 Must Do's in Dunedin and our older piece on Port Chalmers to read about the critical role this port played in Kiwi history.
Things to do in Picton
Picton is a picturesque harbour town cradled in Queen Charlotte Sound. It's also a major transport hub, being the South Island terminal for the inter-island ferries, where cars head south on SH1, and trains such as the Coastal Pacific snake down the eastern seaboard towards Christchurch and Dunedin. There is much to enjoy around the Marlborough region too, as the idyllic, sheltered Sounds are home to seals, dolphins and other marine celebrities, and the wineries that the district is famous for.
Queen Charlotte Drive is a 34km minor road from Picton to Havelock rated highly for its scenery, in fact it is part of a drive promoted as the Treasured Pathway, which continues on through Nelson, Richmond, and around the long parabolic perfection of Golden Bay. Cruise ship visitors won't get that far, but Queen Charlotte Drive is feast enough. The road curls through the forested hills and dips down to skirt past beaches, so allow time for lots of photo stops, a stroll or two, or maybe a picnic.
Vineyards Galore Marlborough is NZ's premier wine region, and if you have the slightest interest in the nectar of the grape you may not know where to start. Look up your favourite winery, or consult this Wine Trail Map to plot your day out.
Karaka Point Walk There are a few good walks in the neighbourhood which you may like to tackle, but Karaka Point is a short one – just 10 minutes each way. The track takes you to the remnants of an old Maori Pa (fort), and some of their terraced ground is still apparent. You get a good view of Queen Charlotte Sound (as did the Maori lookouts), and there are paths down to beaches which can be walked at low tide. This walk is about 8km from Picton, and directions are simple: grab a picnic lunch in town and take Waikawa Rd until it becomes Port Underwood Rd. Park at the idyllic waterfront rest area, the walk begins from there.
Blenheim Riverside Railway Barely 20 minutes drive from Picton is Blenheim, a popular day trip for cruise ship visitors. As well as the usual bevy of vineyards there is an adorable miniature train which runs from the CBD and parallels Taylor River. Sadly it is volunteer operated, so it opens only two Sundays a month.
Mailboat Cruises If the days at sea have only whet your appetite for… more days at sea, the local mailboat invites you along for a ride. Learn some local history, meet some local characters, and enjoy a more intimate view of Queen Charlotte Sound and photogenic spots like Ship Cove. See our blog post for more info.
Things to do in Napier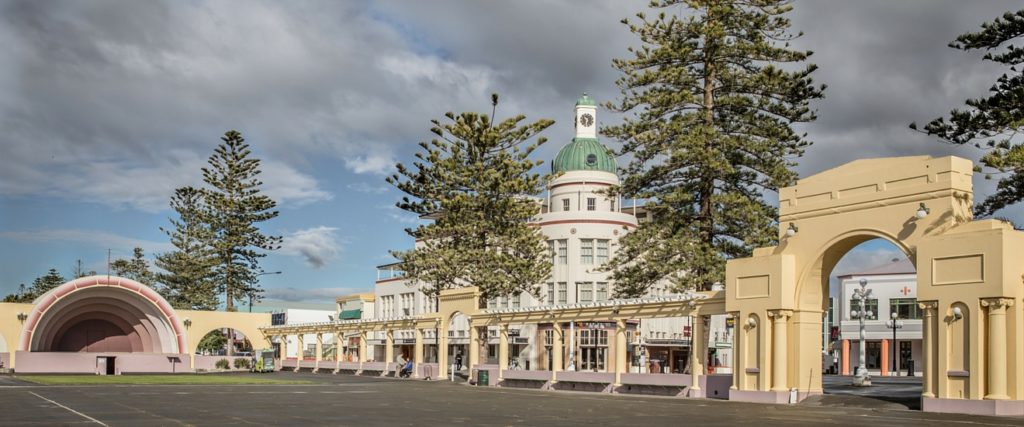 In 1931 Napier was devastated by a massive earthquake, the worst natural disaster in New Zealand history. From the rubble rose a new Napier, the whole central city being simultaneously rebuilt in a rhapsody of Art Deco, and it is now regarded as one of the two best preserved Art Deco towns in the world, alongside South Beach, Miami.  This draws thousands of tourists to Napier every year, and the city hosts the highly successful Art Deco Weekend each summer. Watch out for this year's event on February 15 – 19.
Wineries The Hawkes Bay region is famous for its vineyards – Mission Estate, Church Road, and Craggy Range are probably the best known, but there are dozens to choose from. Do your own homework or just ask Jonathan at our Napier branch for his recommendations! 
Cape Kidnappers A mere 22km from Napier is Cape Kidnappers, a breeding ground for 3 – 6000 pairs of Australasian Gannets. Cars can go no further than the end of Clifton Rd, but from there tour operators such as Gannet Safaris, and Gannet Beach Adventures take over, giving you an up-close encounter with amazing coastal scenery and beaches carpeted with nesting seabirds. These tours are a treat but are immensely popular and need to be booked in advance!
Havelock North Known locally as simply "The Village", this modest town punches well above its weight when it comes to boutique bars, cafes, shopping and scenery. Take the road up to TeMata Peak's 400m high lookout, where on a clear day you can see Napier and Mt Ruapehu.
White Pine Bush Scenic Reserve Half an hour north of Napier is a superb Kahikatea (white pine) forest, where you can take a short, easy bush walk (one is even suitable for wheelchairs). As well as pine and Nikau palms, keep an eye out for native birds including Tui, pigeons, fantails, bellbirds, silvereyes and  grey warblers.
Things to do in Tauranga
Tauranga is without a doubt New Zealand's fastest growing city. Its port is the busiest in the country, and the neighbouring suburbs of Papamoa and Mount Maunganui are renown for their white sand beaches, cafes and restaurants. Activities such as dolphin watching tours are popular as the sheltered harbour has an abundance of marine life. Visitors who choose to stay local can find plenty to do. Often, though, the port is seen as a gateway to the tourist meccas of Rotorua and Matamata, according to our Tauranga branch staff, as most of their ex-ship hirers go to:
Te Puia Thermal Reserve  Rotorua is a temptation once you're in a rental car, as it is only an hour's drive from Tauranga city on SH36. Rotorua is famous for its odour (don't worry, you stop noticing it after a few minutes!) and its thermal geysers. Te Puia features more than 500 of these springs, including Pohutu which erupts up to 20 times a day, blasting steam and water 30m high. Te Puia is also home to the National Carving School and the National Weaving School, where you can see traditional Māori woodcarvers and weavers at work, plus a carved Maori meeting house, a cafe, galleries, a kiwi bird reserve, and inevitably, a gift shop. Ninety minute tours depart hourly from 9am, and 45-minute cultural performances start at 10.15am, 12.15pm and 3.15pm.
Hell's Gate If seeing the mud pools isn't enough for you, you can visit this thermal spa facility and bathe in the stuff. The mud spa is thought to have therapeutic properties, and you can cap it off with a massage or a sulphur spa. For the non-mudbath inclined, check out the bush walks, the Kakahi Hot Falls, various pools and eruptions, or carve yourself a traditional-style souvenir. See their website to book a package that suits your tastes.
Skyline Gondolas Along with its sister operation in Queenstown, this Rotorua attraction offers a bird's-eye view of Rotorua in weather-proof 8 seat gondolas, rather like a lateral Ferris wheel. Other on-site attractions include such adrenalin-inducing activities as luge, ziplines, and a skyswing, and you can lunch at the Stratosfare Restaurant.
Hobbiton A recreation of some of the movie sets used in Sir Peter Jackson's Lord of the Rings and The Hobbit films, and in some cases the actual sets, this attraction used 12 acres of pastoral Waikato farmland to represent Tolkein's Middle Earth. Guides are reported to be entertaining and full of behind-the-scenes anecdotes, and you can finish your tour with an ale at the Dragon Inn. You'll find it in Matamata, the tiny rural town that became one of the world's great tourist destinations. A mere 40 minutes drive from Tauranga, Hobbiton is immensely popular and tours must be booked in advance. 
 Things to do in Auckland
Auckland is New Zealand's largest city, so many will seek out the boutique shops of Parnell, Newmarket and Ponsonby. Some will climb Mt Eden or Mt Victoria for panoramic views of the city and harbour. Some will bungy off the Sky Tower. But Auckland's defining features are it's two coastlines with their conflicting personalities. Built between the Manukau Harbour to the west, and the Waitemata to the east, each corner of this sprawling metropolis has its own character and texture.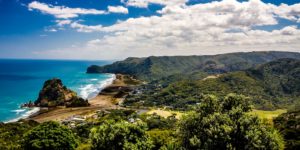 Waitakere Ranges Walks Waitakere is Auckland's west coast, known for its black sands and surf beaches such as Piha and Muriwai. Be aware that the strong undercurrents can be lethal for inexperienced swimmers. These beautiful but brutal shores are lined with forest, or ranges, and the occasional artists haven – Bethells, Laingholm, Titirangi. There are many bushwalks in the Waitakere Ranges, easy trails suitable for most ages, where you will see giant kauri trees, waterfalls, dams, and thousands of acres of unmolested forest right on the doorstep of a major city (30 – 45 minutes from the CBD).
East Coast Beaches As little as 20km away from the tumultuous west coast, the eastern shore's temperament is a world apart. White sands, sheltered waters, and urban conveniences are the hallmarks of the Waitemata beaches. A stones throw from the city is Mission Bay and St Heliers beaches, the North Shore has Takapuna beach, Browns Bay, Long Bay Regional Park, and just north of Auckland is Orewa beach and its cafe-lined highway. There are too many to name, the whole seaboard is a treasure.
Kumeu Wineries If you're keen on wine tours or wine tasting, this north-western outpost has the goods. Take SH16 from the city and watch for the Kumeu exit – on a clear day you should be there in under 25 minutes.
Matakana Head north on SH1 to reach Matakana, about an hour north of Auckland. 20 years ago Matakana boasted little more than a petrol station and a pub. It has grown beyond recognition thanks to the success of its weekly Farmers Markets, exceptional local vineyards and cafes, and proximity to beaches and larger towns such as Warkworth. Now they even have a cinema… The road north has tolls, let your rental car operator know if you plan to head north and they can pre-pay this for you.
Hobbiton (see Tauranga) is another popular choice from Auckland. Of course, if you're stopping at Tauranga it makes sense to do it from there, but if you're not and Hobbiton is on your bucket list allow for a two hour drive each way.