My friend and her buddies are heading into port on Monday morning aboard the Costa neoRomantica  cruise ship so we are going to hire a car from Sonya at NZ Rent A Car's handy Auckland Central car rental depot and head off to tour Hobbiton at Matamata in the Waikato region.
They are due to disembark from the cruise ship at 8.00am at Princes Wharf, where I will pick them up, but you could have your Auckland rental car delivered straight to the port by Sonya or one of her crew, ready for your own journey.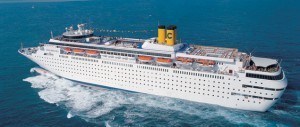 We're planning on taking in some sights on the way back, as the drive to Matamata will take about 2 and a half hours, and the tour of the Hobbiton film set takes 1 hour and 45 minutes. The tour runs every 15 minutes from 9.30 to 5.30 during summer, so arrival any time during the day should be fine.
As the cruise boat departs Auckland at 8.00pm we have about 11 hours to enjoy some of the sights. Firstly we will have brunch at EAT, a highly rated café offering fresh and creative homemade dishes and catering to any dietary requirements.
From there we'll head out to Hobbiton which is in the district of Hinuera, famous for Hinuera Stone which became very popular as a building material during the 70's.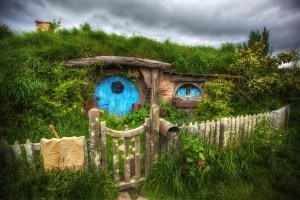 Hobbiton will be quite exciting as my friend has seen the movie but I have only read the book.  From Hobbiton we will take the scenic route back  along the Kaimai ranges and take in the sights of Te Aroha, (meaning 'place of love') where I grew up. (It definitely lives up to its Maori name for me as I married a boy who lived at the bottom of the mountain).
The Te Aroha Domain is a great place to start with a stroll around the gardens, and you will hopefully see the Mokena Geyser blow, the only natural soda water geyser in the world. Follow the track up to Baldspur for fantastic views over the Waikato farmland, followed by a dip at Te Aroha Hot Pools where you can soak in the warm mineral spas.
Then maybe we'll grab a snack at the Domain Cottage Café or an early dinner at Berlusconi Bar & Restaurant, a great little Italian eatery on the main street of town. Finally we'll make our way back to the ship where my friends will depart after a great day out featuring a bit of Hollywood, fantasy, nature and relaxation. Puuurfect.
We hope you'll enjoy Matamata as much as we do!
Heather
New Zealand Rent A Car