In this installment of our movie location series, we take a break from the artistic and economic gravity of the Lord of the Rings trilogy, and reach for some light relief in the form of Without a Paddle. This featherweight male-bonding adventure-comedy was shot in NZ in 2004, using North Island locations exclusively for its depiction of an Oregon river rafting trip. It was also the first film to qualify for the NZSPG (New Zealand Screen Production Grant). 
The plot concerns three lovable but mismatched high school friends (played by Matthew Lillard, Seth Green, and Dax Shepard) who are reunited some years later by the death of another school buddy. They discover that their late friend had been obsessed with finding the missing loot of legendary hijacker DB Cooper, and had left behind the result of his years of research: a treasure map. In a moment of ill-judged conviction, they decide to put their lives on hold and go in search of the lost prize. Spectacularly unprepared for camping and canoeing in the Oregon wilderness, chaos ensues as the trio encounter bears, trigger-happy pot farmers, and tree-living hippie girls, until they are finally aided by an old hermit (none other than Burt Reynolds, whose trademark moustache has finally got away on him).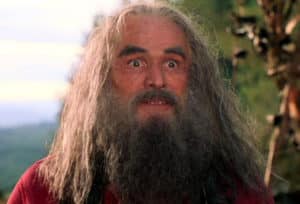 Although the writers could have concocted a fictitious treasure hunt, the DB Cooper reference is legit, and is the subject of books and movies in its own right – not to mention an FBI investigation which remained active until just last month. The story is thus:
In November 1971 a middle aged man boarded a Boeing 727 in Portland, Oregon, identifying himself as "Dan Cooper" (the media later mis-reported this as "DB Cooper", and it stuck). Once airborne he ordered a bourbon and soda, before advising a flight attendant that he had a bomb in his briefcase. He requested $200,000 in cash and four parachutes to be waiting for him when the plane made its scheduled landing in Seattle. These demands were met, the passengers released, and the Boeing refueled for takeoff. Cooper now directed the flight crew to head for Reno, Nevada, at the lowest possible airspeed. He ushered the remaining cabin staff into the cockpit, picked out two of the parachutes, opened the rear stairway under the tail of the plane, and jumped into the rain and dark.
Experts theorised that he was unlikely to have survived the jump, but despite large-scale searches, recreations of the flight, and massive public campaigns, no body, parachute, or clothing was ever found. Inevitably, this lead many to conclude that DB Cooper, a courteous, calm gentleman in a business suit and tie, might have pulled off one of the most daring crimes in post-war memory.
But I digress.
Although the camping scenes were mostly filmed on indoor sound stages, the producers chose parts of the Waikato River and Wellington's Hutt River for the boating scenes in Without a Paddle. I've had no luck finding many of the exact spots where filming was done, however there is a cameo appearance by South Auckland's Hunua Falls at one point: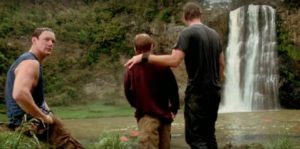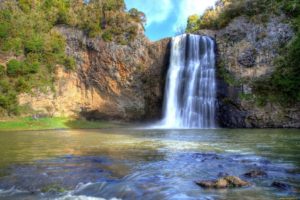 Some scenes also required a small town, and Raetihi, near Ohakune, was chosen for this. Built on a booming timber industry, the closure of the big sawmills sent Raetihi into a freefall. Fortunately this modest township retains many of its historic buildings, and focuses on its heritage, as well as activities such as the Mountains to Sea Cycle Trail and Whanganui River Adventures to attract visitors both local and international to the area. In the scene below you can see the windows of Raetihi's Theatre Royal behind the actors: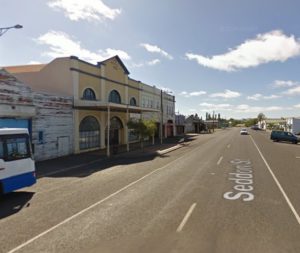 Without a Paddle was produced on a budget of USD 19,000,000, so it's nice to think that a portion of that was invested into towns like Raetihi. The finished film did well at the American box office, less so with reviewers.