I have been lucky enough to get some great feedback from overseas tourists in New Zealand and the Catlins is one of the special places they all rave about.  As it is off the usual route you may have missed it out on previous trip's in the South, but it's worth taking the detour around the coast for the spectacular scenery and wildlife.   You can organise a rental car from Scott at NZ Rent a Car Dunedin.  They are happy to do pickups by arrangement from Dunedin Airport and if you book flights in advance the ticket price from Auckland can be as low as $69.00 one way.
A good time to visit if you wish to see the beautiful Hector's Dolphin is November through to May and the Yellow Eyed Penguins or Hoiho come in to shore to nest in October/November.   February will be better for trying out the surf at Curio Bay and hopefully getting to swim with some Dolphins.  The water temperature is not that warm way down South but the locals seem to acclimatise.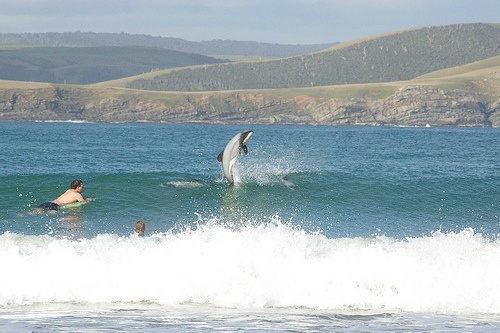 Another must do is a Horse Trek with Te Taunga Adventures with beach riding available. This is an eco farm venture where the original business was beef and sheep farming, certified organic and is now offering horse trekking where you can view the farm and surrounding areas of beach, native forest and wildlife.
The scenery in this fairly remote part of the country is beautiful, wild, and unpopulated except for the wildlife. The Yellow Eyed Penguin or Hoiho is supported in its natural environment by the Yellow Eyed Penguin Trust who foster education, habitat renewal, and public awareness.     You will also see lots of New Zealand Fur Seals, Sea Lions and Albatross along the coast.
There are lots of trails for walks and bike riding  if you feel like going off track, and can be either self catered or guided.  Contact Catlins Ecotours for more information.  If you start your travels in Dunedin and head South you will make it to Bluff, where you can try some of the famous Bluff Oysters.  The season is due to start on the 1st March this year.