Meet Paul and Jo from the Queenstown Branch.  They moved south from Blenheim four and a half years ago, quite by accident.  Jo's parents were thinking of moving to Queenstown and couldn't open the real estate's email attachment so she asked Jo to do it.  They opened the attachment, flew to Queenstown and within the week had purchased NZ Rent a Car Queenstown and soon moved their home and family to Queenstown.  It took Jo's parents another 4 years to sell their home in Blenheim and finally make the move to Queenstown.
Jo and Paul learnt the ropes of the rental car business from the staff and experienced their first winter in the South, definitely not for the faint hearted.  Since then they have added more classes of vehicles and increased the range of vehicles to suit the local terrain.  Over time they have employed new staff, of who most speak a second language. People come from all over the world to experience Queenstown, and are keen to stay and work a while. One staff member, James is training to be a Paragliding instructor, so just recently Paul and Jo's Dad both went paragliding and are keen to go again in winter when the ski lifts are operating and they can paraglide from the top of Coronet Peak.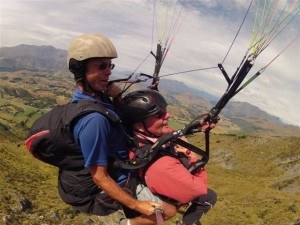 Summer and winter are equally as busy in Queenstown. Fitting snow chains is one of the biggest challenges.  If you have ever done this yourself you know it's not a fun job when it's freezing cold.  Distance is another thing to consider, as most people think that Milford Sounds is a couple of hours away and won't believe them when they say it's  a 5.5  hour drive.  They have got to know a lot of the tourist operators, so it's worth taking the time to ask them about all the activities and adventures you can try. Jo and Paul are working their way through a lot of the experiences on offer  so run past them what you are thinking of doing. They may even have vouchers or discounts on offer that can be used.
Jo and Paul  have embraced Queenstown enjoying all the opportunities available, as it offers great restaurants, nightlife and entertainment of a much larger centre, all the best of outdoor activities and sports and also the smaller community side of life, and they have a fun business to operate where they meet happy tourists and travellers daily.