About 180km north of Christchurch on SH1 is one of New Zealand's most popular tourist stops. The attraction is not the small town itself, although with its backdrop of mountain ranges there is plenty of coastal charm. Those ranges are a stray branch of the southern alps which travels east, descends to a brief plateau of farmland, and then dips into the Pacific Ocean. Four-and-a-half kilometres offshore the sea floor plunges 1000 metres into the Kermadec Trench, making this the only undersea canyon in the world so near to land.  The trench provides a submarine buffet for sperm whales, who dive in search of giant squid, groper and ling. And the tourists come here, to Kaikoura, in search of whales.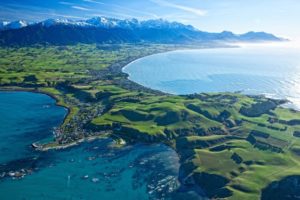 As did many of our ancestors. The same geological phenomenon was attracting whales to Kaikoura in far greater numbers when settlers established whaling as our first formal industry. Nearby Mt Fyffe is named after the first European family to settle in the area (who incidentally spelt their name with one "f"). Scotsman Robert Fyfe established a whaling station, Waiopuka Fishery, and their modest family home of 1842 still stands, notable not just for its age, but also for its unique whalebone foundations. Kaikoura quickly blossomed into one of New Zealand's whaling hubs.
However, the heyday of these onshore whaling stations was over by the 1850's, as decades of over-fishing had drastically thinned the population of humpback, sperm and southern right whales. A resurgence came in the twentieth century when steam and diesel powered boats were able to hunt further afield, and pursue the faster of the species. But soon the industry was once again struggling. Whaling was finally banned outright in 1978, but by then it had been fourteen years since a whale was commercially caught in NZ waters.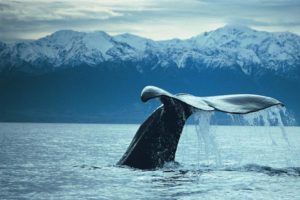 With the complete ban on whale hunting, whales slowly returned to NZ, especially to places like the Hauraki Gulf, and Kaikoura, where sperm whales in particular took up a year-round residence. Regular seasonal visitors included humpback whales, blue whales, minke whales, pygmy sperm whales, southern right whales, beaked whales and orcas (killer whales). On a hunch that there might be a paying audience for these marvellous mammals, Whale Watch Kaikoura went into business in 1987 with a single 6.7m inflatable boat.
The business can now boast four modern catamarans and takes about 100,000 visitors annually on their daily excursions to see whales, dolphins, and seabirds. For most customers this is a once-in-a-lifetime opportunity and the online feedback is suitably ecstatic. Whale Watch has won numerous eco-tourism awards and has attracted substantial business investment in Kaikoura.  173 years after Robert Fyfe began whaling in Kaikoura, the town still owes its prosperity, and probably its existence to the mighty creatures.
Although Whale Watch are the only company offering sailings, there are airborne excursions to be had that will get you out and back quickly and cosily. Air tours have the advantage of letting you see the full form of the whale, whereas from a boat you will just see the bits that stick out of the water, most commonly the tail when they dive.  You will also have an albatross-eye view of the Kaikoura Peninsula and mountain ranges.  Here's a brief comparison of your options:
Type: 2.5 hour boat tour
Tour times: 7 days at 7.15am, 10.00am and 12.45pm, plus a 3.30pm sailing November-March. Closed Xmas Day.
Cost: Adult: $140, Child 3-15: $60, children under 3 not permitted.  Whale Watch refund 80% of the fee if no whales can been seen, a fairly rare issue.
Type: 30 minute plane tour
Tour times: Contact operator to book.
Cost: Adult: $180, Child 3-14: $75, children under 3 are free.
Type: 30 minute plane tour
Tour times: Bookings on demand, contact operator.
Cost: $145 per person
Kaikoura Helicopters World of Whales
Type: 30 – 50 minute helicopter tour, depending on package chosen
Tour times: Bookings on demand, contact operator
Cost: From $195 per person depending on number of passengers and length of flight.