Tauranga is a small city perched on the northern coastline of the North Island. It looks out over the Pacific Ocean in the Bay of Plenty region and enjoys sunny days all year round. With an artistic local community and abundant nature on the doorstep, there is plenty to keep people of all interests and ages occupied. Here are our top 5 picks for activities all of which are in easy reach with a rental car.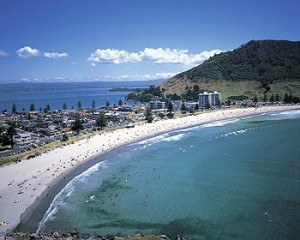 Dolphin Safaris
Dolphin watching and swimming is an incredible experience. A number of boat services are available to take you out to observe these intelligent, playful creatures in their natural habitat as they leap from the water and gambol around the prow of the ship. Swimming tours are extremely popular and must be booked in advance.
Local Manuka Honey
Sample the local honey production at the handful of specialised beekeepers who take advantage of the warmth of the region to produce excellent, healthful honey. The internationally renowned Comvita brand has a visitor's centre just 9 km south of Tauranga enabling you to see honey bees at work and Mossop's Honey offers a live bee display, educational video and honey tasting.
Waimarino Adventure Park
For the active and daring, a number of adventure parks offer adrenaline-pumping activities such as abseiling and kayaking, as well as walks and bird watching. Waimarino Adventure Park is well worth a visit, offering a range of water-based activities such as a slip 'n' slide, hydro slide and thermal pool.
Tauranga Art Gallery
The Tauranga Art Gallery hosts a range of both historic and contemporary art, with changing local and visiting exhibitions alongside a permanent collection. Enjoy the range of local and international art in this stunning building.
Huria Marae
The Huria Marae is a beautiful example of a Maori meeting house, with intricate carvings throughout the interior and exterior of the building. Call ahead for permission if you would like to visit and be prepared for a traditional Maori greeting!
Tauranga is full of character, and its well worth your while to explore the natural and cultural wonders it holds. Make the most of your time there with a Tauranga rental car, and explore the sights at your own pace.
View more Tauranga attractions and activities.
Tauranga Travel
Getting around Tauranga and the Bay of Plenty is easy with a rental car. NZ Rent A Car offers a variety of affordable hire vehicles from our Tauranga car rental depot to help you explore the sights at your own pace.