New Zealand is an amazing place to visit and thousands of tourists from all over the world travel here each year to explore our beautiful and unique playground. No matter where you're coming from or where you're headed when you arrive in Aotearoa check out our list of five things everyone should try while on holiday here.
1. Take a tour
This might be obvious, but taking a sightseeing tour or organised trip is a great way to see the more popular attractions and will give you a great feel for the city or town you're staying in – plus you might spot other places along the way that you'd like to come back to in your own time. Utilising the extensive knowledge of local tour operators is a great way to make the most of your time in New Zealand and is especially useful if you're new to NZ.
2. Get off the beaten track
New Zealand has many hugely popular tourist attractions and no Kiwi holiday would be complete without experiencing some of the top destinations and activities. However, there are also many hidden gems that might not be in the guide books that can offer a taste of the real New Zealand. Sometimes it's worth getting a bit lost in a town or heading off the main highway to find a stunning new vista, a hidden beach or a cute little café tucked away. We're not suggesting you to head into extremely remote areas unprepared though, so make sure you stay safe and put some plans into place!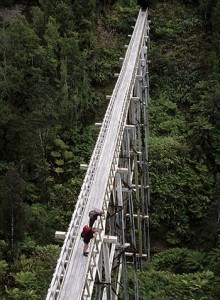 3. Meet the locals
Don't be afraid to have a chat with some of the locals – we're generally a pretty friendly bunch and will most likely know the best places to visit or where to head if you want to get off the tourist trail. Try your accommodation hosts, a local shop or restaurant staff – or your friendly rental car company! At New Zealand Rent A Car, our car rental depots are run by locals who really know their backyards, and we're more than happy to help guide you, whether you want to visit the top attractions or you're looking for something a bit different.
4. Have an adventure
New Zealand is the adventure capital of the world, so treat yourself to an amazing adrenaline-pumping activity or experience something completely new. Try your hand at bungy jumping, white water rafting, jet boating, sky walks, abseiling, quad biking or off-road safaris. If you like something less strenuous, try kayaking, scenic flights, horse trekking, whale watching or swimming with dolphins. There's something for everyone to try and you'll have amazing memories and stories to take home with you at the end of your Kiwi vacation.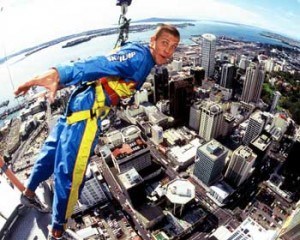 5. Give technology a rest
In this social media age it's tempting to post to Facebook or Tweet about your holiday adventures several times a day, but you're on vacation to get away from it all, so avoid updating people every five minutes and save some of your stories for when you get home. We highly recommend capturing some of your best moments and favourite places on film, but not at the expense of fully enjoying the experience. Try stepping out from behind the camera lens, soak up the atmosphere and enjoy the views before you start snapping away. Switch off your mobile phone for a few hours, step away from the laptop and relax…
Happy travels!
Do you have any suggestions for things that visitors should try when on holiday in New Zealand? Leave a comment and tell us what you think.