Located in Northland, Whangarei combines a sub-tropical climate with abundant scenery and nature reserves. A Whangarei rental car will get you zooming around the region, sampling all the native flora and fauna as well as the local culture and colour. Here are our top 5 recommendations of places to visit while you're there.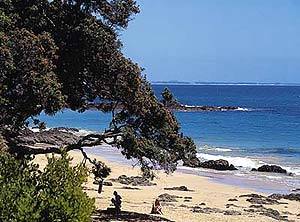 Hatea River Walkway
The Hatea River walkway is a 3 hour return trip that spans the Town Basin Marina right up to the stunning 25 metre Whangarei Falls nestled amongst lush native bush. Boardwalks and a defined path follow the Hatea River, which matures from bubbling stream to tidal inlet. More information is available in the Whangarei Walks brochure at the local visitor's centre.
Filmy Fernhouse
The Filmy Fernhouse is the home to one of the largest collection of ferns on public display in the country. The purpose-built building is designed especially for the wellbeing of over 80 native fern species, and a heated conservatory showcases incredible sub-tropical plants such as orchids and begonias.
Abbey Caves Reserve
The Abbey Caves Reserve is made up of three major natural limestone caves, complete with carved outcrops, steep bluffs and sinkholes. The caves are not guided or marked, so only enter if you are experienced and well prepared. Otherwise, an attractive walkway will lead you around the caves and through native Podocarp forests.
Kauri Forest
The AH Reed Kauri Park is an excellent way to experience what the area used to be like when it was filled with magnificent Kauri forests. A tree top boardwalk gives a canopy view of the forest and its two 500 year old Kauris.
Whangarei Native Bird Recovery Centre
For those interested in the local wildlife, the Whangarei Native Bird Recovery Centre has been working since 1992 to care for thousands of native and endangered bird species, including the elusive Kiwi. They rescue and rehabilitate injured or orphaned birds, and educate the public on their plight.
View more Whangarei attractions and activities and check out our Whangarei Travel Itinerary.
Whangarei Travel
No matter your interests, a Whangarei rental car is the perfect way to see everything the Northland region has to offer. NZ Rent A Car offers a variety of affordable hire vehicles from our Whangarei car rental depot to help you explore the sights at your own pace.
Related articles:
Whangarei Car Rental Road Trips